Snapdragon Conquest New State Mobile Invitational finally ended, with Team XO taking home the championship title after performing exceptional gameplay on the event's second day. During the 2 matchdays of the grand finals, the team scored a total of 129 points while securing four wins in nine matches. Fan Favorites Team S8UL, who recently announced their New State roster, finished the event as runner-up after grabbing second place with 119 points by securing three wins.
It was Team Godlike who became the second runner-up of the event by finishing in third place with 113 points. Gods Reign and Chemin Esports ended up in the fourth and fifth positions, respectively. Even without winning a single match, Gods Reign maintained a solid position in the overall leaderboards. Skylightz Gaming, who had led the Semifinals, collapsed in the Finals, scoring only 46 points.
Also Read: High on Life is Xbox's Biggest Game Pass Launch of 2022
Team XO Emerged as the Champions of Snapdragon Conquest New State Mobile Invitational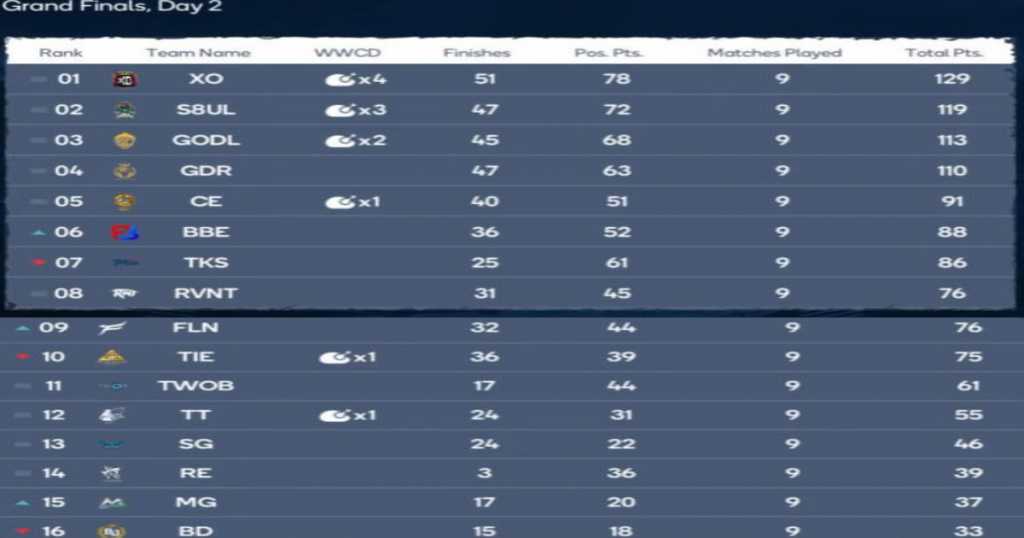 Snapdragon Conquest New State Mobile Invitational announced a prize pool of Rs 5,00,000. Out of all the 32 invited teams, only 16 top teams were able to make it to the Grand Finals following two weeks of intense competition in the Group Stage.
Organized by Tesseract Esports, the event has invited 32 of India's top and best teams. All the invited teams have played in the BGMI esports circuit. This event has been fruitful for fans who have longed to see their favourite teams and players in action. Much to their expectations, this tournament brought back the joy of BGMI esports, which was absent all these days.
Here are the overall standings of the tournament after Grand Finals Day 2:
Team XO – 129 Points
S8UL Esports – 119 Points
Godlike Esports – 113 Points
Gods Reign – 110 Points
Chemin Esports – 91 Points
Big Brothers Esports – 88 Points
TKS Esports – 86 Points
Revenant Esports – 76 Points
Team Felines – 76 Points
Team Insane Esports – 75 Points
TWOB – 61 Points
Skylightz Gaming – 46 Points
R Esports -39 Points
Team Tamilas – 15 Points
Marcos Gaming – 37 Points
Bad Devils – 33 Points
Here are the point standings at the end of the Grand Finals of Snapdragon Conquest New State Mobile Invitational@TeamXO_gg dominated the leaderboard with 4 Chicken Dinners!#SnapdragonConquest #newstate #seizethemoment pic.twitter.com/YKr4GcdbO7

— Snapdragon Conquest (@_ConquestEsport) December 22, 2022
During the first day, S8UL and Team XO performed well and were the top two teams. They had only one point difference between them on the overall leading table. As the second day began, both teams continued to demonstrate exceptional expertise, battling head-to-head until the bitter end.
XO was able to finish first in two matches on both days of the Grand Finals, whilst S8UL was only able to win three, and this proved to be the deciding factor, as a difference of only 10 points distanced the two teams in the end.
Prize Pool Distribution
The prize pool of Rs 5 lakhs is distributed among the teams as follows:
1st place – Team XO – Rs 1,75,000
2nd place – S8UL Esports – Rs 75,000
3rd place – Godlike Esports – Rs 50,000
4th place – Gods Reign – Rs 40,000
5th place – Chemin Esports – Rs35,000
6th place – Big Brother Esports – Rs 30,000
7th place – TKS Esports – Rs 25,000
8th place – Revenant Esports – Rs 20,000
9th place – Team Felines – Rs 12,500
10th place – Team iSNANE – Rs 12,500
11th place – TWOB – Rs 10,000
12th place – Team Tamilas – Rs 10,000
13th place – Skylightz Gaming – Rs 7500
14th place – R Esports – Rs 7500
15th place – Marcos – Rs 7500
16th place – Bad Devils –  Rs 7500
The Day 2 Finals recorded an 11K Live viewership, which tells us that the Indian esports community has not fallen due to the absence of BGMI and is picking up pace with new titles.
Also Read: Amazon Prime Gaming Now Available in India: Free Games, In-Game Items for Valorant, Apex Legends, FIFA 23, and More