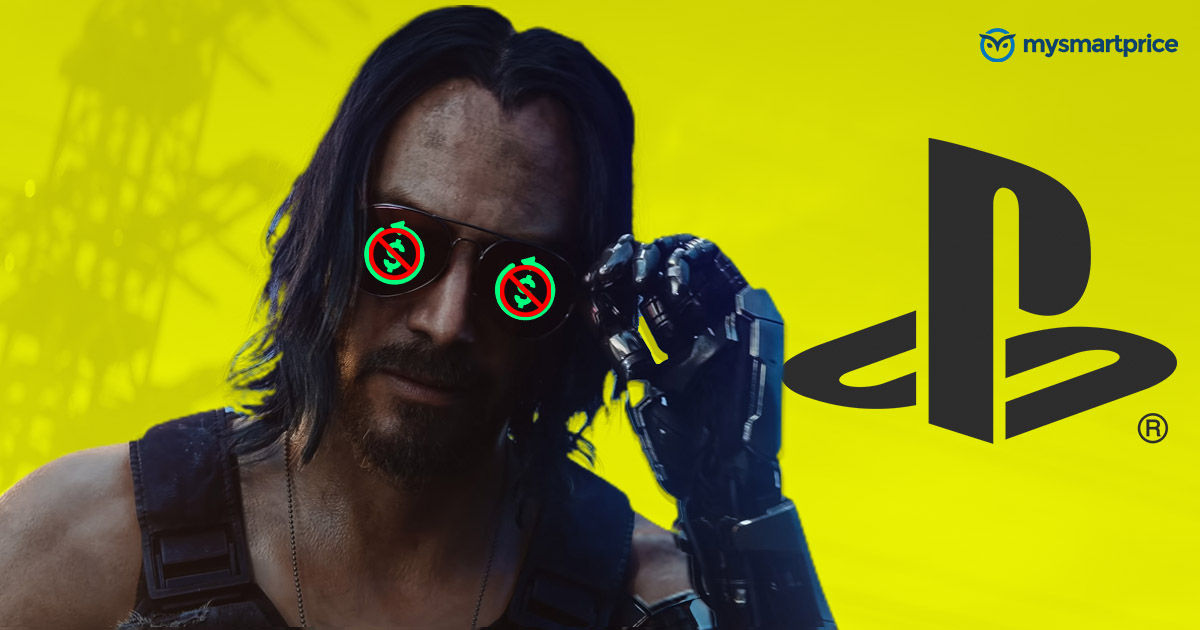 Cyberpunk 2077 is having, without a doubt, the worst game release in recent history. This is a game that we had been waiting on for a long time. Even after the multitude of delays, the experience is not quite up to the mark. We have heard about some terrible performance issues on the PS4 and Xbox One. So much so that CD Projekt Red started a refund program for Cyberpunk 2077.
PlayStation users had been reporting instances of Sony rejecting refunds despite CDPR saying that the PlayStation refund mechanism should work. Now, Sony has gone and started refunding Cyberpunk 2077 purchases. That's not all, it's also kicking Cyberpunk 2077 off the PlayStation Store, but don't be too quick to give it all the credit yet.
Sony Cites Customer Satisfaction, But Its Refund Process Has Never Been Easy
SIE strives to ensure a high level of customer satisfaction, and we will begin to offer a full refund for all gamers who have purchased Cyberpunk 2077 via PlayStation Store and want a refund. Please visit the following link to initiate the refund: https://t.co/DEZlC0LmUG.

— Ask PlayStation (@AskPlayStation) December 18, 2020
Sony is a great company, and PlayStation is an especially well-managed chunk of it. With Cyberpunk 2077, not only did CDPR break player trust, but it also circumvented the guidelines that Sony and Xbox set, which require ample testing to ensure a game is playable on consoles before it is released. CDPR made bold claims about Cyberpunk 2077 working "surprisingly well" on last-gen consoles, but these claims fell flat.
Is Sony right to boot Cyberpunk 2077 off the PlayStation Store? Perhaps not. Sony has enjoyed notoriety over its draconian refund policy for the PlayStation Store for years. Here's what the PlayStation refund policy currently says, updated last April:
You can cancel a digital content purchase within 14 days from the date of purchase and receive a refund, provided that you have not started downloading or streaming it.
That's right. For you to claim a refund for a game purchase, you need to have absolutely not touched it. The 14-day refund window is quite standard. However, one look at the long list of conditions users need to meet will show you that Sony isn't exactly all that much for customer satisfaction.
In fact, Sony even lost a court case over this very refund policy in Australia. The Australian Competition and Consumer Commission (ACCC) took Sony to court and won. This is what Chair Rod Sims said about the policy:
"Consumer guarantee rights do not expire after a digital product has been downloaded and certainly do not disappear after 14 days or any other arbitrary date claimed by a game store or developer."
Sony Should Set Some First-Hand Customer Satisfaction Goals Before Scapegoating Cyberpunk 2077
Important Update for @PlayStation Users pic.twitter.com/fCB4z74M3z

— Cyberpunk 2077 (@CyberpunkGame) December 18, 2020
That's what it is. No doubt that CDPR really screwed the pooch with Cyberpunk 2077. The game is a disaster, its boastful promises fell flat, and it disappointed everybody. This includes the poor developers that now have to work even harder to fix the corporate fiasco.
However, all those things considered, that still doesn't give Sony the right to use this debacle to make itself look good. Sony's refund policy is terrible, and instead of using this situation to set a better refund policy, all it has done is scapegoat Cyberpunk 2077. It's certainly giving you a refund, quite against the usual policy, but it's also kicking the game off the store to remind you that this is as far as you will ever get with Sony when it comes to getting a fair refund for a game.
As much of a misfire Cyberpunk 2077 is, Sony's response is a bit hypocritical and doesn't deserve applause. They basically threw a tantrum because the game's release issues forced them to have a proper refund policy in place — something they avoided by just kicking Cyberpunk 2077 off the PlayStation Store.
A new report from The Gamer says that sources are saying that the decision to take Cyberpunk 2077 off the PlayStation Store comes from CDPR, and not Sony. However, when asked, Sony responded with the same "customer satisfaction" statement rather than confirm or deny this report. Additionally, CDPR has told Reuters that it's not having talks with Microsoft about pulling Cyberpunk 2077 from Xbox, so things do seem a bit lopsided here.
So don't hail Sony as the hero just yet. It has miles to go before it can start pointing fingers.