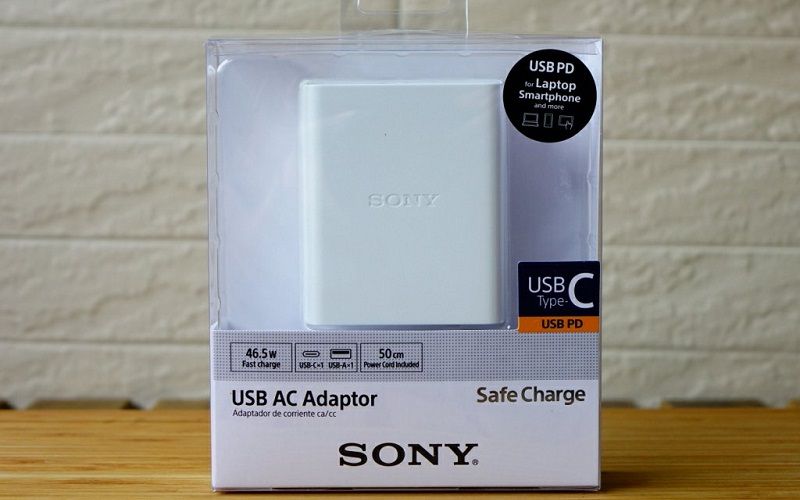 Sony has launched a new power charger that connects to an AC wall outlet. The charger sports a simple USB Type-A, and a UBS Type-C port. The highlight of the new Sony wall charger is its ability to deliver power at 46.5 Watts.
Smartphone and electronic devices makers bundling wall chargers with their creations have been making some serious progress in the power delivery area. In other words, Fast Charging technologies have come a long way. Several Fast Charging technologies like the Quick Charge, Dash Charge, VOOC Flash Charging, Rapid Charge, etc. are able to juice up compatible smartphones at blazing fast rates. Essentially, modern-day handsets and electronics do not require prolonged periods of time to juice up. With Sony's new wall charger, USB-PD compatible devices will take even lesser time to go from dwindling charge to fully juiced up within very little time.
New Sony Wall Charger For USB-PD Compatible Devices Delivers 46.5W Power
The new Sony wall charger is officially called CP-ADRM2. The power charger features two USB ports. While one is the standard USB Type-A, the other one is the reversible USB Type-C. The standard USB port is capable of delivering 7.5 Watts of power. Meanwhile, the USB Type-C port is capable of outputting 5V/3.0A, 9V/3.0A, 12V/3.0A, and 15V/2.6A. The combined output of the two USB Ports is 46.5 Watts.
Incidentally, the new Sony CP-ADRM2 wall charger can offer the highest output simultaneously on the two USB ports. In other words, both the USB ports can work at their highest power delivery rating at the same time. Needless to mention, majority of the wall chargers that sport multiple USB ports, do not have the capacity to deliver at their highest capacity simultaneously. This feature truly makes the new Sony wall charger special.
Sony has attempted to ensure global compatibility of the Sony CP-ADRM2 wall charger. The company has deployed standard C7 or figure-8 connector. Users can plug in the Sony charger into an extension power cord. Needless to add, the end of the power cord will vary as per the market and the local power outlet.
The new Sony CP-ADRM2 is an ideal solution for modern-day laptops and smartphones. Several new laptops feature single or even multiple USB Type-C ports that can offer connectivity options including extra display, data transfer as well as power delivery. The Sony wall charger can easily offer Fast Charging to such laptops as well as any connected smartphone that can take 7.5W power.
Smartphones And Laptops Get The Benefit From Simultaneous High Power Delivery
The latest Apple iPad, several new premium laptops including HP Spectre, LG Gram, Samsung Notebook 9, etc. feature the needed ports and power ratings to take advantage of the new Sony CP-ADRM2 wall charger.
The Sony power charger relies on AC power. On the other hand, the upcoming Huawei SuperCharge 40 10,000 mAh power bank promises to deliver 40 Watts of power despite being portable. Hence it appears smartphones and electronics will soon have quite a few options to charge up very quickly.