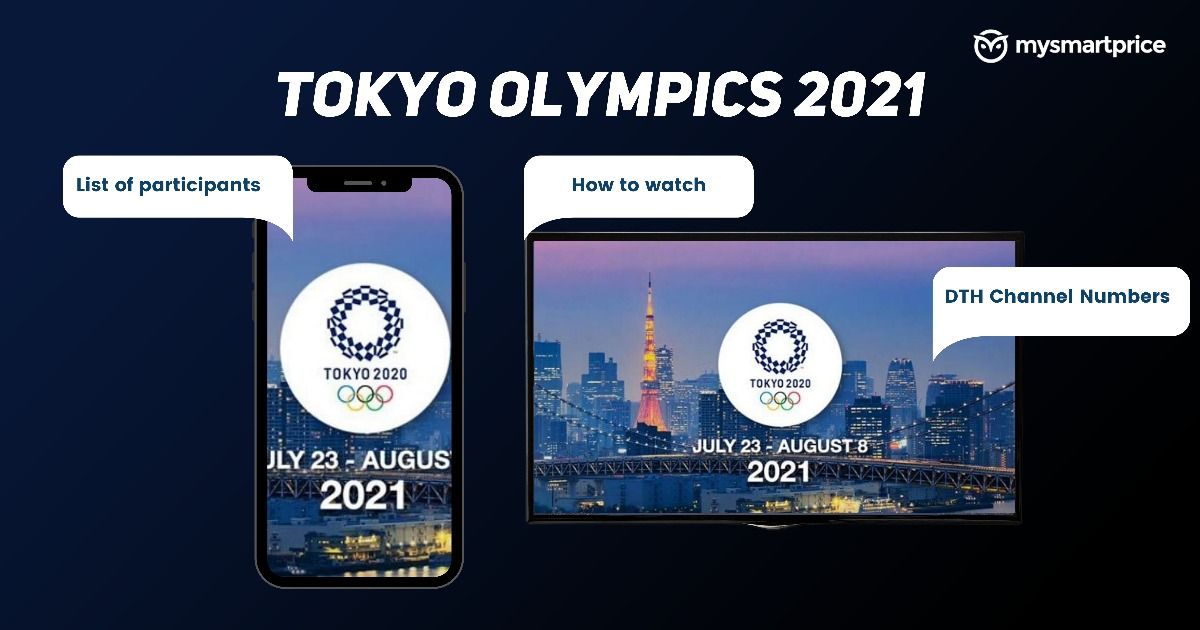 The Tokyo Olympics 2021 is here and we cannot hold our excitement. The Summer Games in Tokyo will witness a battle to be the best nation with countries sending their best athletes to win the maximum medals. India is also all charged up and has sent over 100 athletes to fetch the maximum medals this time. We have some top-of-the-line players in our team, who have done wonders in different sports events. This time, all Tokyo Olympics will be broadcasted and live-streamed on Sony Ten and Sony SIX channels in India. So, in order to make things easier for you, we have compiled a detailed article about the list of athletes participating in Olympics 2021, their schedule, how to watch it for free, and more. So, let's get it started.
Also Read: Sony LIV Subscription Plans and Price 2021: Best SonyLIV Monthly and Yearly Plans, Offers, Validity
Olympics 2021: India's Schedule Today (August 07)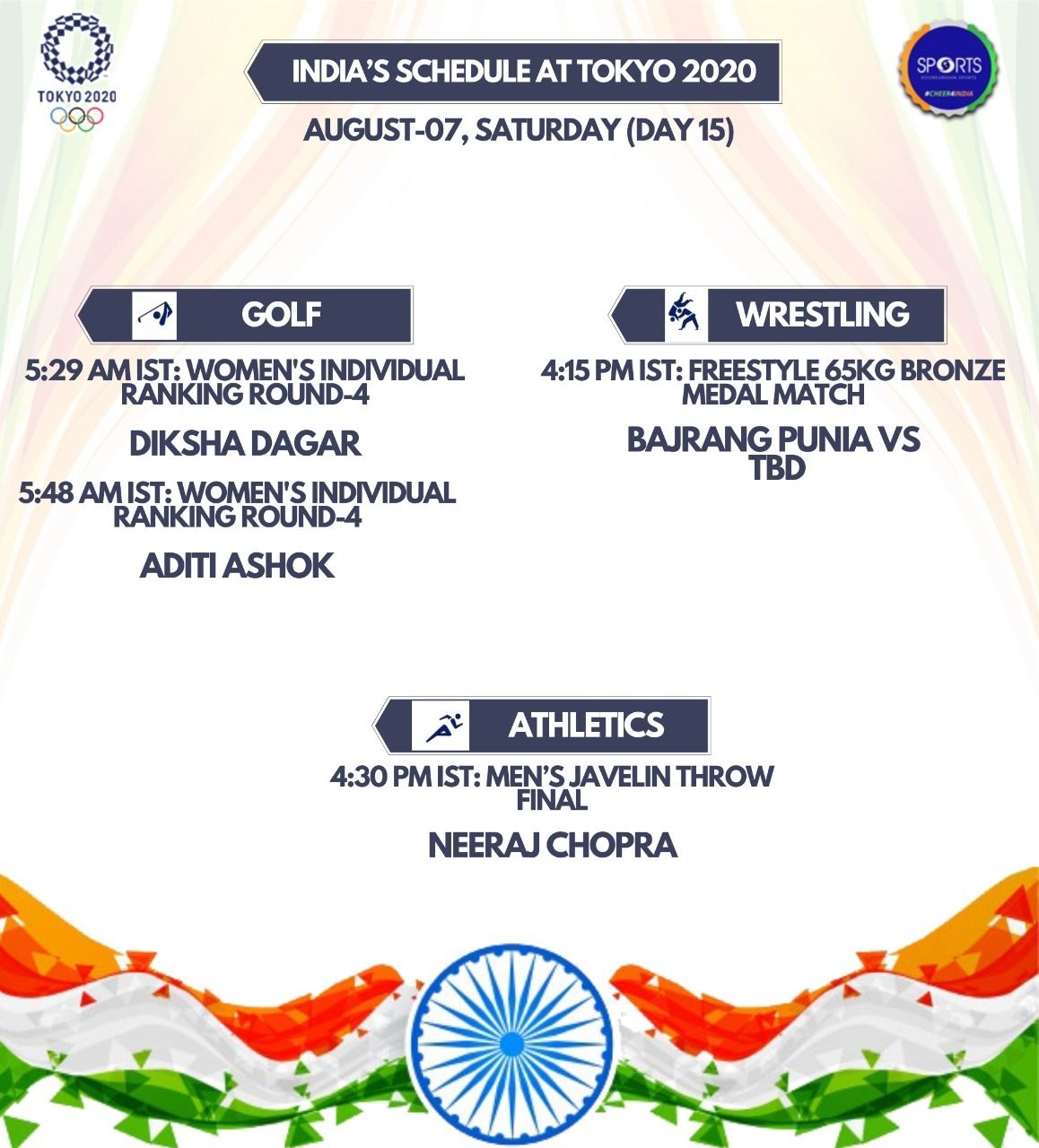 Tokyo Olympics Live Streaming on Sony SIX and Sony TEN: How to Watch Free
The Tokyo Olympics 2021 will be live-streamed on the Sony LIV application along with Sony SIX and Sony TEN channels. However, if you have a Reliance Jio SIM, then you can easily watch all the actions of the Tokyo Olympics 2021 for free. The JioTV application from Jio will be streaming all the major Sony Six channels on which the Olympics 2021 will be telecast. The list includes Sony Ten 2, Ten 3, Ten 4, and Sony SIX.
Only two days to go until the start of #Tokyo2020!

Watch the Olympic Games Tokyo 2020, starting 23rd July, LIVE & FREE on #JioTV!

Let's #Cheer4India! 🇮🇳🇮🇳🇮🇳#TokyoOlympics #Olympics #Olympics2021 #TeamIndia #MaryKom #NeerajChopra #ManuBhaker pic.twitter.com/LtnIYyG794

— JioTV (@OfficialJioTV) July 21, 2021
Tokyo Olympics Where to Watch Live Telecast, Broadcast Channels, Numbers on Various DTH Providers
Sony is the official broadcasting partner for the Tokyo Olympics 2021. The event will be telecasted on various Sony TEN and SIX sports channels. These include Sony SIX, Sony SIX HD, Sony Ten 2, Ten 2 HD, Ten 3, Ten 3 HD, Ten 4, and Ten 4 HD. The English commentary will be available on Sony Ten 2 and Sony SIX channels, while the Hindi commentary will be available on Sony Ten 3 channels. Lastly, Tamil and Telugu language commentary will take place on Sony Ten 4 channels. That being said, here is the channel list of all major DTH operators including Tata Sky, Airtel, Dish TV, and d2h DTH.
Also Read: Tata Sky Packages Price List 2021: Best Tata Sky DTH Recharge Plans and Offers Under Rs 300
Tokyo Olympics 2021: Sony Channel Numbers and Prices on Tata Sky DTH
| | | |
| --- | --- | --- |
| Channel | Channel Number | Price |
| Sony Ten 2 HD | 473 | ₹ 20.06 |
| Sony Ten 2 | 474 | ₹ 17.70 |
| Sony Ten 3 HD | 475 | ₹ 20.06 |
| Sony Ten 3 | 476 | ₹ 17.70 |
| Sony SIX HD | 483 | ₹ 22.42 |
| Sony SIX | 484 | ₹ 17.70 |
Tokyo Olympics 2021: Sony Channel Numbers and Prices on Airtel Digital TV DTH
| | | |
| --- | --- | --- |
| Channel | Channel Number | Price |
| Sony Ten 2 HD | 288 | ₹ 20.06 |
| Sony Ten 2 | 287 | ₹ 17.70 |
| Sony Ten 3 HD | 290 | ₹ 20.06 |
| Sony Ten 3 | 289 | ₹ 17.70 |
| Sony SIX HD | 292 | ₹ 22.42 |
| Sony SIX | 291 | ₹ 17.70 |
Tokyo Olympics 2021: Sony Channel Numbers and Prices on Dish TV DTH
| | | |
| --- | --- | --- |
| Channel | Channel Number | Price |
| Sony Ten 2 HD | 612 | ₹ 20.06 |
| Sony Ten 2 | 613 | ₹ 17.70 |
| Sony Ten 3 HD | 614 | ₹ 20.06 |
| Sony Ten 3 | 615 | ₹ 17.70 |
| Sony SIX | 623 | ₹ 17.70 |
Tokyo Olympics 2021: Sony Channel Numbers and Prices on Videocon d2h DTH
| | | |
| --- | --- | --- |
| Channel | Channel Number | Price |
| Sony Ten 2 HD | 931 | ₹ 20.06 |
| Sony Ten 2 | 413 | ₹ 17.70 |
| Sony Ten 3 HD | 926 | ₹ 20.06 |
| Sony Ten 3 | 415 | ₹ 17.70 |
| Sony SIX HD | 928 | ₹ 22.42 |
| Sony SIX | 423 | ₹ 17.70 |
Also Read: Sun Direct Plans 2021: Best Sun Direct DTH Recharge Plans and Packages with More Channels, Less Price
List of Indian Athletes Participating in Tokyo Olympics 2021
The Tokyo Olympics 2020 will start on July 23th and India is all charged up to get the most medals this year. This time, a total of 115 Indian athletes have been qualified for the Tokyo Olympics so far in different categories including Hockey, Archery, Badminton, Boxing, Shooting, Table Tennis, Wrestling, and more. Check out the full list here:
Athletics
Men's 4x400m relay – Muhammed Anas Yahiya
Men's 4x400m relay – Noah Nirmal Tom
Men's 4x400m relay – Amoj Jacob
Men's 4x400m relay – Arokia Rajiv
Mixed 4x400m Relay – Team Yet Be Announced
Men's 20km race walking – KT Irfan
Men's 20km race walking – Sandeep Kumar
Men's 20km race walking – Rahul Rohilla
Women's 20km race walking – Bhawna Jat
Women's 20km race walking – Priyanka Goswami
Men's 3000m steeplechase – Avinash Sable
Men's long jump – Murali Sreeshankar
Men's 400m hurdles – MP Jabir
Men's javelin throw- Neeraj Chopra
Men's javelin throw – Shivpal Singh
Women's javelin throw – Annu Rani
Men's shot put – Tajinderpal Singh Toor
Women's 100m and 200m – Dutee Chand
Women's discus throw – Kamalpreet Kaur
Women's discus throw – Seema Punia
Also Read: d2h Recharge Packs: 5 Best d2h (Earlier Videocon d2h) Recharge Packages & Plans Under Rs 300
Badminton
Women's single – PV Sindhu
Men's single – B Sai Praneeth
Men's doubles – Satwiksairaj Rankireddy and Chirag Shetty
Boxing
Women's 51kg – Mary Kom
Women's 60kg – Simranjit Kaur
Men's 52kg – Amit Panghal
Men's 63kg – Manish Kaushik
Men's 69kg – Vikas Krishan
Women's 69kg – Lovlina Borgohain
Men's 75kg – Ashish Kumar
Women's 75kg – Pooja Rani
Men's 91kg – Satish Kumar
Hockey
Men's Hockey Team: Goalkeeper: PR Sreejesh Defenders: Harmanpreet Singh, Rupinder Pal Singh, Surender Kumar, Amit Rohidas, Birendra Lakra Midfielders: Hardik Singh, Manpreet Singh, Vivek Sagar Prasad, Nilakanta Sharma, Sumit Forwards: Shamsher Singh, Dilpreet Singh, Gurjant Singh, Lalit Kumar Upadhyay, Mandeep Singh Standbys: Krishan Pathak (goalkeeper), Varun Kumar (defender) and Simranjit Singh (midfielder)
Women's Hockey Team: Goalkeeper: Savita Defenders: Deep Grace Ekka, Nikki Pradhan, Gurjit Kaur, Udita Midfielders: Nisha, Neha, Sushila Chanu Pukhrambam, Monika, Navjot Kaur, Salima Tete Forwards: Rani, Navneet Kaur, Lalremsiami, Vandana Katariya, Sharmila Devi Standby: E Rajani
Also Read: Airtel DTH Plans 2021: Best Airtel Digital TV HD & SD Packs Under Rs 300 with Maximum TV Channels
Shooting
10m Women's Air Rifle – Anjum Moudgil
10m Women's Air Rifle – Apurvi Chandela
10m Men's Air Rifle – Divyansh Singh Panwar
10m Men's Air Rifle – Deepak Kumar
50m Women's Rifle 3 Position – Tejaswini Sawant
50m Men's Rifle 3 Position – Sanjeev Rajput
50m Men's Rifle 3 Position – Aishwarya Pratap Singh Tomar
10m Women's Air Pistol – Manu Bhaker
10m Women's Air Pistol – Yashaswini Singh Deswal
10m Men's Air Pistol – Saurabh Chaudhary
10m Men's Air Pistol – Abhishek Verma
25m Women's Pistol – Rahi Sarnobat
10m Women's Air Rifle – Elavenil Valarivan
Men's Skeet – Angad Veer Singh Bajwa
Men's Skeet – Mairaj Ahmad Khan
Wrestling
Women's Freestyle 50kg – Seema Bisla
Women's Freestyle 53kg – Vinesh Phogat
Women's Freestyle 57kg – Anshu Malik
Women's Freestyle 62kg – Sonam Malik
Men's Freestyle 57kg – Ravi Kumar Dahiya
Men's Freestyle 65kg – Bajrang Punia
Men's Freestyle 86kg – Deepak Punia
Archery
Men's Recurve – Tarundeep Rai
Men's Recurve – Atanu Das
Men's Recurve – Pravin Jadhav
Women's Recurve – Deepika Kumari
Golf
Men's event – Anirban Lahiri
Men's event – Udayan Mane
Women's event – Aditi Ashok
Sailing
Laser Radial – Nethra Kumanan
Laser Standard – Vishnu Saravanan
49er – KC Ganapathy and Varun Thakkar
Swimming
Sajan Prakash
Srihari Nataraj
Maana Patel
Table Tennis
Sharath Kamal
Sathiyan Gnanasekaran
Sutritha Mukherjee
Manika Batra
Tennis
Women's doubles – Sania Mirza and Ankita Raina
Other Sports
Equestrian – Fouaad Mirza
Fencing – Bhavani Devi
Gymnastics – Pranati Nayak
Rowing – Arjun Jat and Arvind Singh
Weightlifting – Mirabai Chanu
Also Read: Best Gaming Laptops Under Rs 50000 in India: Xiaomi Mi Notebook Horizon Edition 14, Lenovo Ideapad L340, MSI GF63, More
India at Tokyo Olympics 2021: Full Schedule of Indian Participants
Here's the full list schedule of all Indian participants that will be taking part in the Tokyo Olympics 2021:
| | | |
| --- | --- | --- |
| Date | Game | Participants |
| July 23 | Archery | Deepika Kumari and Atanu Das |
| July 24 | Shooting | Elavenil Valarivan, Saurabh Chaudhary and Abhishek Verma |
| July 24 | Weightlifting | Mirabai Chanu |
| July 24 | Archery (Mixed Team) | Deepika Kumari and Atanu Das |
| July 24 | Badminton | Satwiksairaj Rankireddy, Chirag Shetty, Sai Praneeth |
| July 24 | Table Tennis | G Sathiyan, Sharath Kamal, Manika Batra, Sutirtha Mukherjee |
| July 24 | Boxing | Lovlina Borgohain, Vikas Krishan |
| July 24 | Hockey (Men) | |
| July 24 | Hockey (Women) | |
| July 24 | Judo | Sushila Devi |
| July 24 | Rowing | |
| July 24 | Shooting | Elavenil Valarivan, Apurvi Chandela, Saurabh Chaudhary, Abhishek Verma |
| July 24 | Tennis | Sania Mirza, Ankita Raina, Sumit Nagal |
| July 25 | Badminton | P.V Sindhu |
| July 25 | Boxing | |
| July 25 | Gymnastics | Pranati Nayak |
| July 25 | Hockey (Men) | |
| July 25 | Sailing | Nethra Kumanan, Vishnu Saravanan |
| July 25 | Shooting | Manu Bhaker, Yashaswini Singh Deswal, Angad Bajwa, Mairaj Ahmad Khan, Deepak Kumar, Divyansh Singh Panwar |
| July 25 | Swimming | Maana Patel, Sajan Prakash, Srihari Nataraj |
| July 25 | Table Tennis | G Sathiyan, Sharath Kamal, Manika Batra, Sutirtha Mukherjee |
| July 26 | Archery | Atanu Das, Pravin Jadhav, Tarundeep Rai |
| July 26 | Badminton | PV Sindhu, Sai Praneeth, Satwiksairaj Rankireddy/Chirag Shet .. |
| July 26 | Boxing | Amit Panghal, Ashish Kumar |
| July 26 | Fencing | Bhavani Devi |
| July 26 | Hockey (Women) | |
| July 26 | Shooting | Angad Bajwa, Mairaj Ahmad Khan |
| July 26 | Swimming | Sajan Prakash |
| July 26 | Table Tennis | G Sathiyan, Sharath Kamal, Manika Batra, Sutirtha Mukherjee |
| July 27 | Boxing | Simranjit Kaur |
| July 27 | Hockey (Men) | India vs Spain |
| July 27 | Sailing | KC Ganapathy, Varun Thakkar |
| July 27 | Shooting | Saurabh Chaudhary/Manu Bhaker & Abhishek Verma/Yashaswin, Divyansh Singh Panwar/Elavenil Valarivan & Deepak Kumar |
| July 28 | Boxing | Pooja Rani |
| July 28 | Hockey | |
| July 29 | Boxing | Satish Kumar |
| July 29 | Golf | Anirban Lahiri, Udayan Mane |
| July 29 | Hockey (Men) | |
| July 29 | Shooting | Manu Bhaker, Rahi Sarnobat |
| July 29 | Swimming | Sajan Prakash |
| July 30 | Athletics | Avinash Sable, MP Jabir, Dutee Chand, Alex Antony, Sarthak Bhambri, Revathi Veeramani, Subha Venkatesan |
| July 30 | Equestrian | Fouaad Mirza |
| July 30 | Hockey (Women) | India vs Ireland |
| July 30 | Hockey (Men) | India vs Japan |
| July 30 | Shooting | Manu Bhaker, Rahi Sarnobat |
| July 31 | Athletics | Seema Punia, Kamalpreet Kaur, M Sreeshankar |
| July 31 | Hockey (Women) | |
| July 31 | Shooting | Anjum Moudgil, Tejaswini Sawant |
| August 2 | Shooting | Sanjeev Rajput, Aishway Pratap Singh |
| August 3 | Athletics | Annu Rani, Tajinder Singh Toor |
| August 4 | Athletics | Neeraj Chopra, Shivpal Singh |
| August 4 | Golf | Aditi Ashok |
| August 5 | Athletics | KT Irfan, Sandeep Kumar, Rahul Rohila |
| August 6 | Athletics | Gurpreet Singh, Bhawna Jat, Priyanka Goswami, Amoj Jacob, Arokia Rajiv, Noah Nirmal Tom, Muhammed Anas Yahiya |