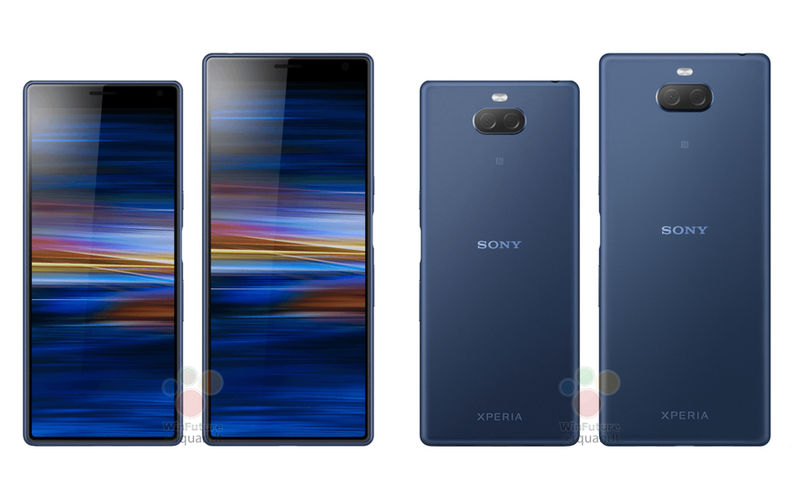 It has been more than six months since Sony announced a new phone. Its last launch was the Xperia XZ3 and it was never released in the Indian market. Now, the Japanese electronics company appears to be working on two new mid-range phones with a modern design. German tech publication WinFuture.de has published dozens of press renders of the yet unreleased Xperia XA3 and Xperia XA3 Plus.
A different report states that these phones will actually be called the Xperia 10 and the Xperia 10 Plus, and it seems logical since there's a huge difference between the designs of the Xperia XA2 and the Xperia 10 phones. First, let us have a look at the design of these smartphones.
Xperia 10, Xperia 10 Plus Design
We had exclusively published 3D CAD renders of the Xperia XZ4 a few months ago, showcasing an ultra-tall screen with 21:9 aspect ratio. Sony appears keen on switching to 21:9 screens for all its phones, even the mid-range ones. Similarly, the Xperia 10 and the Xperia 10 Plus, feature ultra-tall screens at the front, but it's not a completely bezel-less design. While there's no chin at the bottom, there's a huge forehead at the top, which accommodates the front-facing camera, an earpiece, and other necessary sensors.
At the rear, both phones appear to have dual-camera setups, each featuring a dual-LED flash. The camera assembly appears protruded from the phone's body. The Xperia 10 and the Xperia 10 Plus have NFC, too. Apart from Sony and Xperia branding, there doesn't seem to be anything important of note on the back of these phones. So where is the fingerprint reader? Well, it is mounted on the side, between the power button and the volume rocker. On the left, there's a SIM and memory card slot. At the bottom, there's a loudspeaker, a USB Type-C port, and a microphone. At the top, we can see a 3.5mm headphone jack. Thank God, it's still there!
Xperia 10, Xperia 10 Plus Expected Features
The Sony Xperia 10 and the Xperia 10 Plus are expected to use the Qualcomm Snapdragon 660 processor, 4GB RAM, and 64GB internal storage. Both phones will have microSD card slots for storage expansion. Both phones will be released with Android 9 Pie out of the box.
While the Xperia XZ4 will be Sony's first phone featuring triple-camera setups, the Xperia 10 and the Xperia 10 Plus will have a dual-camera, featuring 23MP and 8MP camera sensors and 4K video recording. There could be an 8MP selfie camera on the Xperia 10 and the Xperia 10 Plus. At least one of these models could come packed with a 3500mAh battery. It is possible that the model with a larger screen could have an even larger capacity battery.