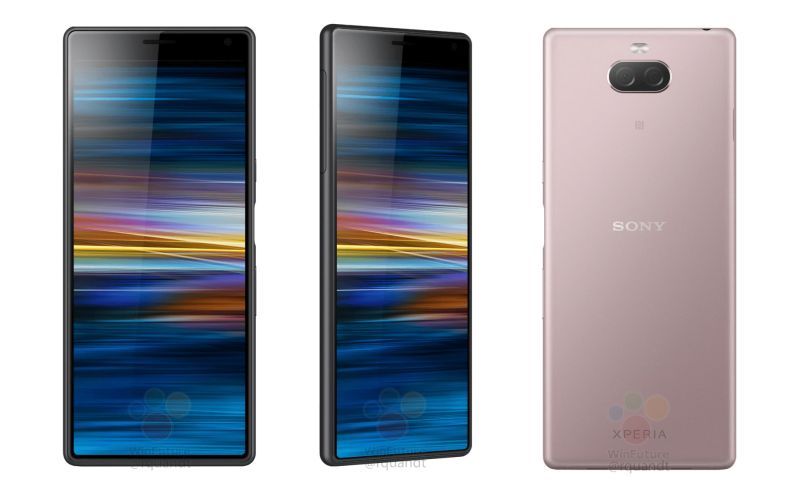 A few months back, we had exclusively obtained CAD-based renderings of the Sony Xperia XA3. These renderings showcased a tall smartphone that had its bezels trimmed down and display stretched out to an incredible degree. How far this display had been stretched has now been confirmed. Newly leaked press renders of the Xperia XA3 reveal a ridiculously tall 21:9 aspect ratio display. In a time where even 19:9 aspect ratio screens feel incredibly tall, Sony seems to have its mind set on pushing the limits further.
Sony recently trademarked "CinemaWide" moniker for its smartphones. It was assumed that the brand was planning to attach this naming convention with the upcoming Xperia XZ4. However, today's leak leads us to believe the Xperia XA3 might be the first to debut with this tech.
If the Xperia XA3 indeed arrives with a cinema-wide 21:9 aspect ratio, watching movies would certainly benefit. However, anything else is likely to end up with black bars on either side. Not to mention, many app developers will have to tweak their UI to compensate for such large screens. It was already a mess when 18:9 and 19:9 aspect ratio screens became the norm. If 21:9 aspect ratio screens kick-off, then get ready for another messy year filled with glitchy experiences up until developers roll out consequent updates for their applications.
Sony Xperia XA3 Leaked Press Renders
It is worth noting that the use of a wide-angle screen doesn't mean the phone will physically be stretched like what Apple had done when moving from the iPhone 4 to the iPhone 5. In fact, the phone is likely to retain a manageable size considering previous leaks have indicated the use of a screen measuring 5.9-inches diagonally. Our exclusively obtained CAD renders of the phone also revealed the phone's physical dimensions to be 155.7 x 68.3 x 8.4mm, well within normal parameters for a smartphone
Sone Xperia XA3 Press Renders Showcase Side-Mounted Fingerprint Scanner
Getting back to the Xperia XA3 and its leaked press images, we also get confirmation of the rest of the phone's build and design. It looks like the phone will be available in four color variants – Grey, Blue, Pink, and Black. The back of the phone houses a dual camera setup horizontally aligned at the top-center. An LED flash diffuser is present above the camera setup, while an NFC logo has been printed beneath. The rest of the rear panel is relatively clean, bar the SONY moniker in the middle.
A depression on the right side of the device indicates the presence of a side-mounted fingerprint scanner. A small button above this groove is presumably the power button, while a longer volume rocker strip can be seen underneath. The left side of the phone seems to house a flap that will likely hold microSD and SIM cards. The bottom of the phone has a USB Type-C port with speaker grills on either side. Meanwhile, the top seems to contain a headphone jack.
Overall, the Xperia XA3 is likely to be a midrange offering. It is rumored to be powered by a Snapdragon 660 SoC. Storage configuration is said to be comprised of a 4GB RAM + 64GB storage combination. The battery is expected to measure 3500mAh, and the primary rear camera is claimed to have a 23MP sensor.