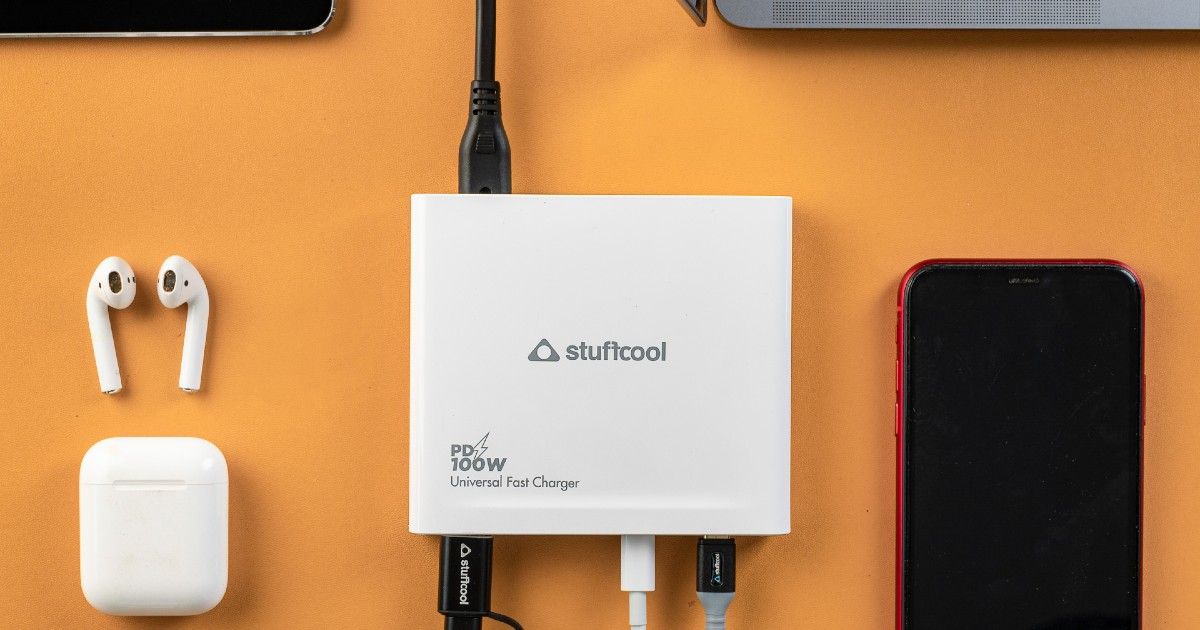 Stuffcool Centurion is the latest third party wall charger that claims to offer fast charging, but it's not just about the charging speed. The new charging adapter has a total of four USB ports, with two USB-A and two USB-C offering simultaneous fast charging of laptops and smartphones. The overall charging speeds can support up to a 16-inch Apple MacBook Pro 16-inch, or even a 13-inch MacBook Pro M1 along with a smartphone alongside. The company also claims that the Stuffcool Centurion charger will support most proprietary charging standards.
The Stuffcool Centurion will be seemingly able to offer up to 100W fast charging through the USB-C ports, and up to 30W of maximum charging speed through the universal USB-A ports. The latter will be compatible with ost smartphone setups, therefore making the charger ideal for outdoor usage. Users can only carry their charging cables, and alongside their ultrabooks, get up to 30W fast charging on their smartphones as well. The setup makes it ideal to reduce clutter on desks, and given the ubiquitous presence of USB-C, makes for a useful wall adapter to own for all devices in general.
Stuffcool says that the Centurion wall adapter comes with a number of features such as 'auto detect IC', which can automatically detect the power draw of a device that has just been connected to it, and deliver the requisite amount of power to it accordingly. Other features include six layers of intelligent protection from irregular device heating due to fluctuation in power draw, and subsequent incidental damages. The adapter also comes with BIS certification.
The Stuffcool Centurion is said to be compatible with Samsung, Oppo, Vivo, OnePlus, Huawei and Motorola, and is certified to be able to charge most latest generation laptops and ultrabooks that support USB-C charging. The adapter is now available on Amazon, Stuffcool India's own site and offline electronics retailers. It will sell at a "special launch price" for a limited period, retailing at Rs 5,999 during this time. Following this, the Stuffcool Centurion will sell at Rs 6,999.