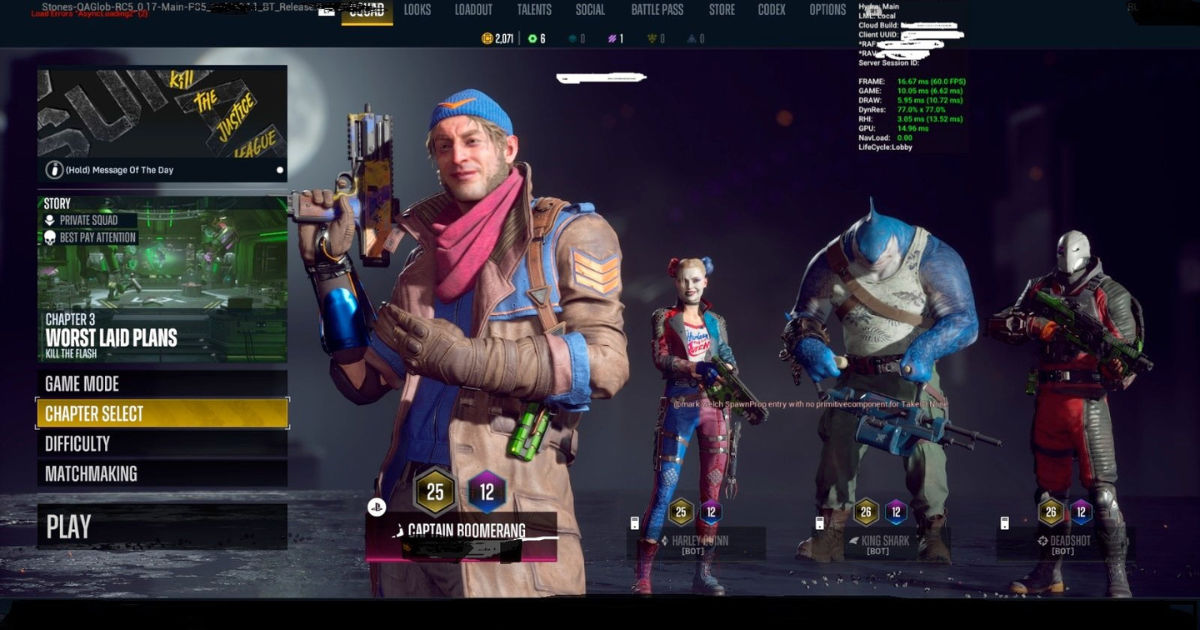 Rocksteady's next game, Suicide Squad Kills The Justice League, is one of the most highly-anticipated games of 2023 but fans have now become slightly more sceptical. This new-found scepticism comes on the back of a new leaked screenshot from the game which seems to confirm that the game is indeed a live service/GaaS (Games as a Service) title.
This reluctance towards live service titles, especially in the superhero genre, seems to stem from the failure and disappointment of games like Marvel's Avengers. So far, Rocksteady has not yet detailed exactly how the live service elements will work and what the campaign experience is going to be like.
It stands to reason that the game will probably allow players to play as any member of the Suicide Squad and allow them to team up with other players as other characters in co-op. There is also a chance that the game might have some online PvE elements akin to Destiny.
Also Read: The Game Awards Announcements: Star Wars Jedi: Survivor, Death Stranding 2, More Revealed
Is Suicide Squad Still Appealing to the Larger Mainstream Audience?
Rocksteady is one of the most celebrated studios of today and has consistently delivered time and time again. The studio hit it out of the park with the Batman Arkham series and thus, fans were understandably excited to see what the studio does next. So when the studio announced a Suicide Squad game set in the Arkhamverse, fans were elated.
Given the studio's track record of delivering tight, single-player, narrative-focused experiences before this, it comes as a surprise that Suicide Squad will buck that trend. Given the same track record, however, fans should expect a polished AAA experience come launch time as Rocksteady has never fallen short of the mark once.
First look at the Suicide Squad game menu. Mentions Battle Pass, Loadout, Missions based structure. #Batman #SuicideSquad pic.twitter.com/t3vmHmjQ8k

— Andrew Marmo (@the_marmolade) January 17, 2023
The live service elements aren't inherently a bad sign but given that fans have been burnt several times by games in that genre, a healthy dose of scepticism won't hurt. The Battle Pass system, according to VGC, will only include cosmetic items for skins, which probably means that there will be some online co-op element to the game.
The leaked screenshot also seems to suggest some sort of "Store" and "Social" elements, which might possibly mean microtransactions. This will probably give players some pause as microtransactions in largely single-player games haven't exactly gone down all that well with fans in recent years.
Suicide Squad Kills The Justice League is scheduled to come out on May 26, 2023, provided that it is not delayed. The game's release was pushed from 2022, which is probably a good thing as it provides time for Rocksteady to really polish up each level and provide a meaningful narrative to go with their innovative gameplay.