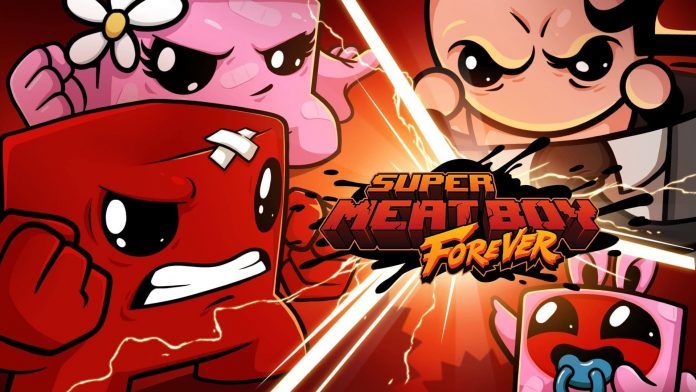 December 2020 seems to be the moth for super delayed games to finally release. After Cyberpunk 2077 finally released last week, we now have another game coming. Super Meat Boy Forever is another game that has had a similar development delay as Cyberpunk 2077.
Super Meat Boy Forever has seen a delay of about six years, but now it's all set to release on 23rd December, on the Epic Games Store. Team Meat announced the surprise release date in time for The Game Awards 2020. It seems like the game is an Epic Games exclusive as of now, as there seems to be no mention of other platforms.
Super Meat Boy Forever Releasing on Epic Games Store on December 23rd
Told you it would happen in 2020! Super Meat Boy Forever coming to the Epic Games Store December 23rd! pic.twitter.com/acxkrqfwl0

— Team Meat (@SuperMeatBoy) December 11, 2020
Super Meat Boy Forever, the sequel to the much-loved Super Meat Boy was first seen in 2014. The franchise has a bit of a cult following. It saw a delay to 2019, but given that Team Meat is not an evil corporation that forces its developers to crunch and then release an unfinished product, they have taken their time.
Super Meat Boy Forever now comes out on December 23rd on the Epic Games Store. The announcement only says Epic Games Store, meaning the platform has timed exclusivity. The official website does mention that the game is coming to Xbox One, PS4, and Nintendo Switch, and Steam, with Steam getting the game in 2021. In addition, there are possible plans for " the Xbox Black Cinderblock, PlayStation Roided Out Horseshoe, and the Nintendo Switch Curved Touch Screen Pro".
Here's a rough synopsis of where Super Meat Boy Forever heads from the first game:
"Meat Boy and Bandage Girl have a little baby named Nugget (awww). Dr Fetus has kidnapped Nugget, forcing Meat Boy and Bandage Girl to rescue her. Levels are dynamically constructed based on difficulty. Each time you beat a level, it reconstructs into a harder version of itself (up to a point…we aren't gods). Meat Boy and Bandage Girl are no longer defenseless, they can punch and kick their enemies. And, the biggest difference, the controls controls are now two buttons, you have a jump, a jump attack, a dive, and a slide."
Well, it's almost time. Epic Games Store has it listed for USD 19.99, with a 10% discount on pre-purchase right now, effectively making it USD 17.99. Indian users get a sweet discount, however, as the game is listed for Rs. 469, and Rs. 422.10 on discount.
Grab it if you will, and stay tuned to us for more on gaming!
Thanks for reading till the end of this article. For more such informative and exclusive tech content, like our Facebook page