Highlights
Tata Play Binge to bring Apple TV+ in its 'Mega' bundle
Apple TV+ has for the first time partnered with an Indian aggregator service
Tata Play Binge has already rolled out a promo featuring Saif Ali Khan and Kareena Kapoor Khan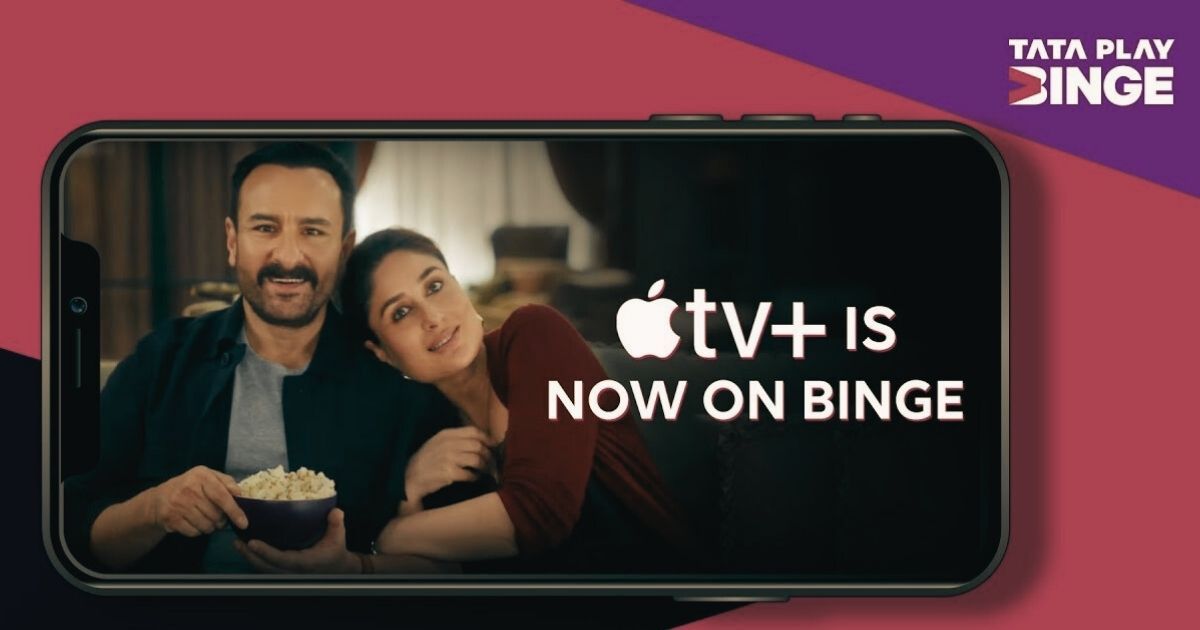 Tata Play Binge has partnered with Apple TV+. According to the most recent information, Apple TV+'s original series and films, as well as more than 26 additional apps that are already a part of the combined platform, will be available to Tata Play Binge users. English-language programming with a global audience has always been quite popular on Binge, and it is in discussions with numerous other platforms for comparable material.
This collaboration gives Apple the chance to stay relevant in a country where non-English material is primarily consumed and where content preferences are varied. Apple TV+ content will soon be available to Indian customers on various Tata Play Binge platforms, including smart TVs and mobile apps. Android users can also access new content, a functionality that Apple does not yet natively support.
If you tried swiping after the last slide for more,
we suggest you go

enjoy the star-studded, award-winning series
and films on Apple TV+ with Tata Play Binge! pic.twitter.com/TFNa20pWLV

— Tata Play Binge (@TataPlayBinge) September 15, 2023
How to Watch Apple TV+ on Tata Play Binge
This is the first time the American streaming video platform has partnered with an Indian aggregator, and it is only the second time ever the world over. Saif Ali Khan and Kareena Kapoor Khan are featured in a new campaign that the platform has already launched to promote the new concept. Mobile devices, smart TVs, desktops, laptops, tablets, the web, and Binge+ set-top boxes, including Android and iOS devices, may all access Apple TV+ on Tata Play Binge. Apple TV+ will be available to Tata Play Binge subscribers who purchase the Rs. 399 premium bundle with foreign and English-language programming.
What's in Store for Binge Subscribers?
The Morning Show, Bad Sisters, Slow Horses, Prehistoric Planet, Ted Lasso, Shrinking, Silo, Hijack, Foundation, Tehran, Servant, Platonic, Severance, Apple Original Films like CODA, The Boy, the Mole, the Fox, and the Horse, Ghosted, and the recently released The Beanie Bubble are just a few of Apple TV+'s well-known series, that will be on display.
Lessons in Chemistry, starring and executive produced by Brie Larson; The Changeling, based on the same-named novel, starring and executive produced by LaKeith Stanfield; The Super Models, directed by Roger Ross Williams and Larissa Bills; as well as new seasons of Foundation, The Morning Show, Invasion, The Afterparty, Swagger, and Physical, among other series, are among the new ones that will soon be available on Apple TV+.