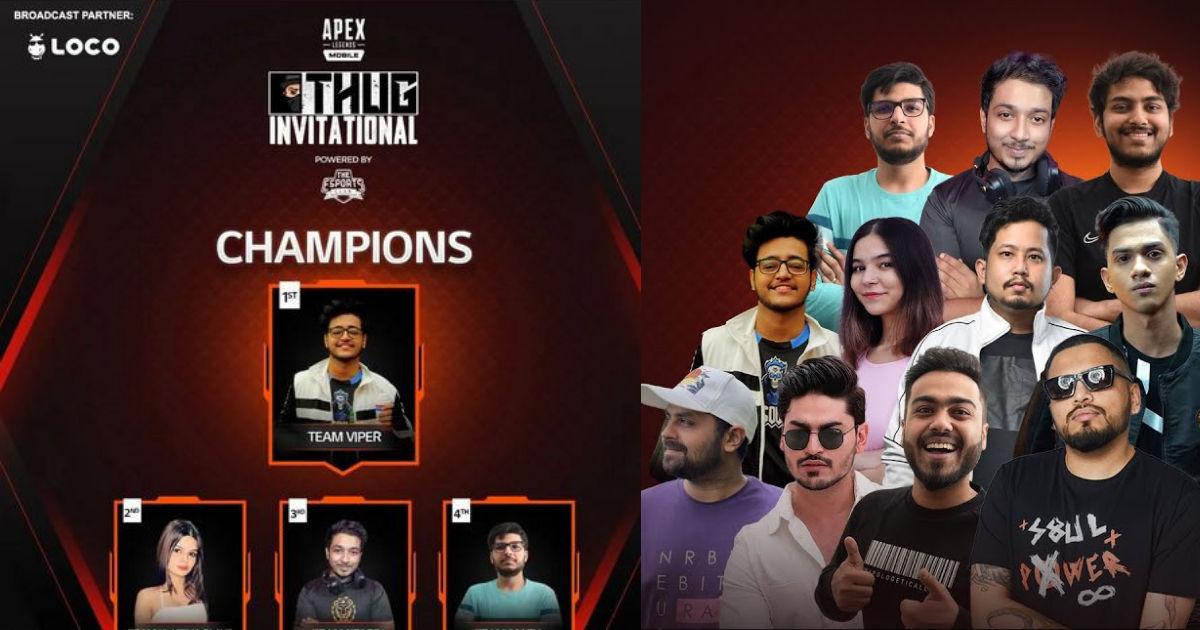 The Three-day-long Apex Legends Mobile Thug Invitational has come to a conclusion with Team Viper emerging as the champions of the event. Team Viper has accumulated a total of 155 points with the help of 93 kill points in 15 matches. The team has received a prize reward of Rs 1 lakh for becoming the winners of the event.
Team Krutika Plays became the runner-up of the tournament after they claimed the second spot on the overall standings with 130 points. Team Zeref with the help of becoming champions in the final match of the event clinched the third position with 114 points while Team Mafia fell short of 2 points and ended up in fourth place.
Apex Legends Mobile Thug Invitational Day 3 Overview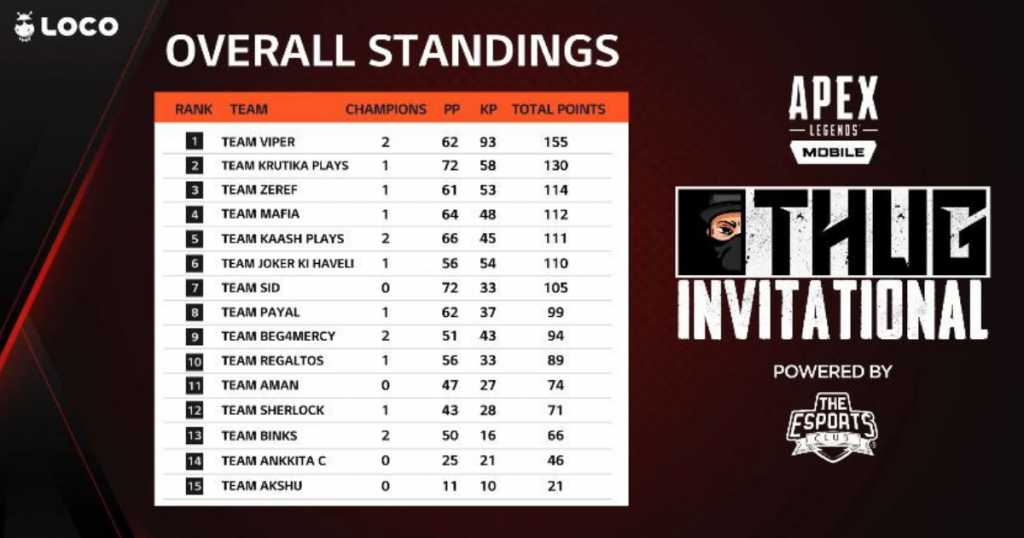 The first match was claimed by Team Joker Ki Haveli with a total of 10 kills. Team Mafia was outplayed by Joker Ki Haveli and ended up in the second position with 9 kills.
Team Krutika Plays won the second match with a dominating total of 12 kills while Team Payal Gaming secured 4 kills and became the runner-up in the match.
Team Viper gained momentum back in the third match and became the champions of the match with a whopping total of 14 kills. Team Krutika Plays also played well to secure the second position in the match with 1 kill.
Team Sherlock emerged as the champions of the fourth match while securing seven kills. It was Team Viper claiming the second position in this match with 8 kills. Team Krutika Plays also secured a total of 7 kills in the match and was eliminated at the third position. The final match has seen Team Zeref becoming the champions.
Prize Pool Distribution
This is the first-ever Apex Legends Mobile competition organized by 8-Bit Thug and powered by The Esports Club. Loco is the official broadcast partner and all 15 matches were broadcasted Live on the Loco channel of The Esports Club (TEC). The event was announced with a prize pool of Rs 2.5 lakh which is distributed among the teams and players as follows:
Team Viper – Rs 1 lakh
Team Krutika Plays – Rs 75,000
Team Zeref – Rs 50,000
Team Mafia – Rs 25,000
Since BGMI is unavailable on the official download stores, gamers and players are shifting to new titles. Apex Legends Mobile is one of the best alternatives to BGMI and moreover, the developers are bringing in more content and stuff for its players. Fans can expect more tournaments and events surrounding this game in the coming days where they can get more familiar with the format of the tournaments.