Highlights
Team XO became the champions of

Snapdragon Pro Series New State Mobile India Open

.
The team secured 2 WWCDs and scored 96 points with the help of 65 kills.
Team XO took home Rs 21 Lakh prize money along with the championship trophy.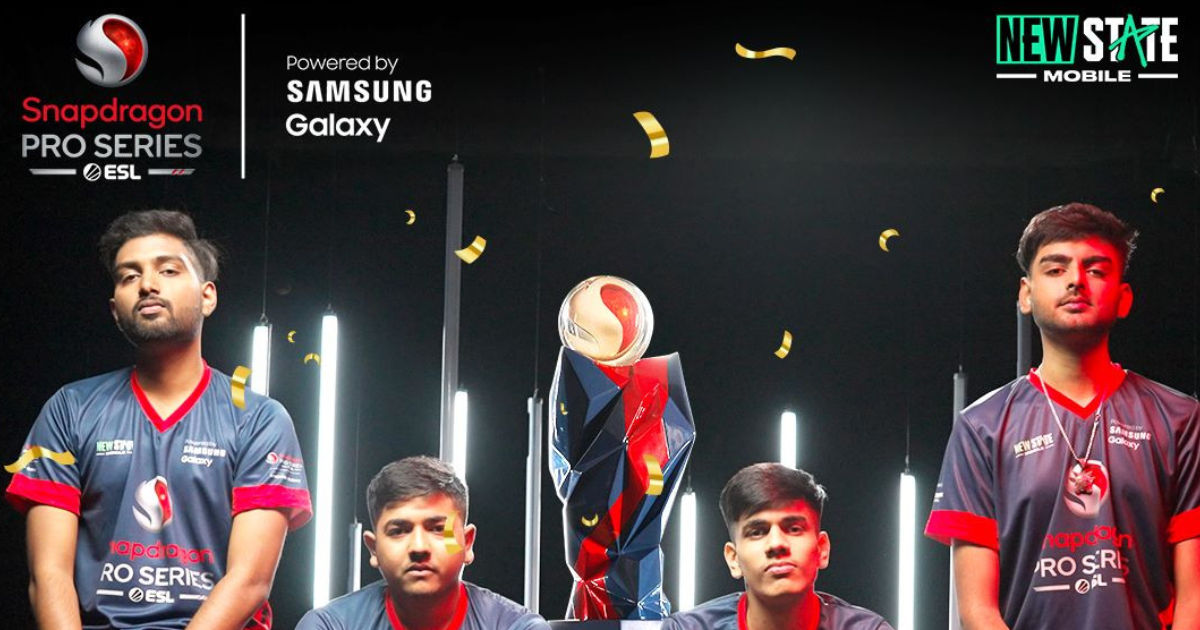 The first-ever New State Mobile LAN event came to an end yesterday with Team XO walking away as the ultimate champions. ESL India, in partnership with Nodwin Gaming announced Snapdragon Pro Series New State Mobile Open earlier last month. The event was the biggest tournament to take place in India, with a massive prize pool of Rs 1 Crore.
The players in Team XO are professional BGMI esports players: Fierce, Punk, Sarang, and Pukar, who shifted to New State Mobile after the Indian Government barred Battlegrounds Mobile India from Play Store and App Store. Despite being largely a BGMI Esports team, the team did not hold back at any stage of the tournament. They quickly transitioned to New State Mobile and emerged as champions.
The squad won two Winner Winner Chicken Dinners (WWCD) in twelve matches and scored 96 points with 65 finishes. Team XO took home the lion's share of the Rs 21 lakhs prize money as winners.
Fan-favorite team Godlike Esports fell short by only 3 points and lost the pole position, which made them end the competition by being the runner-ups. The team also won two chicken dinners and scored a total of 93 points with the help of 65 eliminations. Godlike Esports received prize money of Rs 15 Lakhs, while their star player, Reflexer received the MVP title and was rewarded with Rs 3.20 prize money.
Reckoning Esports finished the tournament as the second runner ups with 85 overall points. The team received Rs 12 lakhs of prize money. Team S8UL came in eighth place with 68 points and 49 eliminations, while Team XSpark struggled to finish 16th with only 32 points.
Also Read: Indus Gameplay Trailer is Finally Here: Pre-Registrations Now Live
Team XO Wins SPS New State Mobile India Open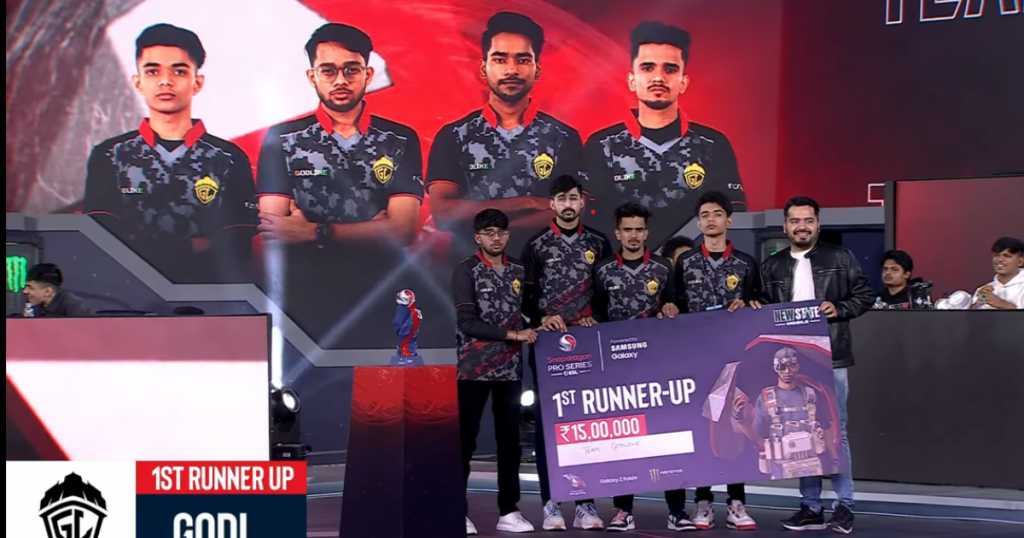 Team XO pulled off great competition and ultimately led their way to become the crowned champions of the biggest New State Mobile tournament in India. TeamXO appears to have made the right decision in moving its previous BGMI team to New State Mobile.
XO had a difficult path, competing against some of the best teams in the country and qualifying through many stages to make it into the final batch of 16 contestants.
The D-Day is over and here are final results. @esportsxo proved their grind on stage🏆🏆@godlike.in is runner up and @reckoningesports is second runner up. Congratulate them in comments🔥🏆 Stay Tuned For More SPS Action! pic.twitter.com/8IfFtqOXtN

— ESL India (@ESL_India) January 29, 2023
From the opening match of the Grand Finale, XO started off with impressive gameplay. The squad started the day with two back-to-back wins to gain two WWCD (Winner Winner Chicken Dinner) and concluded the day with a total of 69 points, helping to attain the pole position with a huge lead of 24 points.
On the second day, XO managed to collect just 27 more points over six maps, bringing its total to 96, barely enough to maintain their lead in the overall points table, while Team GodLike chased it down, finishing with 93 points.
After winning India's largest competition for the championship, it is reasonable to claim that Team XO is the best New State Mobile team. Pulling off such a great victory definitely deserves appreciation.
Prize Pool Distribution
The Most Valuable Player who won many hearts 🔥⚔️ Congratulations @godl_reflexer from @godlike.in for being the MVP of SPS NEW STATE MOBILE India Open Grand Finale.

@godl_reflexer has secured 29 finishes in Grand Finale🔥 pic.twitter.com/cWjdn646Uz

— ESL India (@ESL_India) January 30, 2023
The Prize pool is distributed among the 16 finalists as follows:
TEAM XO – Rs 21 lakhs
Godlike Esports – Rs 15 lakhs
RECKONING ESPORTS – Rs 12 lakhs
TEAM TAMILAS – Rs 8.8 lakhs
TEAM NEXGEN – Rs 6.4 lakhs
SKYLIGHTZ GAMING – Rs 4 lakhs
Wanted Gaming – Rs 4 lakhs
TEAM S8UL – Rs 4 lakhs
CHEMIN ESPORTS – Rs 2.4 lakhs
Team Insane Esports – Rs 2.4 lakhs
DEADROW ESPORTS – Rs 2 lakhs
BIG BROTHER ESPORTS – Rs 2 lakhs
TEAM ESN – Rs 2 lakhs
Global Esports – Rs 2 lakhs
Hyderabad Hydras – Rs 1.6lakhs
TEAM XSpark – Rs 1.6lakhs
MVP – Reflexxer (Godlike Esports) – Rs 3.2 Lakhs
Each team that got eliminated after the Challenger Finale received $1000 prize money.
Also Read: Skyesports COD Mobile POVA Cup Invitational: Invited Teams, Schedule, Format and More