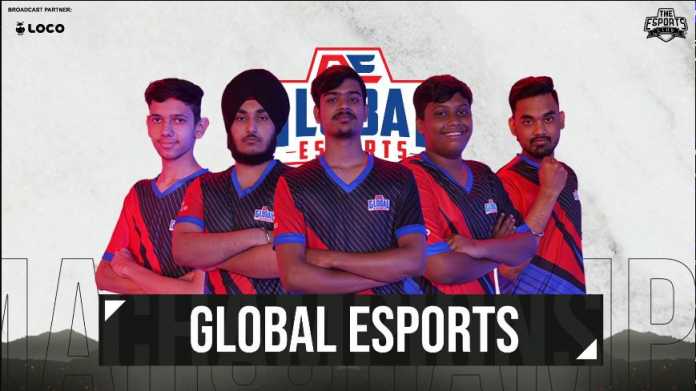 LG Ultragear Presents TEC BGMI INVITATIONAL SEASON 4 – Powered by Swiggy gets concluded with Global Esports becoming the event's champions and receiving Rs. 7 Lakh Prize Money. They won the event by only one point, making them the table-toppers. Marcos gaming fell short by a single point and became the runner ups.

#GEFighiting goes on, and Global Esports won back-to-back editions of The Esports Club BGMI Invitational, and this time they won with 115 points. It is disappointing for Marcos Gaming (114 points) as they are only one point away from the tie and two points from the championship title. Even though MG had that one point, it is not enough to say the event would be won by MG as Global Esports had more Placement points whereas MG had more CDs. Chemin Esports who were the runner-ups for Uptrhust Esports Pro Showdown secured third place with 109 points.
Team XO was placed at the fourth position with 105 points. TSM secured the fifth position while Team Soul finished at the seventh spot on the overall charts. Godlike Esports had not got good games in the event and finished at 12th position.
TEC BGMI INVITATIONAL SEASON 4

Finals Day 2 Overall Standings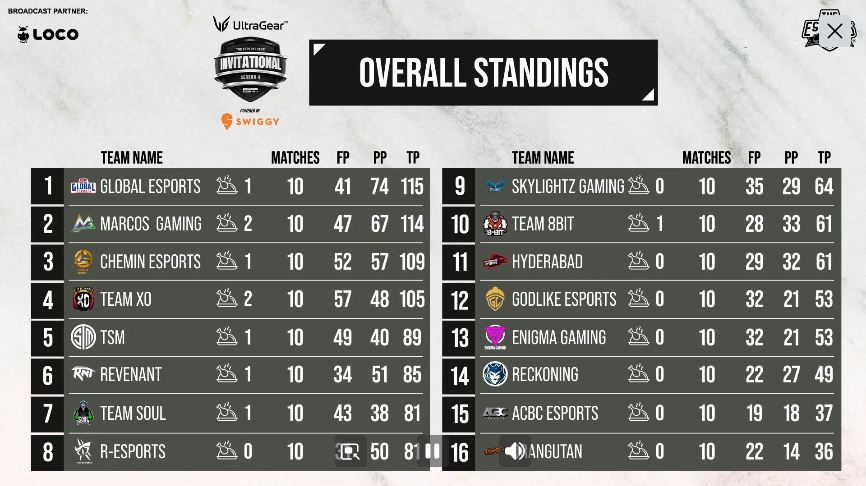 The day's first match was won by Marcos Gaming, played on Miramar with seven finishes, where Manya from Global Esports led their team to the #2 spot with eight finishes. R Esports took 9 finishes in this match while TSM and XO secured 8 and 7 finishes, respectively. This match led Marcos to the first position in the overall standings.
Team XO had a great knock in the day's second round, in Miramar, and they claimed the match with a whopping total of 18 finishes. Global Esports again secured the #2 position in the second match with six kills. Godlike Esports took 12 kills in this match, where Jonathan alone contributed eight kills to the total.
Team XO also clenched the back-to-back chicken dinner title by winning the third match. The team secured 12 finishes in this match and eliminated Enigma Gaming in the final 4v4 fight to claim their win. Enigma had a total of 11 kills while Reckocking and Soul took 6 and 7 finishes respectively.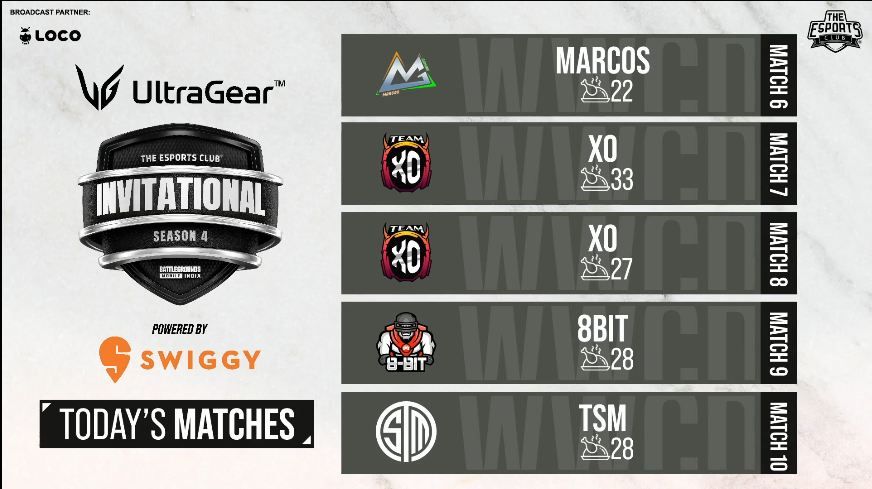 With two consecutive wins, XO climbed to the second position with only 9 point difference compared to the first-placed team, Marcos Gaming. Global Esports has not lost its run and were ranked at the third position and following XO closely.
It was Team 8-Bit who emerged as the champions of the fourth match with a good total of 13 frags, and they outperformed Revenant Esports, who had 8 kills in the final fight to grab thier win. Enigma Gaming took seven kills to thier name in this match. Global Esports, with consistent performance, becomes the table-toppers after match 4.
TSM has also taken a win in LG ULTRAGEAR Presents TEC BGMI INVITATIONAL SEASON 4 – Powered by Swiggy Grand Finals!

🔴https://t.co/VRK7sA42Sz@swiggy_in @LGIndia @GetLocoNow #BGMI #TECBGMI #mobilegaming #TEC #bgmiinvitational #wwcd pic.twitter.com/hIIttUtePv

— TheEsportsClub (@TheEsportsClub1) June 16, 2022
TSM secured the win in the day's final match with 13 finishes. R esports secured 12 points in this match apart from their four elimination points by finishing second.
Prize Pool Distribution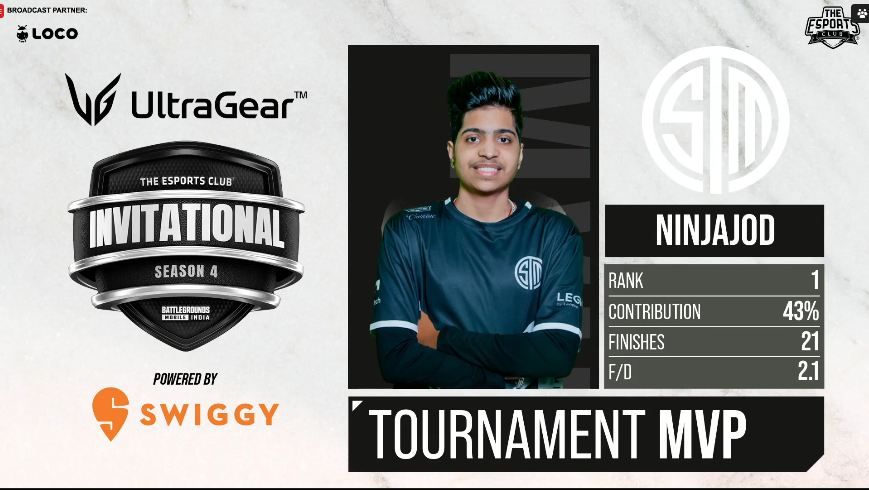 1st Place: Global Esports – Rs 7 Lakhs
2nd Place: Marcos Gaming – Rs 4 Lakhs
3rd Place: Chemin Esports – Rs 2 Lakhs
4th place: Team XO – Rs 1 Lakh
MVP: NinjaJod (TSM) – Rs 1 Lakh
Thanks for reading till the end of this article. For more such informative and exclusive tech content, like our Facebook page