The monster launch of the season just happened! Samsung Galaxy M52 5G is among us, and this #LeanestMeanestMonsterEver means business as it comes packed with a 7.4mm sleek design, a powerful 6nm Snapdragon™ 778G processor, segment best FHD+ sAMOLED+ 120Hz display, and Galaxy 5G – 11 bands support. What sets it apart is how it manages to deliver strong results in every field.
The monster Galaxy M series was first introduced in 2019 and since then, Samsung has established some path-breaking innovations and cutting-edge specifications in the segment. As a result, the phones managed to capture the pulse of Gen Z and were loved by the fans. With a super sleek and stylish build and excellent specifications to boot, Galaxy M52 5G has surely taken the legacy of M series a notch higher.

Leanest design ever with a super sleek 7.4mm body
The monster Galaxy M52 5G comes in a super sleek 7.4mm design. The premium build quality further adds to its durability and style and is a treat to carry around, whether you're holding it in your hand or just casually sliding it in your pocket. What's impressive to note is that this slim build still accommodates a powerful processor, a large battery, and excellent cameras, along with the best connectivity standards in the industry. It's 21% sleeker than its predecessor, making the Samsung Galaxy M52 5G a striking smartphone to hold – and to use.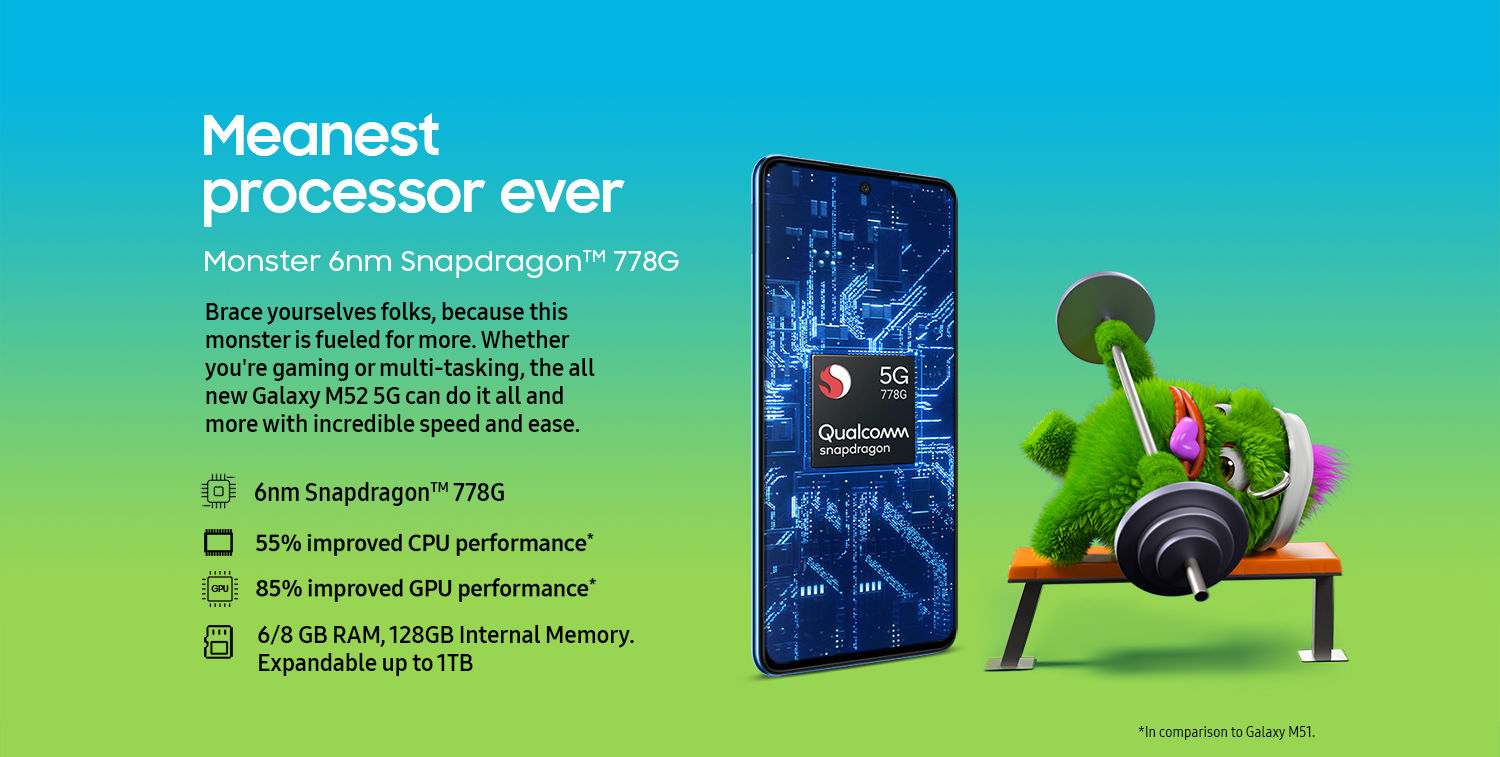 Meanest processor ever with monster 6nm Snapdragon™ 778G
Be it an avid gamer, a budding photographer, or one who loves binge-watching the latest shows, the all-new monster, Samsung Galaxy M52 5G will always offer you the best of every world. The 6nm Qualcomm Snapdragon™ 778G SoC is paired with up to 8GB RAM to make sure that you are ready to take on the most graphic-intensive games, and multitasking demands at work, too. The Galaxy M52 5G marks a 55 percent improved CPU performance to give you all the performance prowess that you need, and there's 128GB of internal storage at hand to let you store endless photos at will. Still, want more? You can add an extra 1TB of storage thanks to the microSD card slot on the phone.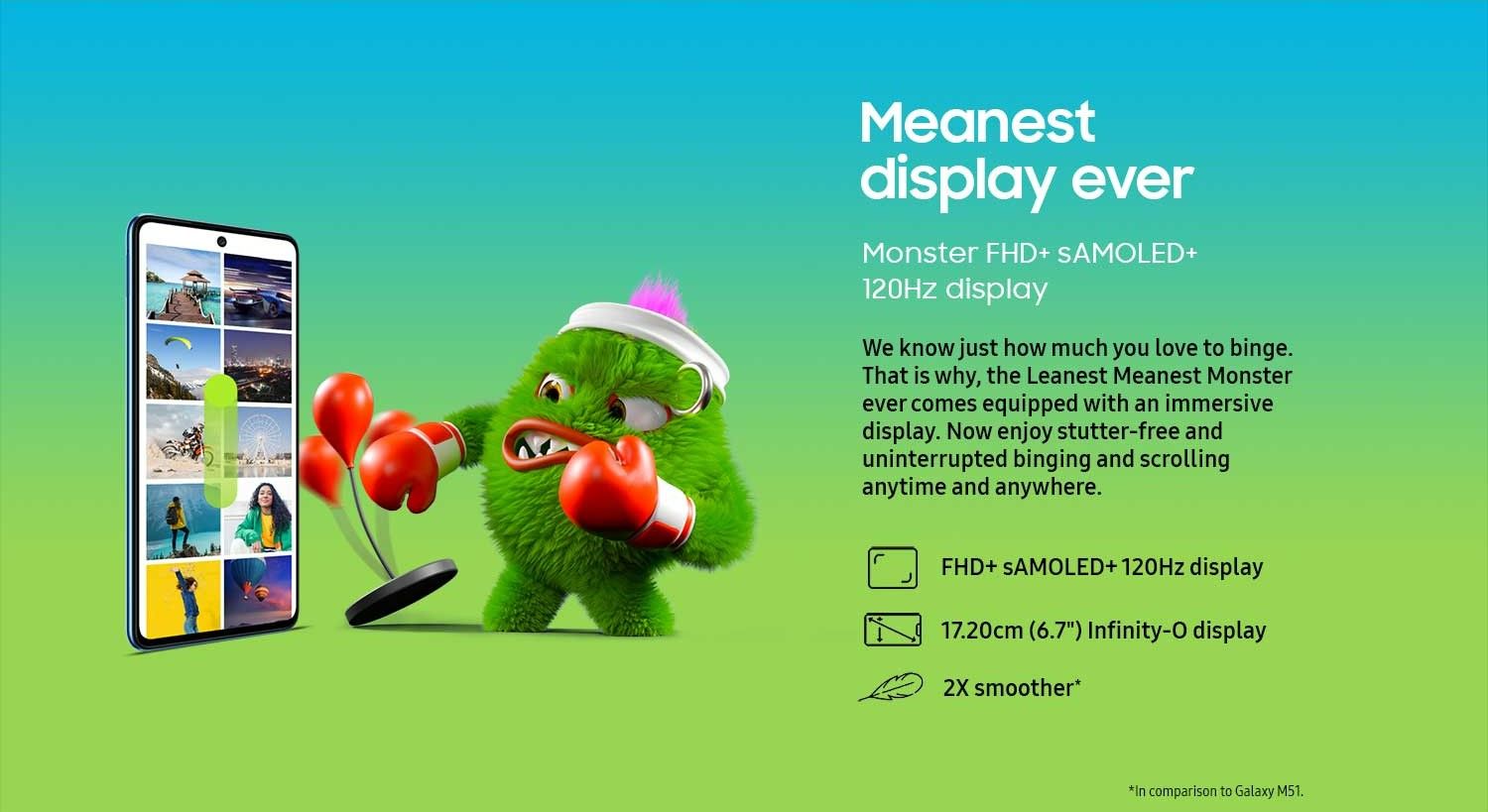 Meanest display ever with monster 6.7-inch screen and FHD+ sAMOLED+ 120Hz display
We can all agree that Gen Z demands more from their smartphones since they rely heavily on their devices. Whether it's binging on their favourite content, scrolling on social media, or creating bright and vivid content, the monster Samsung Galaxy M52 5G will have your back. The Galaxy M52 5G pairs its stellar processor with a 120Hz display, which ensures that your phone's display can keep up with the fluid smoothness that the processor can deliver. The Full HD+ sAMOLED+ display produces impressive colour tones and great colour vibrancy to deliver the perfect visual quality that's suited to stream the richest video content of your choice. Thanks to the 17.2cm, 6.7-inch Infinity-O display that is 2x smoother than its predecessor, the Galaxy M52 5G is perfect for a theatrical movie experience on the move.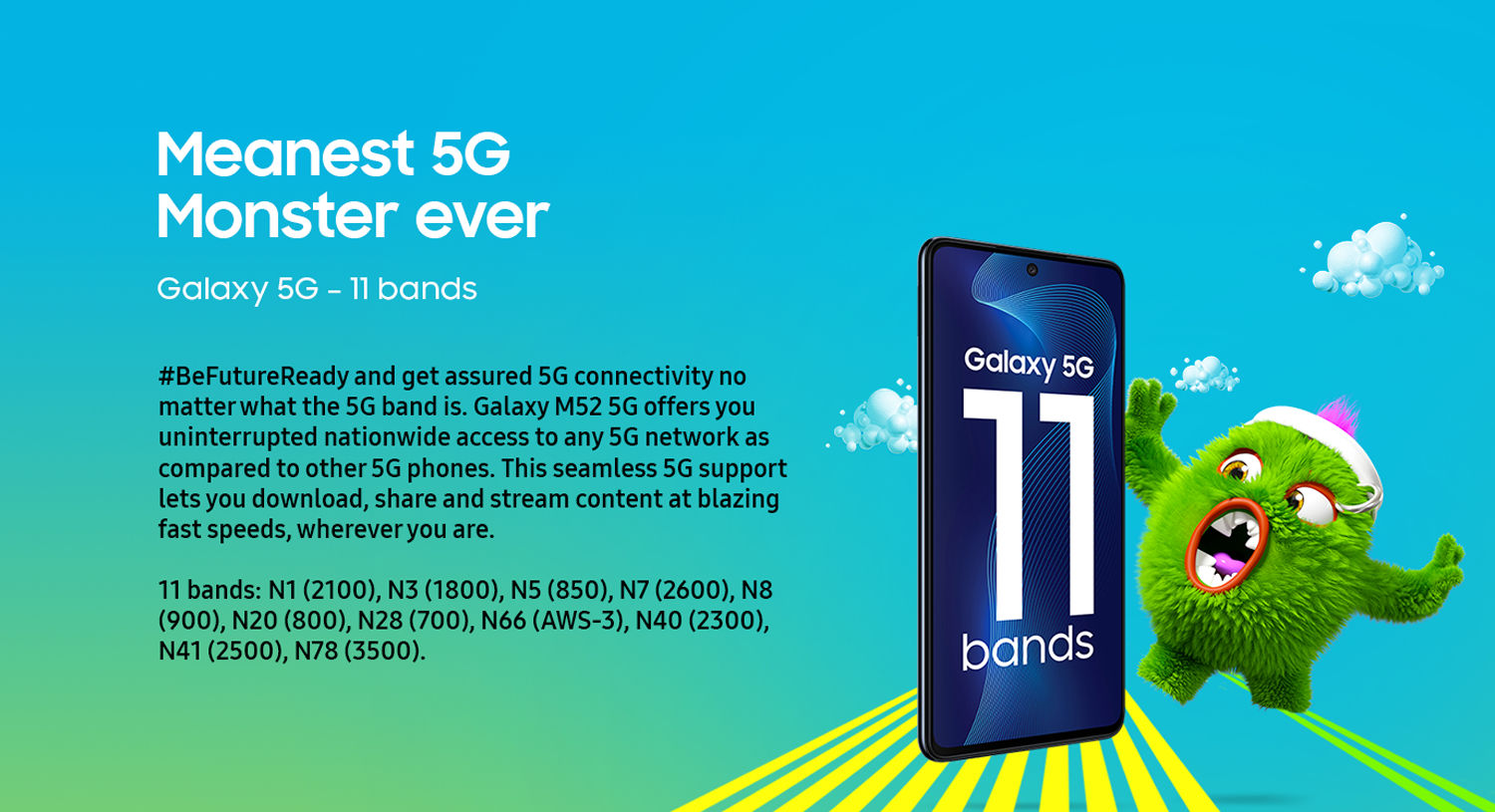 Meanest 5G monster ever with Galaxy 5G 11 bands
While 5G is an integral part of the Galaxy M52 5G, what's more impressive is just how future ready it is. The smartphone features Galaxy 5G – 11 bands, which means that the smartphone can deliver truly global connectivity standards to you. This feature will help you enjoy blazing fast internet speeds, combined with superior consistency that ensures that you remain connected at all times, anywhere.
Meanest safety ever with monster Knox security + Alt Z
Samsung Knox Security is one of the best security and privacy suites in the entire world, and the monster, Samsung Galaxy M52 5G features this suite as part of its offering. This makes sure that in a world with increasingly frequent cyber threats, you get the best possible security blanket to protect your sensitive data at all times. This is further augmented by Alt Z Life to ensure that you can quickly switch into a total privacy mode without breaking a sweat.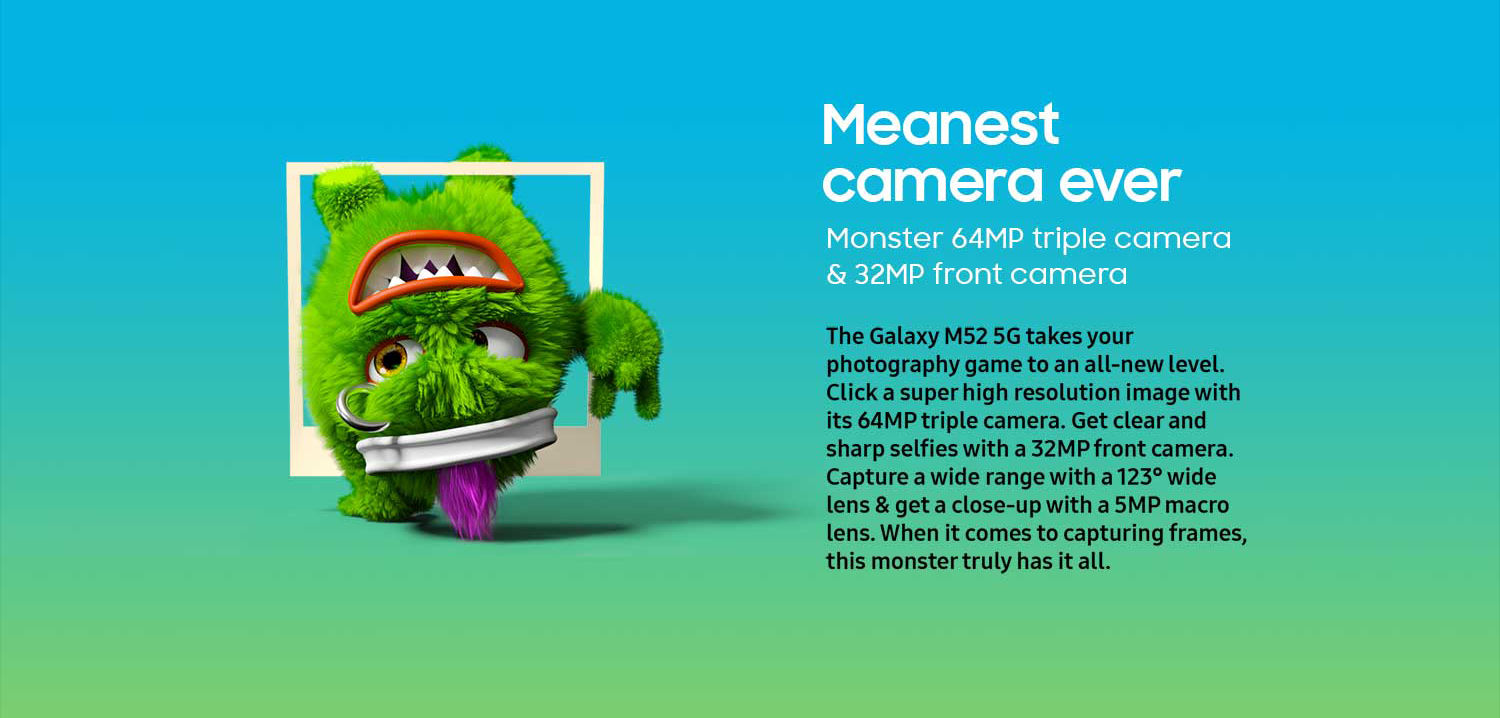 Monster 64MP triple rear and 32MP front camera
The all-new Galaxy M52 5G comes with a cutting-edge camera system that caters to a generation that simply loves to capture and create content. The Galaxy M52 5G offers a 64MP triple rear camera setup, as well as a 32MP front camera. The main camera setup features a 64MP high-resolution wide angle camera, a 12MP second camera with 123-degree ultra-wide-angle field of view, and a third 5MP camera for dedicated macro photography. This is paired with unique features such as Single Take, which allows you to capture up to 10 photos and videos with just one take. You also get video call effects through the 32MP high-resolution front camera, which gives you the ability to change your background colour, adding a blur, or simply replacing it with an image.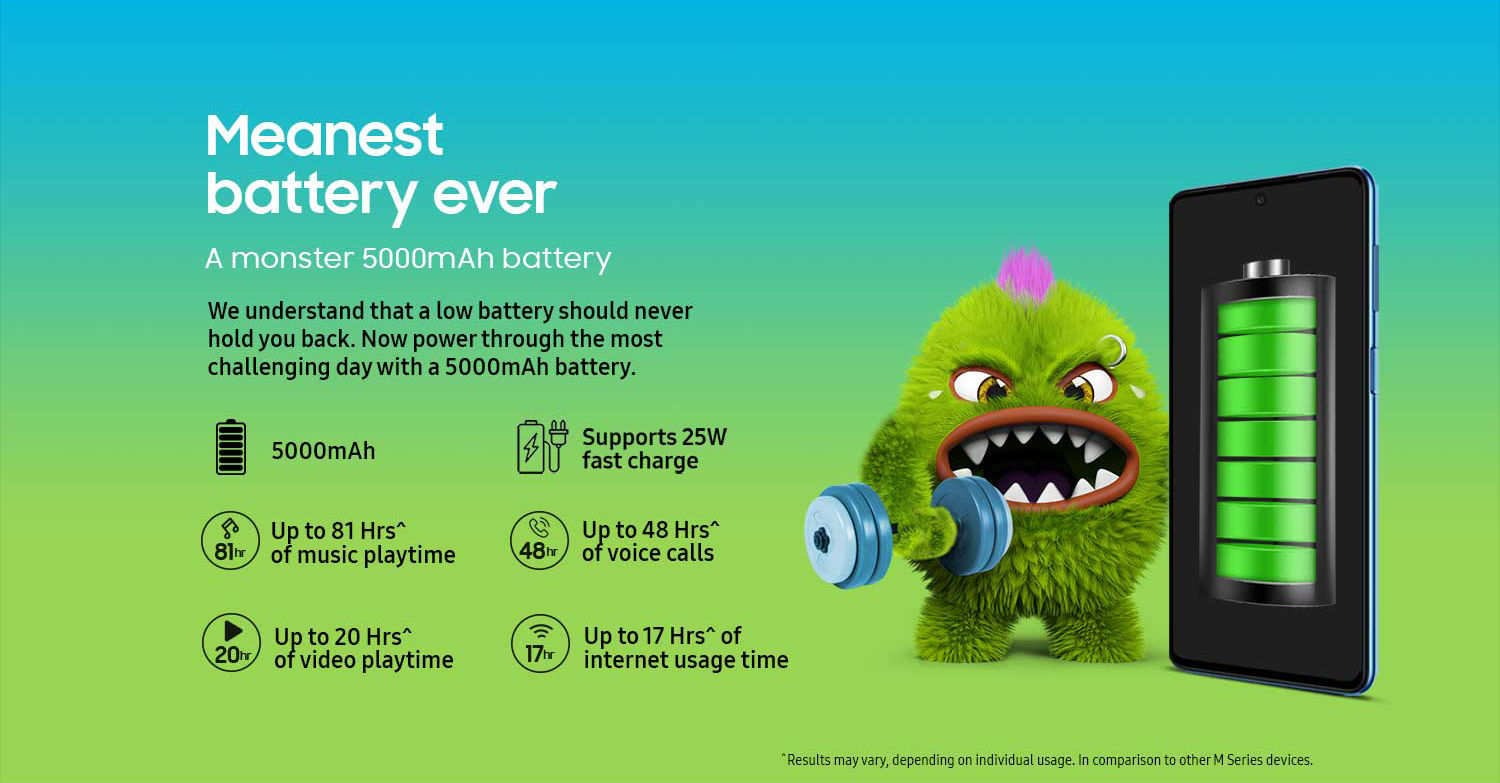 Monster 5000mAh battery with 25W fast charging support
With all of these features at hand, what you really need is to make sure that you can continue to make the most of your smartphone all day. The Samsung Galaxy M52 5G offers that exactly with a monster 5,000mAh battery supercharging your everyday essentials. Need to still charge up your phone in the middle of the day? The Galaxy M52 5G also supports 25W fast charging, which lets you juice up your phone in a jiffy. The Galaxy M52 5G offers up to 81 hours of music, 48 hours of voice calls and 17 hours of internet usage.
There's more! The all-new monster, Galaxy M52 5G runs on Android 11, with OneUI 3.1 on top. This makes your life incredibly easy and convenient. Now with Android 11, you have better control over your conversations, media and privacy.
If all of this sounds exciting to you, you're in luck! The much awaited sale for the Samsung Galaxy M52 5G starts today. While this monster is the leanest and meanest when it comes to the hardware specs, the price of this monster is quite lean. The brand new Samsung Galaxy M52 5G comes at an introductory price of Rs. 25999*. You can head to Amazon India, or directly to the Samsung India website, to avail exciting launch offers and get your hands on this monster. The countdown has begun!
*Price shown for 1N of 6+128GB variant of Galaxy M52 5G. Inclusive of Rs 1000 off on coupons provided by Amazon and Rs 3000 festive discount. Limited period offer. T&C apply.