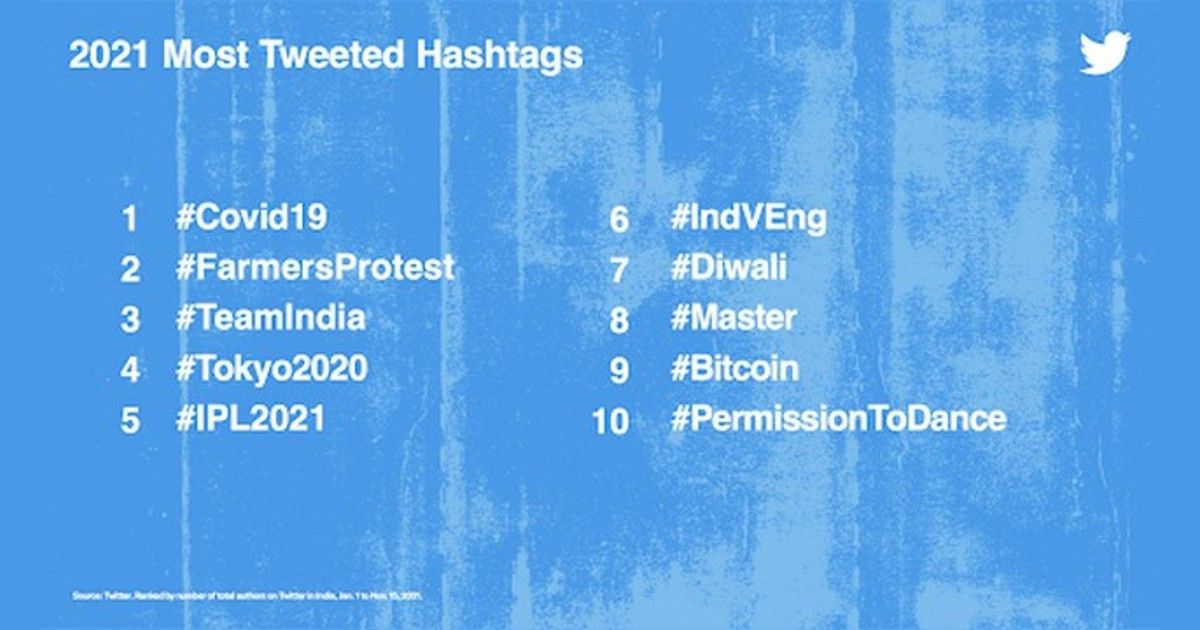 Twitter has revealed its official ranking of the biggest interactions on its platform for the year 2021. According to the social media platform, which has just revealed a list of the most liked and retweeted tweets on its service in India in 2021, the data also includes a list of the top hashtags that were used in the country, as well as the most used emoticons.
According to Twitter, the top post among the tweets of 2021 in India was by Indian cricketer Virat Kohli, whose tweet announcing the birth of his child with movie star, Anushka Shama garnered over 5.4 lakh likes and 60,000 retweets. Interestingly, the most retweeted among the tweets was also by a cricketer — Australian pacer, Pat Cummins. The latter's tweet announcing a donation of $50,000 to the PM-CARES fund to combat the covid-19 pandemic garnered over 1.25 lakh retweets including quote retweets — a method through which users can add their own comments on a tweet, while retweeting. The latter is also one of the most liked of the year, with over 4.8 lakh likes on it.
The social media platform has also highlighted the most used retweets of the year. Covid-19 ranked as the most used hashtag of the year, reflecting on the devastating impact of the second wave of the SARS-CoV-2 pandemic in India during the months of April to June this year. The farmers' protest in 2021, which saw India's agriculture community unite against the three contentious (and now abolished) farm laws in India, saw the second highest traction through the year. 'Team India' was the third most used hashtag, and while it applies to all the national teams sported by India through the year, cricket is likely at the fore of its importance.
Other key hashtags used through the year include the Tokyo 2020 Olympics, the Indian Premier League cricket tournament, the India-England cricket series, Diwali, 'Master', Bitcoin and 'Permission to dance'. The 'Bitcoin' hashtag also shows the rising application of cryptocurrencies in India, something that Google's 2021 Year in Search did not reflect.
According to the platform, the folded hands emoticon was the most used in tweets in the year, followed by the laughing out crying emoticon, and the fire emoticon at third.