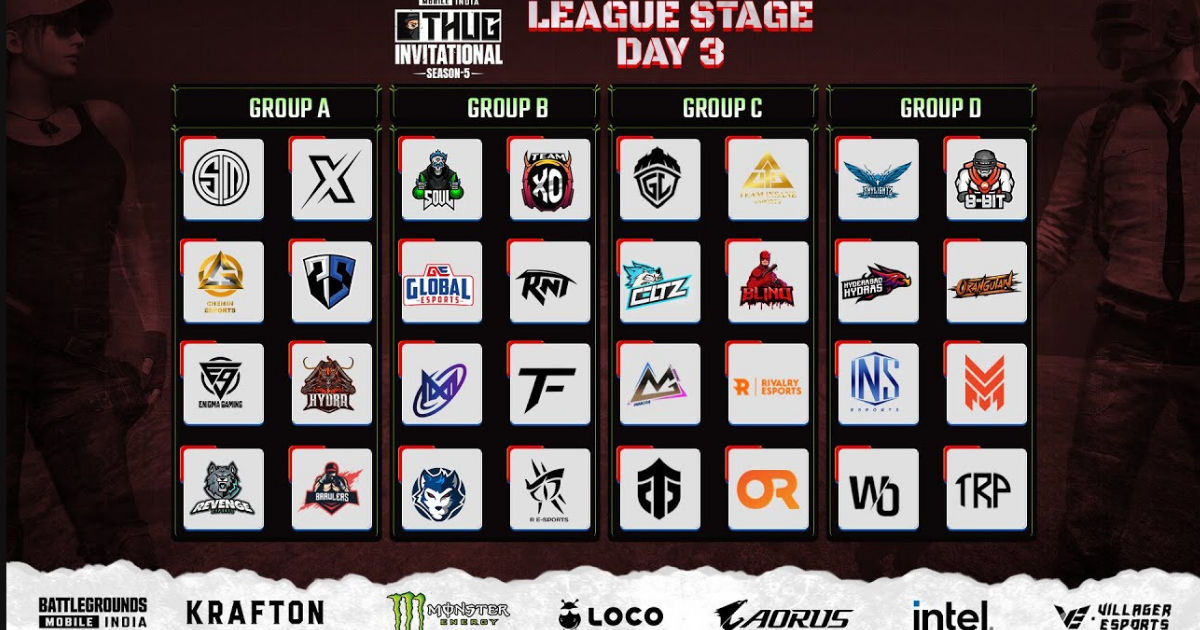 Thug Invitational S5 Day 3 is officially over with teams performing ultimate BGMI action in the event. A total of 6 matches were played on Day 3 in a Round-Robin Format where teams have fought it out for the ultimate glory and slots for the Finals of the event.
The third day of the Thug Invitational's fifth season had taken place on May 16, 2022. With the three days of the league stage completed, it is down to the final day of the League. This day will decide which teams are going to the Finals stage. As per the format, the top 4 teams from each group will advance to the Finals which will take place on May 18, 23, 24, and 25, 2022. Here are the overall standings after Day 3.
Thug Invitational S5 Day 3 Overall Standings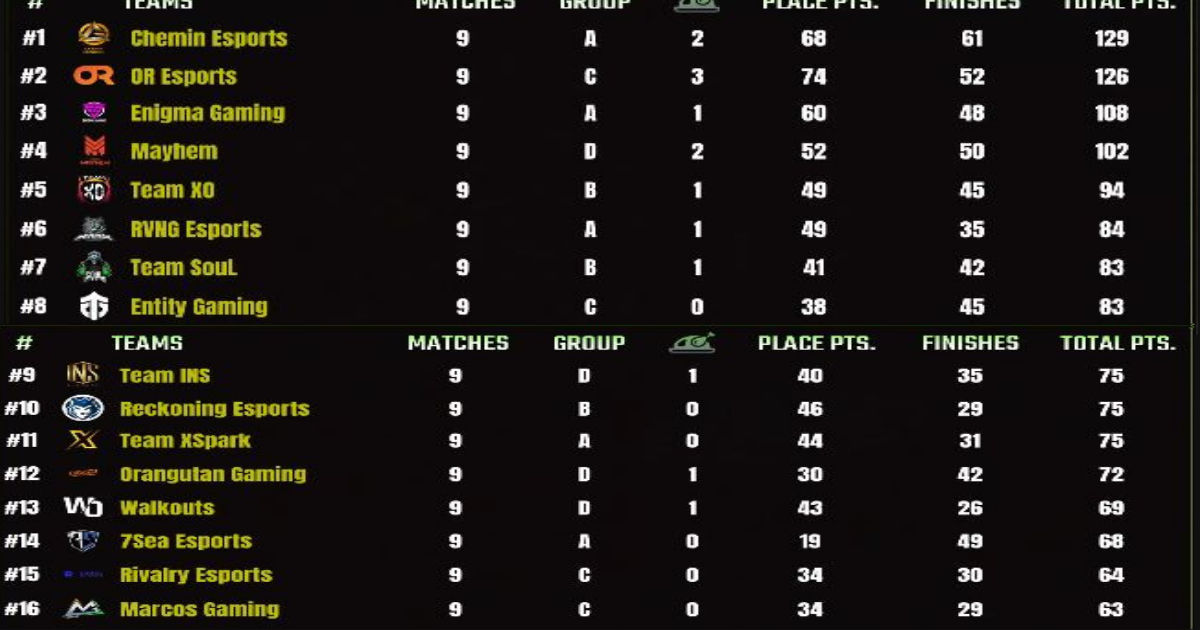 At the end of the day, it was team Chemin Esports leading the points table with 129 points and 61 finishes. They were followed closely by OR Esports with 126 points and 52 finishes. Enigma Gaming came to the third position with 108 points while team Mayhem is down to #4 with 102 points.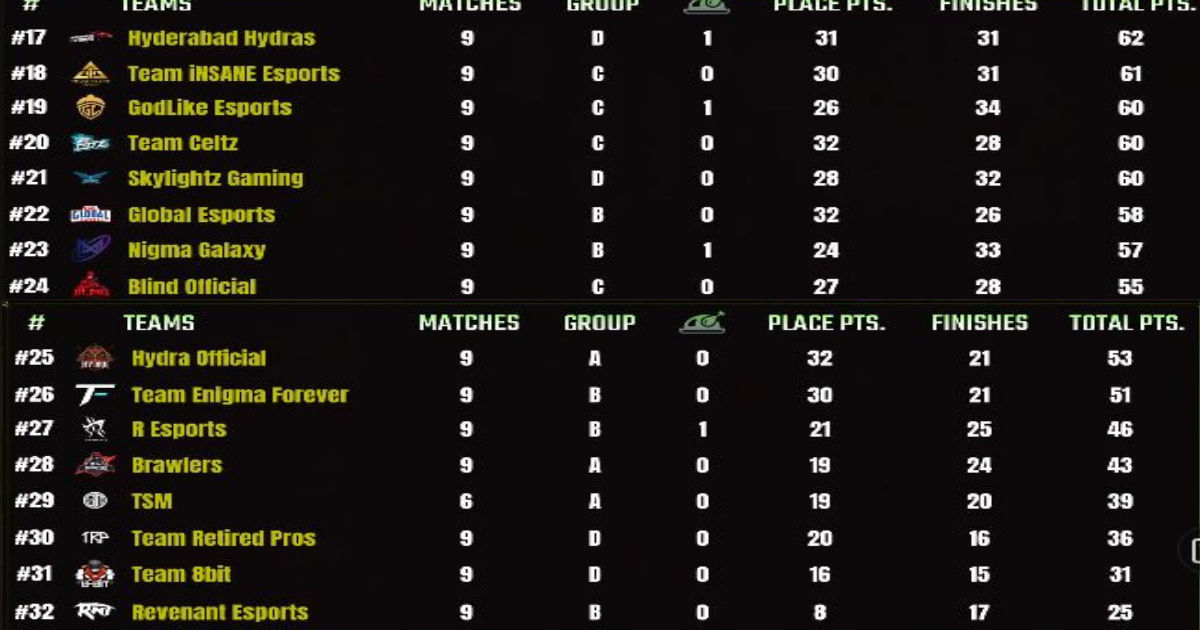 Match 1 (Group A x B): The first match was played on the classic map, Erangel, and was claimed by Team XO with a massive total of 15 frags.
Match 2 (Group A x C): The second math of the day was secured by Revenge Esports with 10 finishes under their name which was played on Miramar.
Match 3 (Group A x D): Team Walkouts have claimed the WWCD in the third match of the day while Chemin Esports was eliminated at the #2 spot with 12 kills.
Match 4 (Group B x C): It was my fan-favorite team Godlike Esports who became the winners of Match 4 with a whopping total of 16 kills.
Match 5 (group B x D): The champions of BGMI Pro Warrior Cup S2, Nigma Galaxy has secured WWCD in the fifth match with 13 kills.
Match 6 (Group C x D): Team OR Esports has played a brilliant knock in the final match which got them the WWCD with 9 finishes.
Thug Invitational Season 5 Top Fraggers of Day 3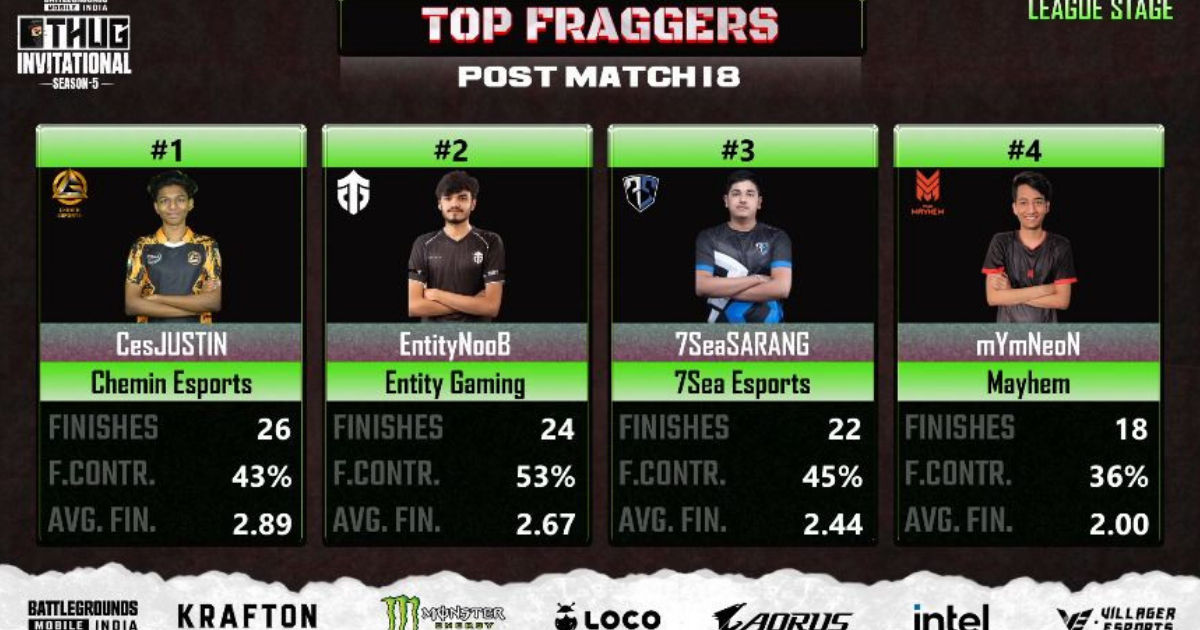 Justin (Chemin Esports) – 26 finishes
Noob (Entity Gaming) – 24 finishes
Sarang (7Sea Esports) – 22 finishes
Neon (Team Mayhem) – 18 finishes
There are plenty of unexpected turns in the points table with each match, so it will intriguing to see which teams will make it to the Finals. The last day will declare the teams advancing to the finals of this invite-only online event. Day 4 will take place on May 17, 2022 and the event is streamed LIVE exclusively on the Thugwa LOCO channel. The stream starts at 1:30 PM IST.