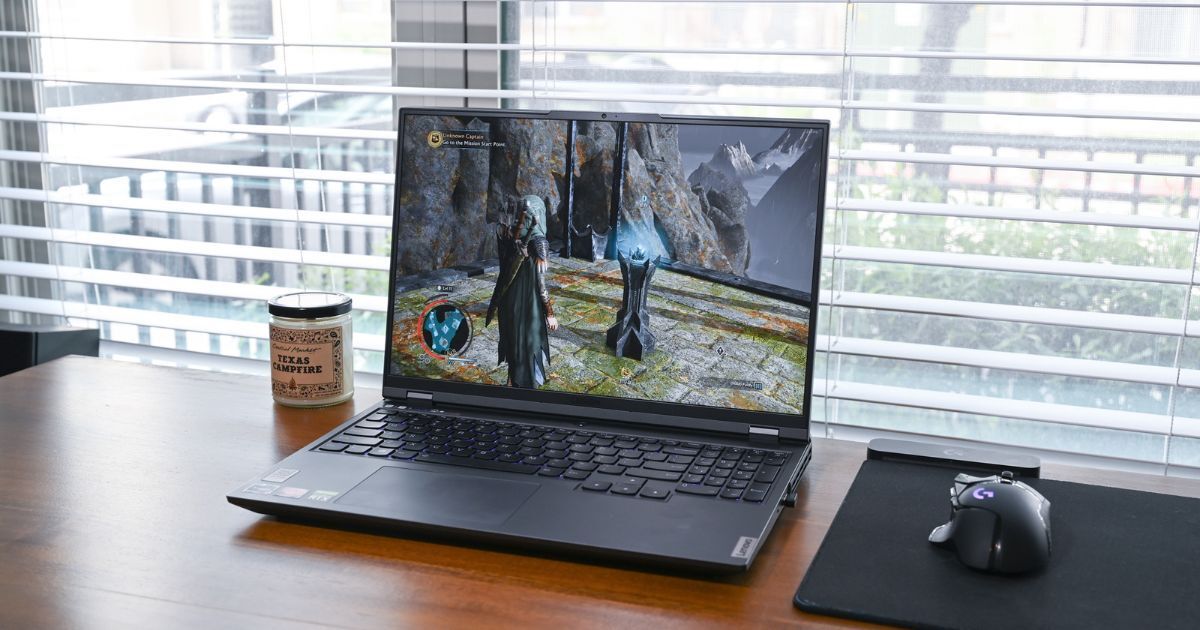 As the gaming ecosystem in India continues to evolve every year, the demand for more powerful gaming PCs has risen as well. However, the most obvious trend is noticeable when it comes to gaming laptops. While most CPU makers are pushing their market deeper in the country with the help of OEMs, AMD seems to have stood apart from the crowd, offering what actually matters – high performance and value for money. We aren't just talking about the top-spec AMD powered laptops, but the mid-range and entry-level machines as well that offer a consistent performance across the board as compared to all the Intels and Nvidias of the world. However, CPUs are not the only ones that matter at today's date. The checkbox for an ideal gaming laptop additionally includes a powerful GPU and a few extra features that add to the overall gaming experience.
That's what we will be listing out today. In case you are planning to buy a gaming laptop, AMD powered machines promise a valuable 'investment' in the long term since they offer some really powerful & efficient Ryzen processors, Radeon™ GPUs and features like AMD SmartShift, AMD Smart Access Memory™, AMD FidelityFX™, AMD FreeSync and more. So, here are five reasons why AMD powered gaming laptops are acing the laptop market in India.
Best Processing Speeds in the Business
It's a proven fact that AMD powered laptops have achieved so much in so little time. The biggest reason behind the massive adoption is the constant (and meaningful) evolution of Ryzen™ processors. Every year, AMD has not only been improving the performance but has managed to keep the price aggressive enough for gamers in India to see enough value proposition in AMD powered laptops.
In case you are following AMD launches, you are probably aware that the chipset maker has managed to knock the ball out of the park with its 6nm Ryzen™ 5000 and 6000 Series processors in the past couple of years. It is because of these that OEMs have the flexibility to make slimmer laptops while offering faster loading times, extended battery life and support for platforms like PCIe 4.0, DDR5, and USB 4. Adding to these are AI powered noise cancellation processing right on the chip along with deeper Windows 11 security support.
The top-of-the-line Ryzen™ processors have up to 8 cores and 16 threads. The boost clock speed can reach 5Ghz with a TDP capping at 45W, harnessing enough power to handle almost any gaming title out there.
Graphics Ready, Always!
It's natural that for an AMD powered gaming laptop to perform perfectly, you would need a powerful and efficient GPU. Here's where AMD's Radeon™ GPUs enter (and rather shine). You may have seen a few laptops using an integrated graphics card. In the case of AMD, you get dedicated graphics with its own memory. For gamers, this results in faster load times – which in turn leads to a more realistic gaming environment.
AMD's latest Radeon™ RX 6000 Series GPU gives a visual edge to gamers. How? The GPU is based on the company's RDNA™ 2 Graphics Architecture, which debuted on PlayStation 5 and Xbox Series X consoles and on desktops a few years ago. The same power is now replicated on laptops with the RX 6000 Mobile Series. AMD claims that Radeon™ RX 6000 Series has 30% higher frequency, support for real-time ray tracing in games and a new AMD Infinity Cache tech for faster rendering.
The architecture also supports AMD FidelityFX™ Super Resolution 2.0 (FSR 2.0) that does the graphics upscaling. It is for those gamers who lack the hardware but still want an improved viewing experience. There are Quality, Balanced and Performance modes that can upscale the content by up to two times the original scale. Developers additionally get an 'Ultra Performance' mode. So, in case you are playing on 1920 x 1080 resolution, this feature can deliver an output of 3840 x 2160 resolution.
The Visual Treat by AMD FreeSync
Talking about the viewing experience, AMD powered laptops go beyond the CPU-GPU pair and offer features like AMD FreeSync. You may have seen OEMs like Asus, MSI and others touting this feature. And they should, rightfully so. That's because AMD FreeSync takes care of 'screen tearing', which usually happens when the monitor's frame rate doesn't refresh at the same speed as the game's frame rate. As a result, you see misaligned elements and strips of different frames, hampering the overall viewing experience while gaming. FreeSync simply controls the framerate of the monitor and syncs it with the game's framerate.
In case you want an external monitor to play your games on by connecting the laptop, you can easily find several AMD FreeSync supporting ones in the market.
AMD Smart Access Memory™ Support
The AMD magic is, however, not limited to display features. Some AMD powered laptops feature the company's Smart Access Memory™ tech that works in conjunction with the Ryzen™ and Radeon™ platforms to push the loading times of titles.
This tech can essentially boost the gaming performance by up to 15% as per AMD. Working along with Ryzen™ 5000 or Ryzen™ 6000 Series CPUs (or select Ryzen™ 3000 Series CPUs) along with Radeon™ RX 6000 Series GPU, the tech lets Ryzen™ CPUs use the full potential of Radeon™ GPU memory. This is unlike what we see in rival CPU-based laptops that can access only a part of the GPU memory (VRAM) to get the job done with more friction.
As per AMD, few titles like Total War Saga: Troy, Assassin's Creed: Valhalla, Call of Duty: Black Ops Cold War, Borderlands 3 and Forza Horizon 4 can deliver up to 17% more gaming performance. Now, what gamer doesn't want that?
Getting Smarter With Amd SmartShift Tech
AMD SmartShift tech works in a similar fashion to AMD Smart Access Memory™. The tech's primary job is to boost the gaming performance, which by the way is in addition to what you are already getting with Ryzen™ CPU, Radeon™ GPU and Smart Access Memory™. The feature simply diverts all the power on delivering a better graphics experience on the gaming laptop. The feature also makes use of machine learning algorithms to auto-boost the performance.
AMD states that the SmartShift tech links the common Infinity Control Fabric blocks, reducing the reaction time for both CPU and GPU for different use cases. Gamers can get up to 14% extra performance with this.
In case you want the best of AMD performance in a gaming laptop and are willing to go for a mid-range or a high-end model, we'd recommend you some AMD Advantage labelled gaming laptops including the Asus ROG Strix G15/G17, HP Omen 16, MSI Delta 15, MSI Alpha 15 and the MSI Alpha 17.
Bonus: Leapfrogging with Software Smarts!
That's true. It's not just the Ryzen™, Radeon™ and AMD's special features that help gamers get more out of their laptops and PCs, it is the software smarts as well. In particular, the AMD Noise Suppression and AMD Adrenalin Edition are the two software you should definitely look out for. The Noise Suppression essentially reduces background audio noise while you are having a conversation during intense gameplays. The aim is to let the other party hear crystal clear audio for better coordination without any disturbance.
On the other hand, the AMD Adrenalin Edition software is your one stop destination for controlling everything from graphics to adding Ryzen™ processor-specific tools or having platform-level controls. You can even control CPU clocking speeds, AMD SmartShift and AMD Smart Access Memory tech, check out average FPS of titles, controlling features like Radeon™ Super Resolution (RSR) and much more.