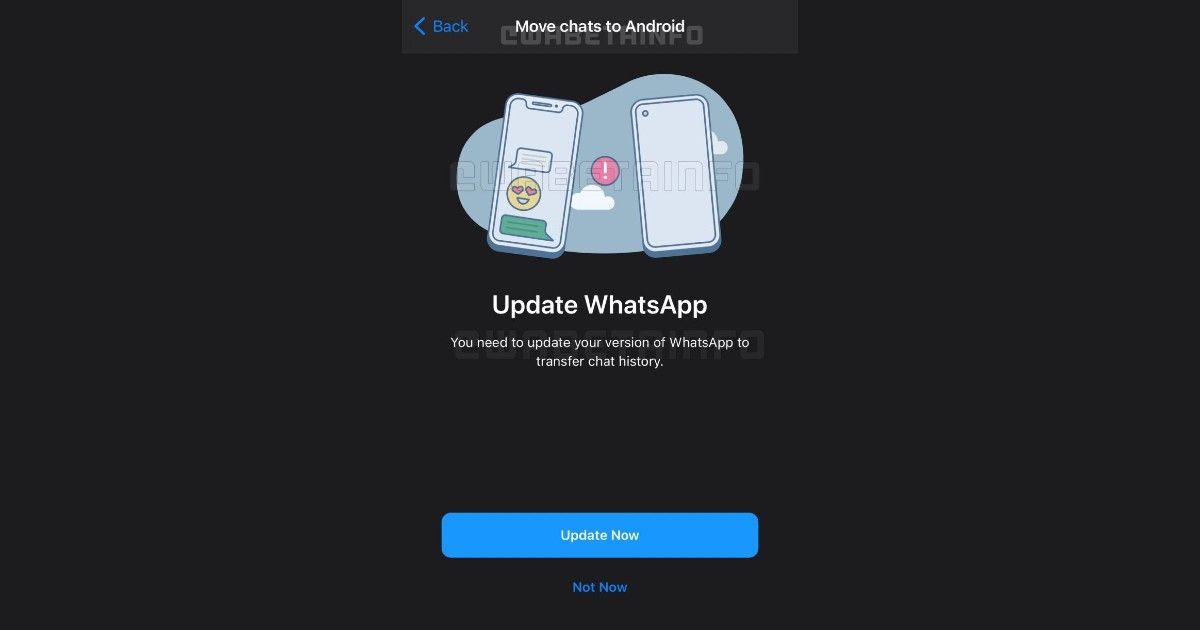 WhatsApp chats are incredibly difficult to backup and transfer if you're shifting between iOS and Android devices. There are no official methods yet, and the list of unofficial, third party apps and services are either sketchy or not consistent at all. Now, all that may change in what is shaping up to be a massive upcoming update for WhatsApp. Finally, after all this time, a WABetaInfo report has claimed that the company is working on enabling a new multi-device linking feature that will also allow users to transfer their WhatsApp chats between iOS and Android phones.
The screenshot is seemingly from an early-stage beta build of WhatsApp, and shows a prompt to update the installed WhatsApp version. In this iOS build of WhatsApp, the prompt clearly states that a user needs to update their app version in order to transfer chat history, with the transfer icon at the top depicting an iPhone and a second device that is clearly not an iPhone – hence revealing that the company is, indeed, working on cross-device WhatsApp chats transfer and account linking. Cross-platform compatibility has been one of the biggest features that WhatsApp users have clamoured for over time, but the same had so far remained elusive.
Since last year, word regarding WhatsApp allowing users to have more than one active chat window on various platforms had surfaced via beta updates rolled out to the service's Android and iOS testing platforms. The update was seemingly making way for users to have their WhatsApp chats open and linked on two devices at the same time, hence adding much more flexibility than what's available right now. At the moment, users can only have their WhatsApp chats open on one device, and use two separate accounts for operating chats on two platforms simultaneously. The latter feature, as well as the ability to transfer chats between iOS and Android, may be fundamentally linked as they both involve linking one account to two devices.
As of now, there are no clear timelines for when might WhatsApp chats transferring between iOS and Android be made a reality. There is no clear release date for the feature, but given its nature of importance, users will hope that the feature is released as a stable, public offering, soon.
Thanks for reading till the end of this article. For more such informative and exclusive tech content, like our Facebook page