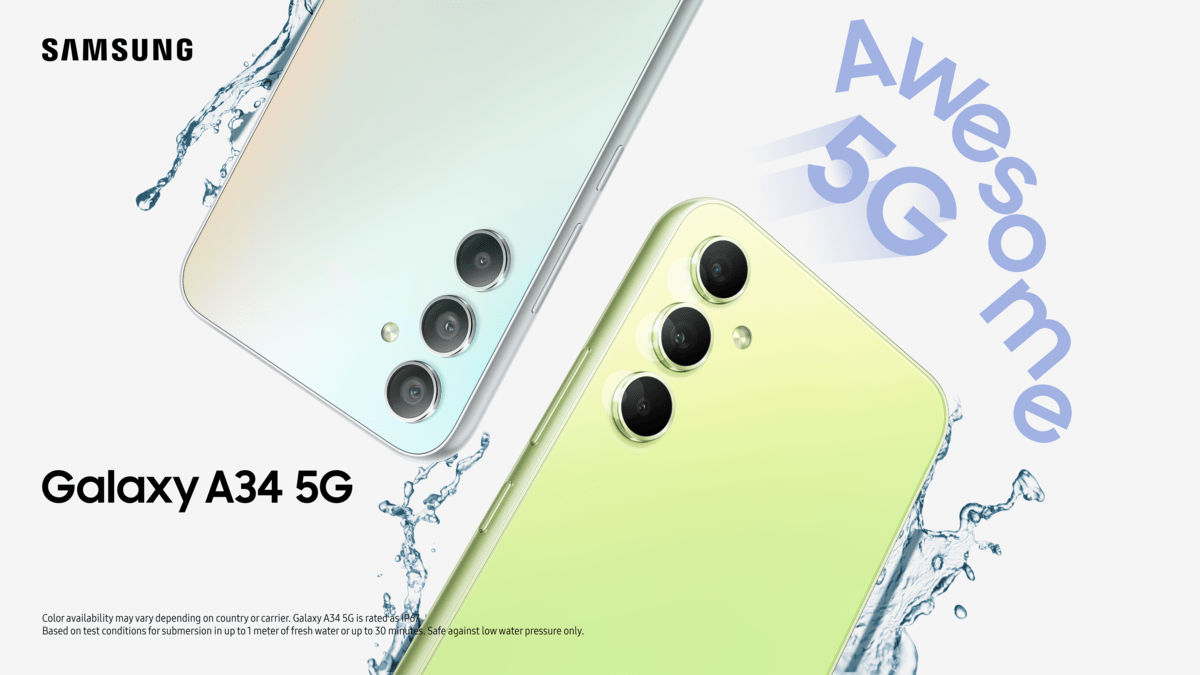 To make Galaxy innovations truly accessible to everybody, Samsung has launched the all-new Galaxy A34 5G. With a starting price of Rs. 27999, inclusive of exciting offers, the Galaxy A34 5G is a durable-yet-trendy smartphone made for the Gen Z lifestyle that turns heads wherever it goes while delivering the best-in-class low-light photography, thanks to the powerful Nightography feature. Here's quick look at the amazing new features that the Galaxy A34 5G offers that live up to the philosophy of #AwesomeIsForEveryone!
Awesomely Durable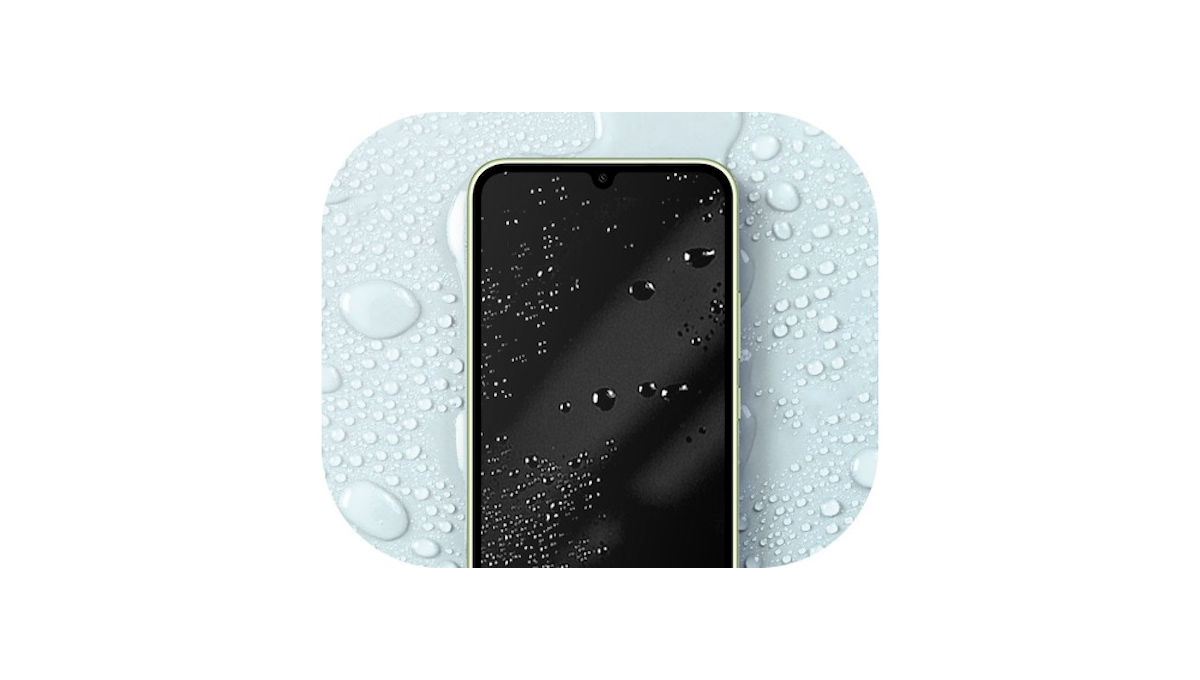 Go from clumsy to confident, as the Galaxy A34 5G's awesome durability will give you a peace of mind in an active lifestyle. Thanks to the Gorilla Glass 5 protection on the display, the Galaxy A34 5G is ouch-proof. So even if you drop it like it's hot at a killer party, the Galaxy A34 5G will come out unscathed.
The Galaxy A34 5G is the ultimate travel buddy too, as it also comes with an IP67 rating, keeping splashes and dust at bay. Imagine taking a spontaneous dusty hike in the hills or getting caught in a sudden rainstorm on the way back home. The Galaxy A34 5G has got your adventures and misadventures covered, so that you can focus on the moment and not worry about damaging your phone.
Trendy Meets Timeless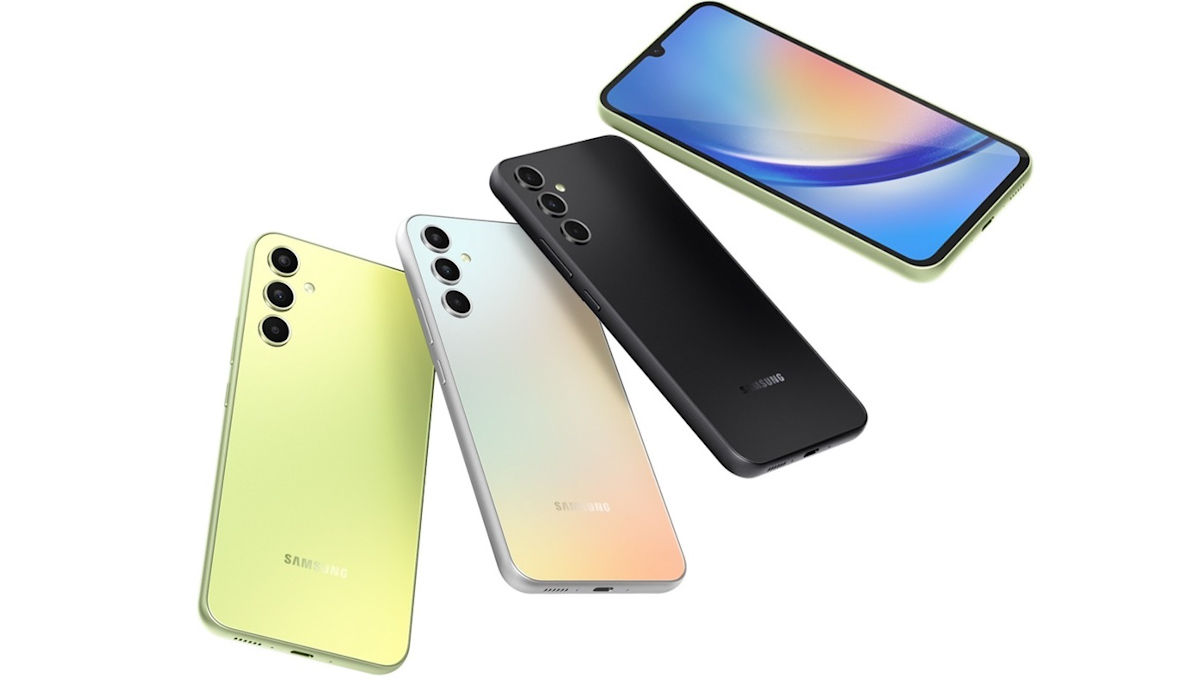 Framed in sleek lines and a glastic finish, Galaxy A34 5G is available in three fashionable yet timeless colours, suited for every taste, occasion and mood. The Awesome Lime colour is eye-catching and cool whereas Awesome Graphite is for those who prefer something understated. The Awesome Silver is the perfect choice for those who believe bold is beautiful, thanks to the pearlescent colour shifting pattern on its back.
The Galaxy A34 5G's textured frame helps having a confident grip in the hand and gives a super-premium feeling. The independent camera rings make it feel luxurious, much like the flagship phones of Samsung. It's a phone that can make you a social media sensation just by flaunting it.
Nightography, Because Life Doesn't Stop When the Sun Goes Down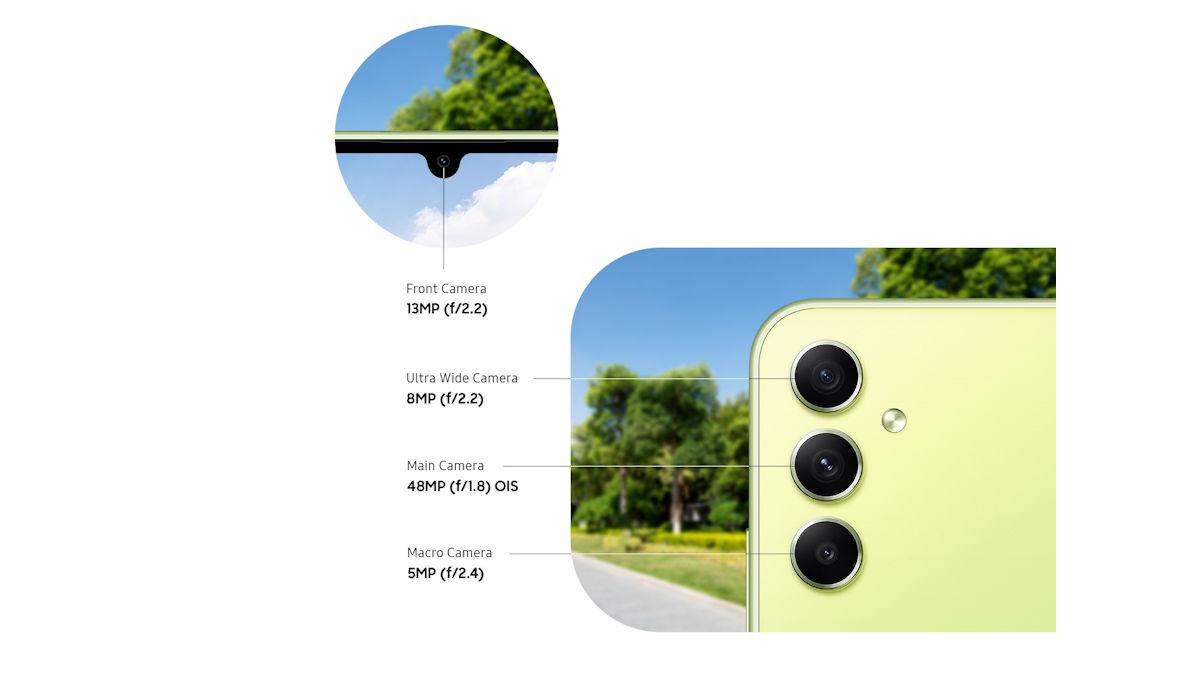 Get ready to capture the night like never before with the Samsung Galaxy A34 5G's Nightography mode! Out on a date with that special someone and you want to capture the perfect moment under the stars? With Galaxy A34 5G's triple camera setup, including a 48MP primary, 8MP ultrawide, and 5MP macro lens, you can take stunning photos in any lighting conditions. With the auto night mode, your life is made even easier, as the camera automatically transitions to night mode, by measuring the light around the object. With the magic of Nightography, the new #AwesomeGalaxyA is ready for the night!
But what if your hands are shaky from nerves? Don't worry – the Galaxy A34 5G's No Shake Cam (OIS) and VDIS are here to keep your videos and photos stable and steady, and they are better than ever before. You get 1.5° wide OIS, which is 1.6 times wider than the previous generation and 2.5x higher VDIS from the previous generation!
The Galaxy A34 5G's camera system is awesomely smart too! Its Auto Framing feature automatically adjusts the angle of view and zooms in up to five people when recording videos. So, even if you aren't sure about your photographic skills, you can rest assured that you'll always have stunning, social media ready photographs! So go ahead, live in the moment and let the Samsung Galaxy A34 5G capture it all!
Make Bingeing Even Better With Awesome AMOLED Display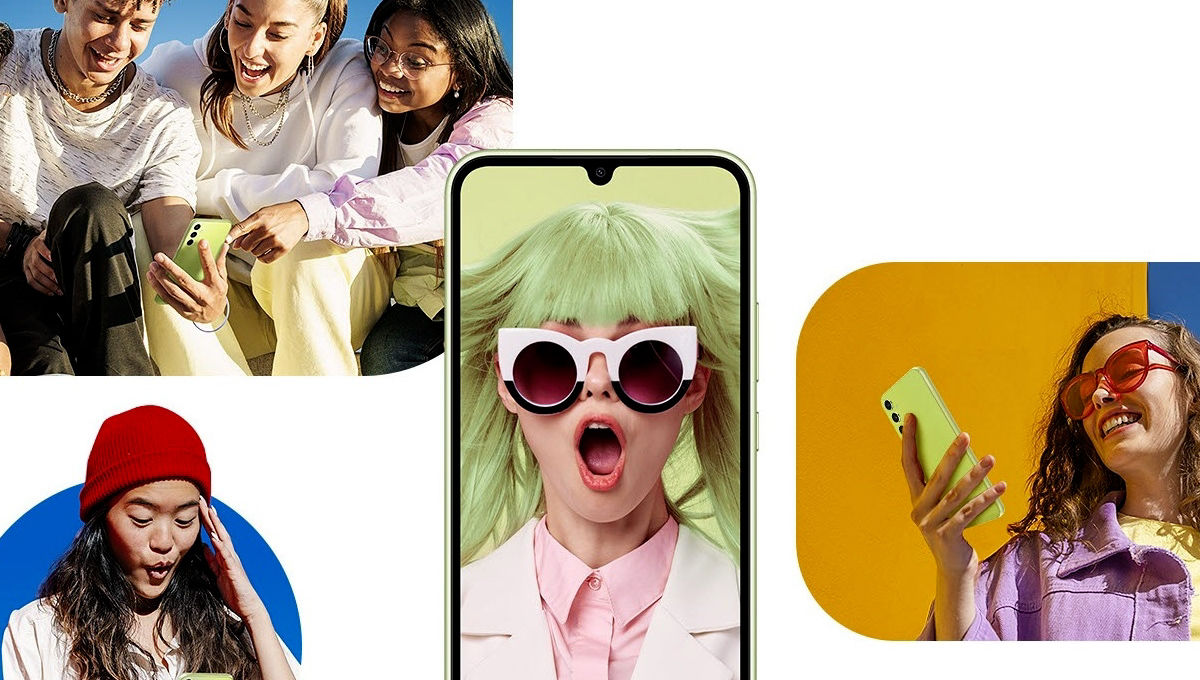 Live your favorite content and games like never before with the Samsung Galaxy A34 5G's awesome display! Samsung's beloved Super AMOLED display offers unmatched vibrancy and contrast, but what makes it even more Awesome is 1000 nits of brightness, which is 25% better than the previous generation. What's more? Samsung's new Vision Booster tone mapping technology ensures enhanced visibility even under bright sunlight.
You can really get lost in a scene with its huge 16.65cm (6.6″) display with a realistic FHD+ resolution. Thanks to this large screen, you can whip out your phone and binge-watch your favorite show without a care in the world. Trust us, your metro commute to college or work will be a breeze. Making your experience even better is the 120Hz refresh rate which makes for a silky-smooth experience
It's a Marathon With 2+ Day Battery Life!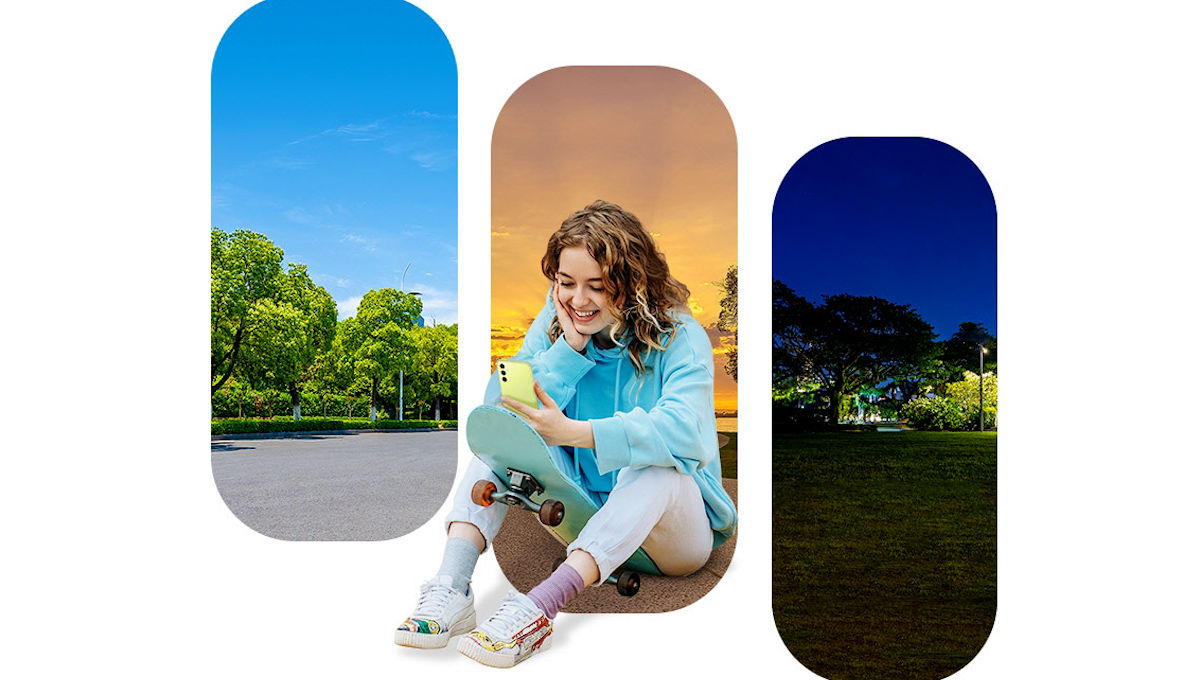 Looking for a phone that won't leave you stranded by the night? The Samsung Galaxy A34 5G is the ultimate choice! Its battery is a real powerhouse, with a whopping 5,000mAh capacity that can keep you going for not one, not two, but more than two whole days! That's right, you can finally put an end to the constant charging and live your life to the fullest! But, when you finally manage to drain that humongous battery, you can always top it super quickly with 25W fast charging support!
With an Awesome starting price of just Rs 27999, inclusive of offers, the Galaxy A34 5G is the obvious pick for Gen Z who want a good-looking, dependable smartphone. Consumers can avail offers like a cashback of Rs 3000 from leading banks or get a Rs 2500 exchange bonus. To make the deal sweeter, Samsung's offering two months of YouTube Premium absolutely free so that you can watch your favorite videos without ads!
Make the Samsung Galaxy A34 5G yours today by heading over to Samsung.com right now. Get your awesome buddy here.