Highlights
Two new devices with Jio branding have been spotted on BIS.
These phones could be the upcoming JioPhone 5G.
Jio is expected to launch 5G-enabled devices at the Reliance AGM Event in August.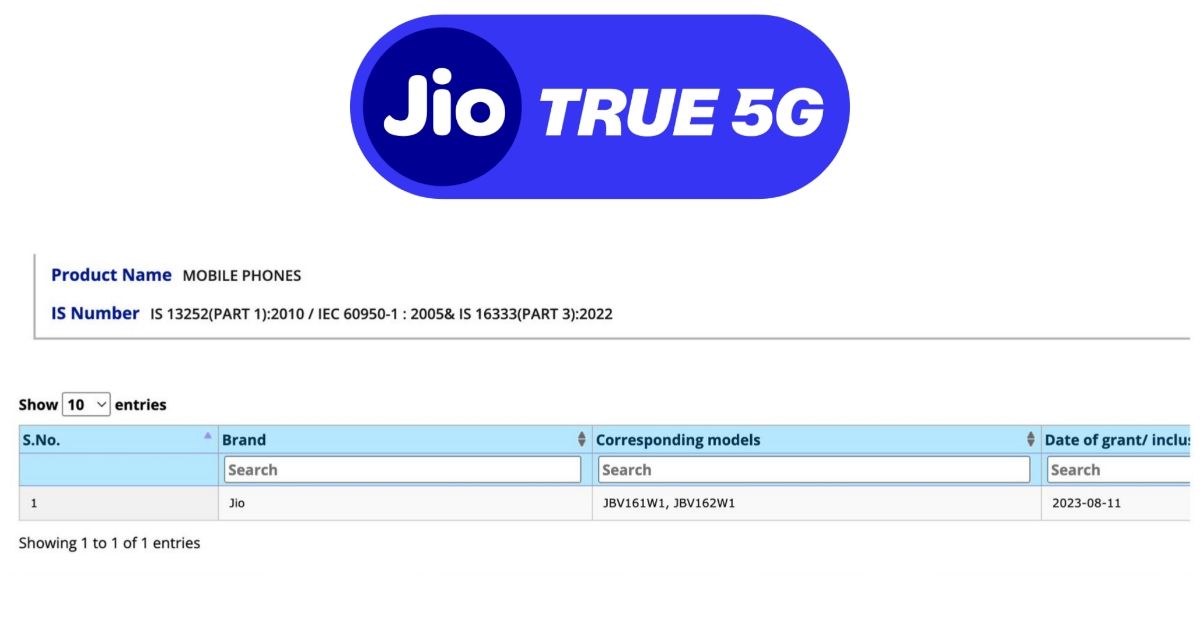 Two new JioPhones have received the BIS certification, and the devices are expected to launch soon in India. Reliance will be hosting its Annual General Meeting on August 28, where it will also announce Jio's upcoming business plans. These two new phones could be part of Jio's aim to launch budget-friendly 5G devices in India.
The phones were spotted on the BIS portal by tipster Mukul Sharma on Twitter. The BIS listing shows two new phones under the Jio branding. The model numbers of the upcoming JioPhones are JBV161W1 and JBV162W1 respectively.

JioPhone 5G Specifications (Expected)
A few weeks back, a prototype unit of the upcoming Jio Phone 5G was spotted on Twitter. The images show that the JioPhone 5G will have a plastic back, with dual cameras at the back. The device was also seen with a 5G branding, along with a speed test result confirming the presence of 5G connectivity on the phone.
Also Read: JioPhone 5G Live Hand-On Images Leaked
The tipster had mentioned that the device may feature a Unisoc 5G or Dimensity 700 processor. It is also being said that the phone will have a 13MP primary camera, along with a 2MP secondary camera. The selfie camera is expected to be a 5MP sensor.
Previously, another phone under the Jio branding was spotted on Geekbench. The Geekbench listing indicated that the phone had a Qualcomm Snapdragon 480 processor, paired with 4GB of RAM. However, that device had a different model number as compared to phones spotted on BIS today. The older unit may have been a test unit.
Other details about the upcoming JioPhone 5G have not surfaced yet. JioPhones have always focused on affordability, so we can expect these devices to be priced between Rs 10,000 – Rs 15,000. Jio may also bundle some rental plans, in which users will be able to pay for the phone in monthly instalments along with the phone recharge, instead of paying the full price upfront.
Jio May Also Announce 5G Plans
At the upcoming Reliance AGM on August 28, Jio is expected to announce its 5G plans and recharges. As of now, Jio has been offering unlimited 5G all over India, on a trial basis. Jio does not sell any 5G plans separately. Hence, there are high chance that we may see a major announcement of new 5G recharge plans by Jio.
Jio is known to offer the best prices among all telecom companies in India. We can expect its 5G plans to be priced slightly higher than its existing 4G plans. On average, Jio offers internet connectivity at Rs 4.73 per GB.
Along with the JioPhones and 5G plans, we may also see the launch of the Jio AirFiber. The company announced the AirFiber in last year's AGM, and we may finally have a commercial unit this year. Jio AirFiber uses the Jio 5G network to serve as an internet router using WiFi. The size of the unit will be bigger than JioFi Hotspots, hinting at better antennas for faster internet.
Reliance will be streaming its AGM Event on its YouTube channel. The event is scheduled for August 28 at 2:00 PM.