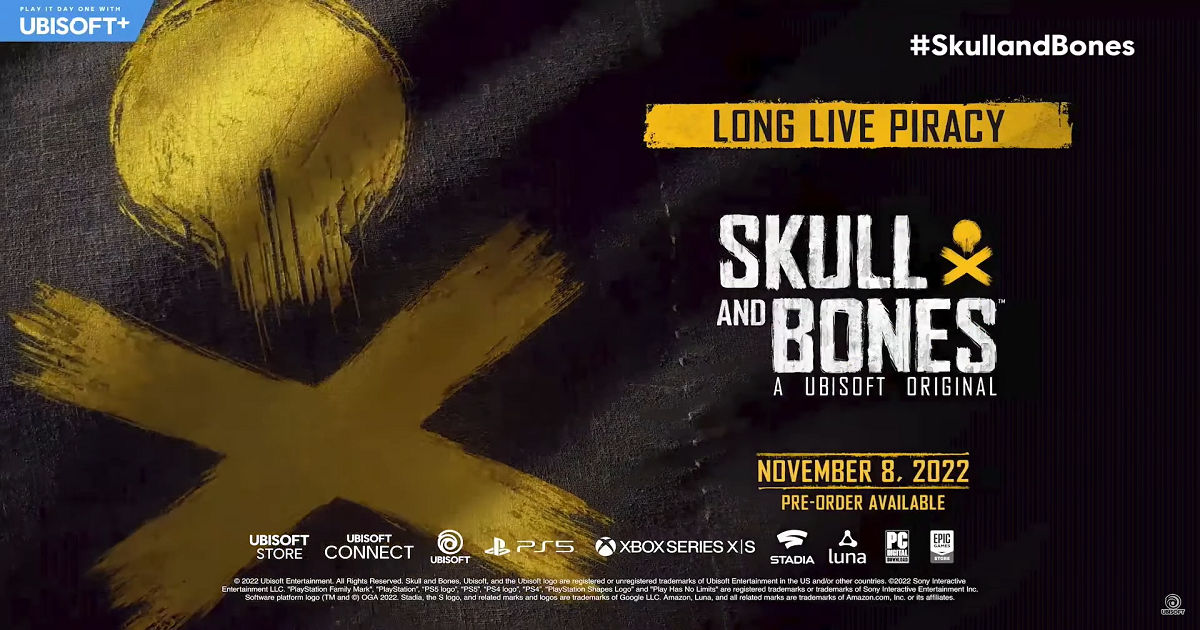 Ubisoft Forward offered players more footage from the upcoming swashbuckling RPG, Skull and Bones. The live stream shed light on some of the game's systems, including a pretty slick customisation system that allows players to equip their ship with all sorts of weapons, ammo types and armour.
The customisation goes a step further than just cosmetics by allowing players to pick ammo and armour types to target specific weaknesses in enemy ships. Skull and Bones is scheduled to come out on November 8, 2022, and will be available on PS4, PS5, Xbox Series X/S, PC, and Stadia.
Ubisoft, along with all the new gameplay footage, also revealed that Skull and Bones will have cross-play at launch, allowing players to join up with players from different platforms.
Also Read: Assassin's Creed Mirage Trailer Revealed, New Mobile Game and Netflix Show Announced
Ubisoft Forward Roundup – Skull and Bones, The Division 2, and More
To kick things off, Ubisoft announced their online subscription service, Ubisoft Plus will be available for free till October 10. This will allow players to get access to a number of major Ubisoft titles, including Assassin's Creed Valhalla, The Crew 2, and more.
The live stream included a number of mobile titles, which is quite unique for major publishers' game showcases. The stream included the likes of Rainbow Six Mobile and The Division Resurgence.
Mario + Rabbids: Sparks of Hope
Ubisoft kicked things off with some new footage for the upcoming Mario + Rabbids: Sparks of Hope, offering a first look at one of the boss fights in the game. The presentation was bookended with the massive reveal of Rayman coming to the game in the 3rd post-launch DLC planned for the game.
Riders Republic Season 4
Next up was a brief look at Season 4 of Riders Republic which continues to receive a lot of love from a dedicated player community. Ubisoft is looking to provide quality post-launch support for Riders Republic and in case you haven't tried it yet, this is the best time to get into the game as Ubisoft Plus is currently available for free.
The Division Showcase
The next bit of the live stream was dominated by The Division as Ubisoft announced Season 10 for The Division 2 alongside a couple of other major announcements. The Division Heartland was finally revealed as Ubisoft's upcoming free-to-play experience alongside The Division's Resurgence (on iOS and Android) coming later this year.
Rainbow Six Mobile
The previously announced Rainbow Six Mobile got a nice little showcase as it revealed its closed beta test, which kicks off on Monday for Android users. Great news for Indian gaming fans, the closed beta will be open to Indian participants as well and players can pre-register for the game on the Google Play Store right now.
Netflix Showcase
The next bit was perhaps the most curious part of the live stream with Ubisoft announcing several games, including the sequel to Valiant Hearts, Valiant Hearts arriving on the Netflix mobile app. Additionally, Netflix also confirmed a new live-action Assassin's Creed series as well as a mobile game playable on Netflix.
Assassin's Creed Showcase
The final bit of the live stream featured Assasin's Creed and showcased the future of the franchise with several new game announcements. These include the likes of AC Mirage, Codename: Jade, Codename: Red, and Codename: Hexe.
Ubisoft also shared more insight on what AC Infinity really is and explained that rather than a game it is a platform through which players can experience several different AC games, including Codename: Red and Hexe. Also included in the showcase was the little detail that Ubisoft plans to bring back multiplayer into the franchise.
Also included in Ubisoft Forward:
Trackmania Turbo – Console release in 2023
Rocksmith+
Just Dance 2023 Edition
New Assassin's Creed Documentary – Beyond the Creed (Now available on Youtube)