Highlights
The gameplay deep dive feautres narrative details.
The newest deep dive features 30 minutes of new footage.
The game has been delayed yet again, coming out towards the end of 2023 or early 2024.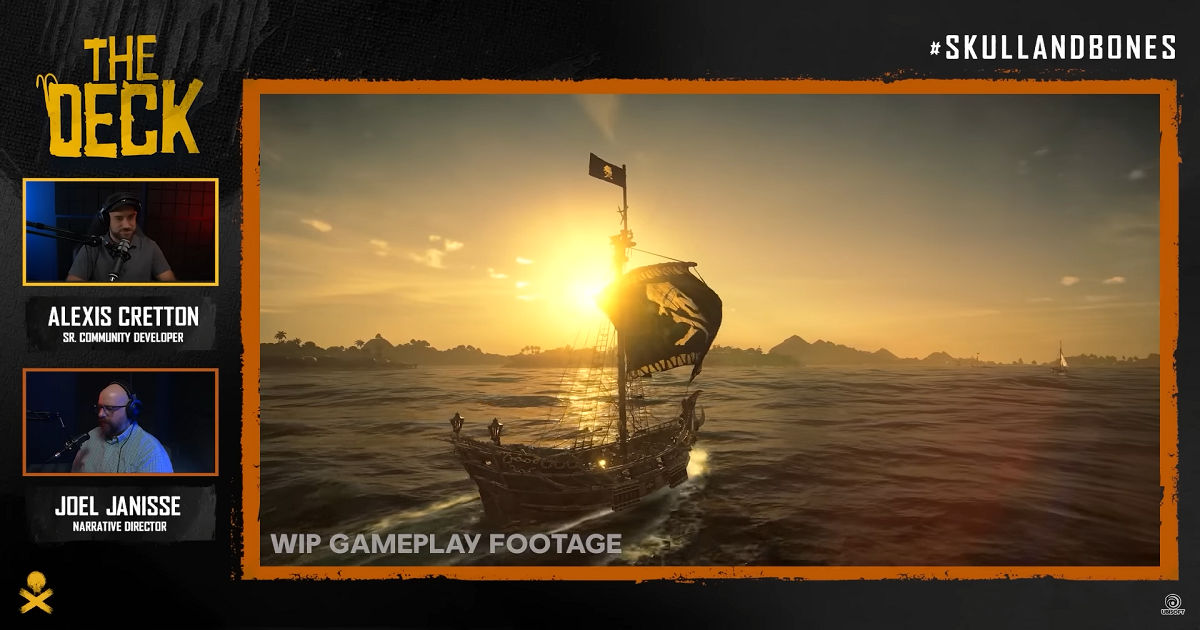 Skull and Bones, the upcoming open-world pirate RPG from Ubisoft, has been delayed yet again but fans have new gameplay footage. Ubisoft released new details and footage about the story of Skull and Bones and its various social elements. The gameplay deep dive is 30 minutes long and features insight from Joel Janisse, Narrative Director.
The deep dive contained footage from an "investigation", a game mechanic wherein the player must track a trail to discover new items that reveal more information about the world. This acts as both a way to uncover new details on the map such as scores and treasures. It also acts as a way to flesh out the world through storytelling and reveal more information about the factions of Skull and Bones.
The game appears a bit rough around the edges, but considering it is still a work in progress, that is to be expected. The gameplay resembles the naval combat and the new action-RPG experience of the newer Assassin's Creed games.
Also Read: Ubisoft's Avatar: Frontiers of Pandora Might Include Heavy Monetization
Ubisoft's Skull and Bones Needs to be a Major Hit for the Publisher
Given the resources that Ubisoft has now invested in Skull and Bones over the course of nearly a decade and a half, the game has immense pressure on its shoulders. The game was seemingly revived after having been shelved after kicking off development in 2013.
The conversation around Skull and Bones has now begun to shift away from the game itself and has more to do with its infamous development cycle. The game is scheduled to come out in Ubisoft's next fiscal year, 2023-24, which could mean either toward the end of 2023 or early 2024.
Ubisoft is in a pretty precarious position with the game as they are in way too deep to pull the plug. At the same time, it doesn't bode well for the game that fans aren't nearly as excited as they should be about the game. From the looks of things, Skull and Bones look like a pretty decent game with interesting online social elements.
The success of the game now ultimately hinges on whether Ubisoft is able to deliver on its promise of a polished AAA experience that can deliver countless hours of gameplay. Skull and Bones fits right in with the publisher's other major live service offerings like Tom Clancy's Rainbow Six and future Assassin's Creed games.
Ubisoft's output is going to ramp up significantly this year with their marquee release being Assassin's Creed: Mirage, which is one of the most highly-anticipated games in the franchise.