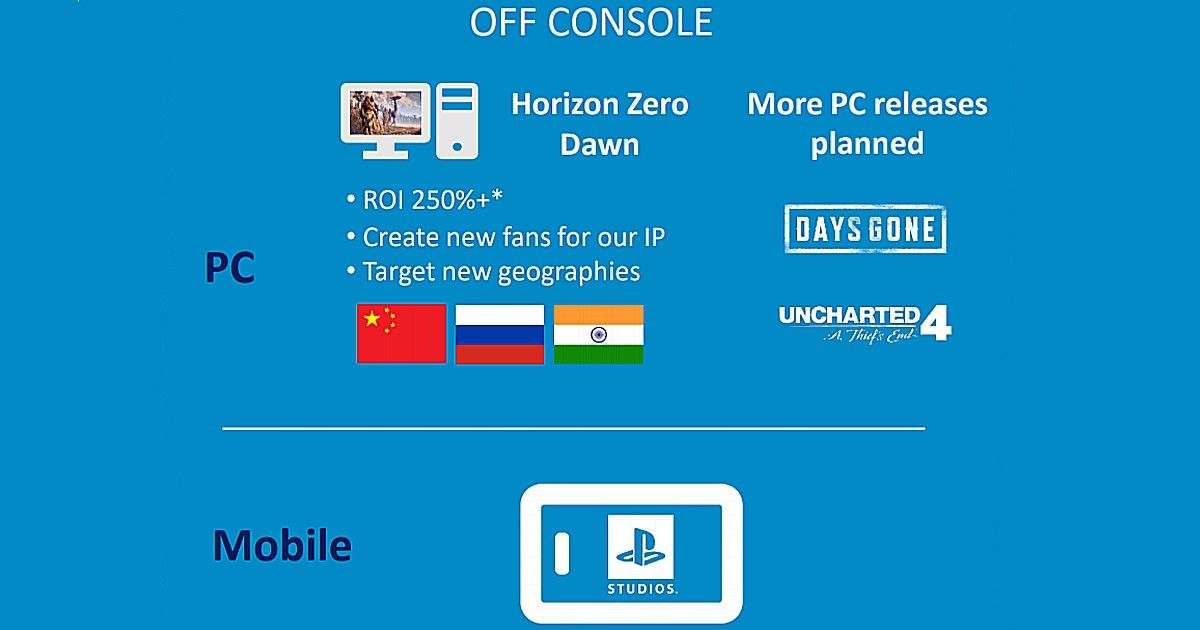 Sony has seemingly narrowed down upon key new expansion areas for its immediate future, one of which has circled on PlayStation Studios as an avenue for expansion of the PlayStation ecosystem. Among other aspects, one key highlight is Uncharted 4, which is now seemingly marked to launch on PC. The massively popular PlayStation Studios title has so far remained exclusive to only the PlayStation platform, and Sony now seemingly aims to bring it to PCs in order to expand the PlayStation Studios footprint. Uncharted 4 is the last part of the Nathan Drake collection, and is set to premiere on PCs alongside Days Gone.
On PCs, Sony aims to increase game revenues from Horizon Zero Dawn by up to 250 percent, and it hopes to do so by, yet again, expanding its PC footprint. Interestingly, Sony also lists India as one of its new geographic of focus. It is not entirely clear if India will become the new area of focus in terms of gamer engagement, or Sony would put more focus on India in terms of making more of its hardware available in the country. PlayStation Studios will also apparently focus on the mobile gaming ecosystem in order to expand its footprint and increase business, which is a pretty expected way to go forward. However, Sony has not clarified if this means that it would be building new games for mobile, or if it would adopt existing, popular game portfolios to smartphone gaming.
The move has been quite some time coming, as more companies have been increasingly focusing on cross-platform gameplay and integration. Microsoft has been steadily opening up its Xbox ecosystem, bringing games to run on a wide range of platforms. With its focus finally being on bringing PlayStation titles to PCs and also focusing on mobile gaming, Sony appears to be slightly delayed to the party, but it may still see considerable attention from gamers who are already invested in its ecosystem.
The focus on India as a key new geography will come as welcome news among gamers on the PlayStation platform in the country. After the company offered underwhelming supplies of the PS5 in India, many gamers raised complaints regarding Sony not treating gamers in the country with as much seriousness as it has elsewhere. Going forward, it remains to be seen how and when does the company bring Uncharted to PC platforms, and what the new focus on India would mean.
Thanks for reading till the end of this article. For more such informative and exclusive tech content, like our Facebook page