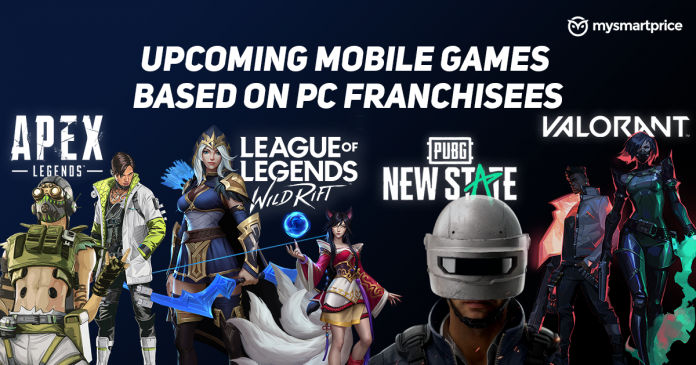 The mobile gaming industry has witnessed exponential growth over the years. We have seen a number of titles making it big in the industry. Some even raked in billions of dollars in revenue. Games like PUBG: Mobile and Call of Duty: Mobile have become a sensation in quite a short span of time with millions of players playing the game daily. Considering the size of the mobile gaming market, a number of developers are all set to launch games. These include new IPs, as well as some mobile games based on PC franchises. If you are looking for some of the upcoming mobile games based on PC franchises, here is all you need to know.
Also Read: PUBG Game PC Requirements: What is the Minimum and Recommended Configuration to Play PUBG on Laptop?
List of Upcoming Mobile Games Based on PC Franchisees
PUBG New State
Apex Legends
Valorant
League of Legends: Wild Rift
The Witcher: Monster Slayer
Nier Re[in]carnation
Diablo Immortal
PUBG New State
Probably the most hyped game on this list, PUBG: New State is the sequel to the popular battle royale game, PUBG: Mobile. The game was announced by Krafton a few days ago and it will be featuring a futuristic theme. Players will be able to use drones, hybrid cars, combat rolls, and more.
Expected Release Date
Pre-registration for PUBG: New State has already begun. As far as the full release is concerned, it is slated to release in 2021 itself.
Apex Legends
Amidst the heavy competition in the battle royale genre, one game that has managed to outshine others is Apex Legends. Respawn Entertainment is all set to bring its own battle-royale goodness to mobile, thanks to a partnership with Tencent. As of now, there is nothing much known about the game. But considering the fact this is EA's chance to capitalize on the mobile battle-royale market, we have a lot to look forward to from the game.
Expected Release Date
Playtesting for the game has already begun. It is speculated that Early Access will kick of later this year with a full release coming in 2022.
Also Read: GTA 5: How to download GTA 5 on PC and Android smartphones from Steam and Epic Games store?
Valorant
Apart from the battle royale genre, the competitive-FPS genre is also one of the most popular genres out there. That being said, it was dominated by CS: GO for almost a decade. Until Riot Games launched Valorant. The game managed to unsettle CS: GO's popularity and become the next big thing in the competitive-FPS scene. However, we don't have any info about a mobile port as of now. Dataminers have found some hints about a mobile port being in development, but Riot hasn't confirmed anything so far.
Expected Release Date
Prominent leakers have stated that Riot might announce Valorant on mobile later this summer, but take it with a grain of salt.
Also Read: Fortnite System Requirements: Here are the Minimum and Recommended PC Requirements for Fortnite
League of Legends: Wild Rift
While we can't say for sure when Riot Games will be bringing Valorant to mobile, we do know for a fact that it is bringing its popular MOBA title to mobile. League of Legends: Wild Rift is a modified variant of League of Legends on PC. Featuring 5v5 combat and a wide range of champions, the game has been critically acclaimed by fans and critics in the beta phases so far.
Expected Release Date
League of Legends: Wild Rift is already in the open beta phase in various regions. The exact release date of the game is not known.
The Witcher: Monster Slayer
CD Projekt Red might have had quite a nightmare-ish past few months with the release of Cyberpunk 2077. However, they have a chance to redeem themselves with The Witcher: Monster Slayer. The game is being developed and published by Spokko, which is a part of the CD Projekt Red group. The Witcher: Monster Slayer is based on AR, and players need to explore the world around them and fight monsters. It's basically Pokemon Go, but you are a Witcher instead of a Pokemon trainer. You study monsters, track them, and of course, fight them.
Expected Release Date
The game has soft-launched on Android devices in New Zealand. Further details about the release date are not known.
Also Read: GTA Vice City for PC: How to Download Grand Theft Auto: Vice City on Your Laptop or PC, System Requirements
Nier Re[in]carnation
The Nier franchise has been one of the most popular franchises out there in the hack and slash genre, alongside the likes of DmC. After the success of Nier: Automata, Square Enix is looking to replicate the success of the franchise on mobile. The game takes place in the same universe as the other Nier games.
Expected Release Date
Nier Re[in]carnation has already released in Japan. As far as the Western version is considered, the developers are still working on it. In fact, they want to iron out all the bugs before releasing the English version.
Also Read: What is 'Among US' Game, How to Download and Play on Android, iOS Phones and PCs
Diablo Immortal
Last but not the least, we have Diablo Immortal. This upcoming free-to-play game is based on the Diablo franchise. Initial previews have termed the ARPG to be quite promising, which is a stark contrast to the reception it got from the community at launch.
Expected Release Date
Blizzard hasn't announced a release date for Diablo Immortal yet. It is expected that the game might release sometime this year.
Thanks for reading till the end of this article. For more such informative and exclusive tech content, like our Facebook page