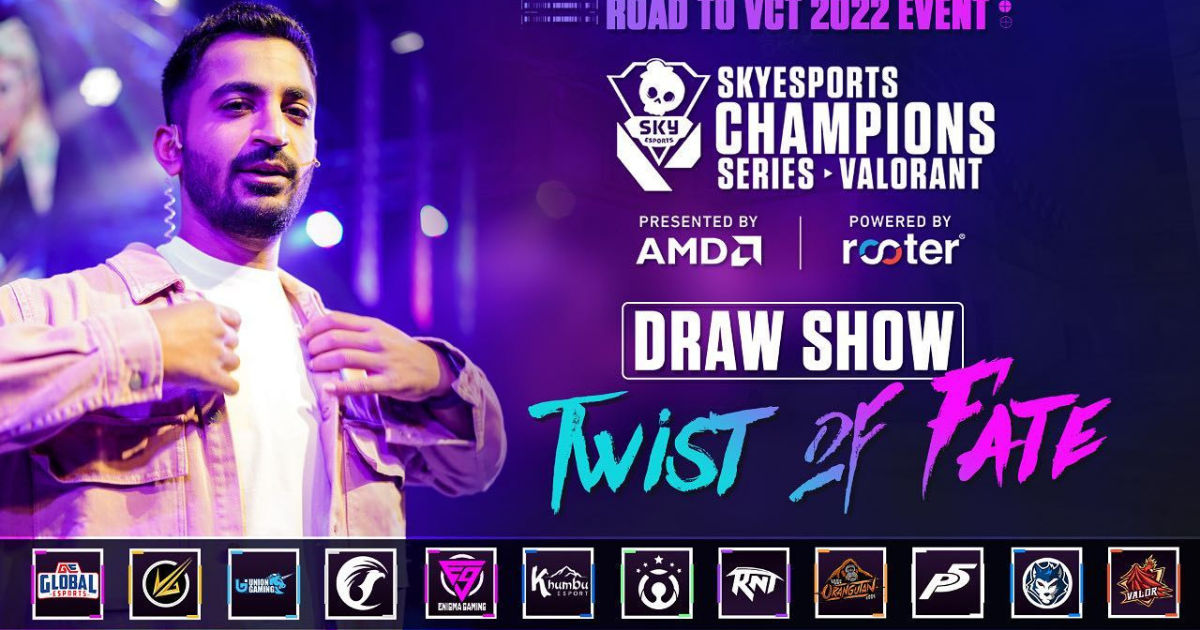 The Skyesports Champions Series opening qualifiers have just finished and the 12 Valorant teams in Phase 2 have been locked in for the Group Stage. The Group Stage will take place on May 17 and to decide the groups in a unique way, Skyesports has introduced a draw show called "Twist of Fate".
"Twist of Fate" will be streamed live on the Skyesports Youtube Channel on May 17 from 6:30 PM IST. Hosting the event will be Ranjit "MambaSR" Patel, one of the most popular Indian esports casters. The Group Stage will see the 12 teams divided into 2 groups of 6 teams each.
The Group Stage of the Valorant Skyesports Champions Series (SCS) will take place from May 19 to May 24 and will be broadcasted on the official Skyesports Youtube channel.
Also Read: Skyesports Announces Partnership with Riot to Bring Skyesports Champions Series 2022; Top 2 Teams Qualify for VCT Stage 2
"Twist of Fate", A Unique Draw Show for the Valorant Skyesports Champions Series Group Stage
The draw show, "Twist of Fate" will also feature several well-known gaming personalities. The draw show will see 12 teams split into 3 pools of four teams each.
Pool A 
Top four teams from the VCT South Asia Playoffs Stage 1. 
Pool B 
Teams placed fifth to eighth in the VCT South Asia Playoffs Stage 1 
Revenant Esports

(INDIA) 

Exceeli Esports

(BANGLADESH) 

Khumbu Esports

(NEPAL) 

Union Gaming

(SRI LANKA) 
Pool C 
The four teams qualified through the SCS India and Rest of South Asia Qualifiers. 
Team Valor

(INDIA) 

Orangutan

(SOUTH ASIA) 

Reckoning Esports

(INDIA) 

Prime 5

(PAKISTAN) 
Chief guests will be invited to randomly pick from one pool at a tie. The team first picked will go into Group A while the second picked team will go into Group B and so on. The order of pools for the Draw Show will be as follows: Pool C > Pool B > Pool A. In the end, the 12 teams will be divided into two groups of six teams each. 
"The draw show is a unique concept for South Asian VALORANT esports and will ensure more transparency to the teams and fans in the group selection process," explains Shiva Nandy, the CEO and founder of Skyesports. "I wish all the teams the very best of luck as they head into the crucial Phase 2."
The Skyesports Champions Series is one of the premier Valorant leagues in South Asia and will directly lead into the Valorant Champions Tour 2022 Stage 2. Skyesports has partnered with Riot Games to conduct the competition for the South Asia region.