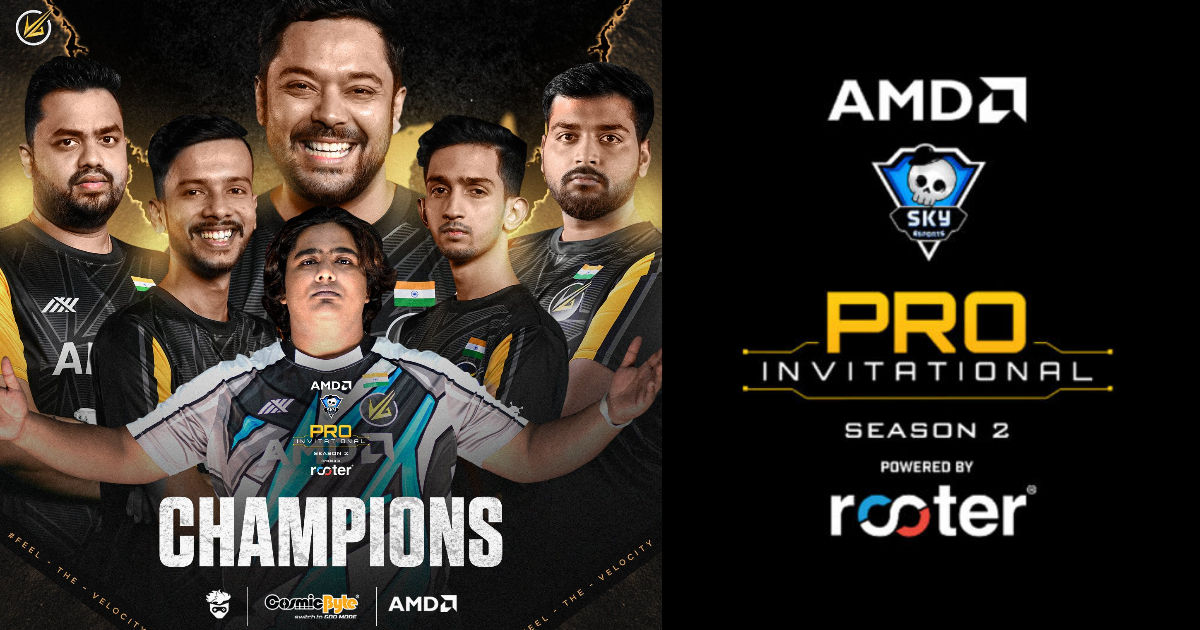 Valorant SkyEsports Pro Invitational 2.0 has finally come to an end with Velocity Gaming emerging as the champions by defeating Team Enigma in the Grand Finals with a 3-2 scoreline. Team Velocity Gaming has been longing for a win for the past eight months and this victory certainly raises their momentum and coordination.
The tournament started on 18 August with twelve teams in the Group Stage competing against each other. 12 teams were divided into four groups with three teams each. The top 2 teams from each group qualified for the playoffs where the matches took place in a double-elimination bracket. Following are the eight teams that have qualified for the playoffs of the event:
Enigma Gaming
W Streak Esports Alpha
Medal Esports
LFO
Revenant Esports
Septem Exierant
Velocity Gaming
Reckoning Esports
Velocity Gaming went on a smooth run to reach the Grand Finals and they have not lost a match in the playoffs. Initially, Velocity Gaming was placed against Septem Exierant and they defeated them to reach the UpperBrackett Semi-Finals directly. During the Upper Bracket Semi-Finals, Velocity Gaming faced Reckoning Esports and beat them with a 2-0 scoreline to advance to the Upper Bracket Finals.
The most incredible comeback you will ever witness and @officialvlt has done the reverse sweep in style! After being down 0-2, VLT are the CHAMPIONS of #AMD Skyesports Pro Invitational season 2 powered by @RooterSports ! Congratulations 🎉🏆#Valorant #AMD #Esports pic.twitter.com/LFKEpfuoHO

— Skyesports (@skyesportsindia) August 30, 2022
It was Enigma Gaming vs Velocity Gaming in the Upper Bracket Finals, where Velocity Gaming pulled off the game with ease to reach the Grand Finals. Enigma Gaming, on the other hand, beat LFO, and Medal Esports to reach Upper Bracket Finals. Facing their loss in the Upper Bracket Final, they were placed against Reckoning Esports whose road to the UB finals was tough. Engima Gaming outplayed Reckoning Esports to grab the Finalist slot against Velocity Gaming.
Team @officialvlt loses 2 in a row against @Enigmagamingind in the grand finals of AMD Skyesports Pro Invitational season 2, powered by Rooter! Can they give a strong comeback to become the champions?

Watch the game live here: https://t.co/9Qzx9fdMRV pic.twitter.com/gdSrGcYN8a

— Skyesports (@skyesportsindia) August 30, 2022
The Grand Finals took place in a Best-of-5 format, where Velocity Gaming reverse swept Engima Gaming by winning the last three rounds. With that, Velocity gaming became the champions of the event. Below is the prize money received by the teams that participated in the playoffs:
A very hard fought battle and that must sting for @Enigmagamingind . A great start for Engima but @officialvlt dint let them continue. Enigma Gaming are the runners up of AMD Skyesports Pro Invitational season 2 powered by Rooter! 🙌🫰🎉#skyesports #valorant #esports pic.twitter.com/M7PujK5T4h

— Skyesports (@skyesportsindia) August 30, 2022
Velocity Gaming – Rs 3,85,000
Enigma Gaming – Rs 1,80,000
Reckoning Esports – Rs 85,000