Highlights
Netflix premiered the movie on March 17, 2023
Vathi is made in both Tamil and Telugu, in Telugu, it is called Sir
The film is now available in Malayalam and Kannada too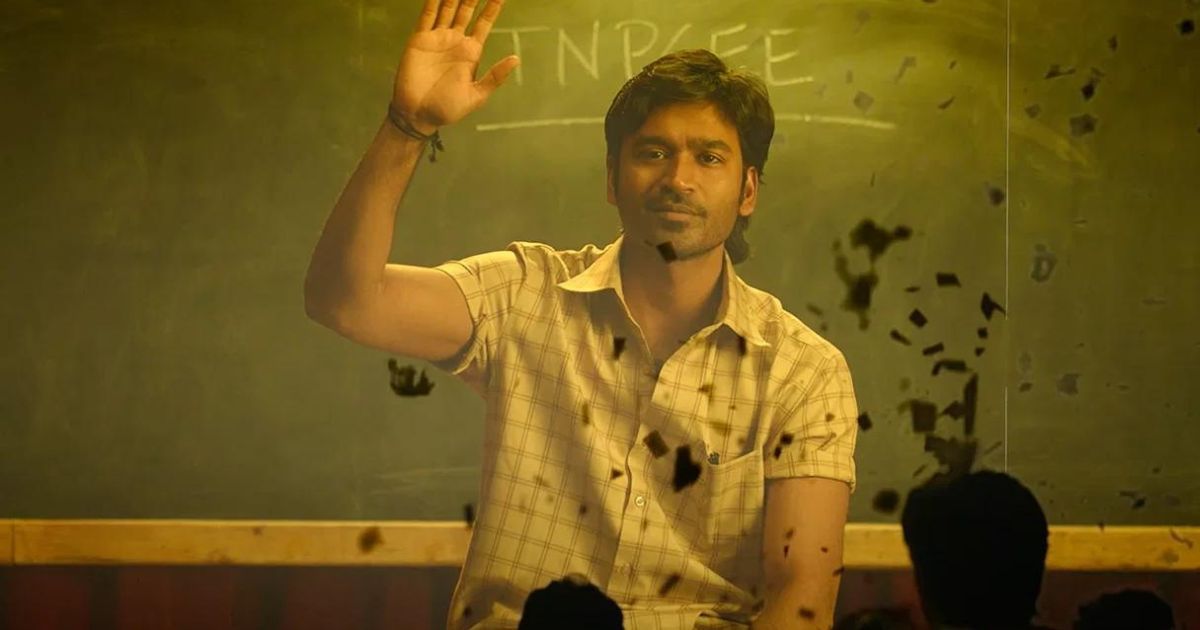 At the box office, Dhanush's bilingual film Vaathi (Sir in Telugu) was a huge hit. Both the class and the general public appreciated the movie equally. In the Telugu-speaking states, the movie gave Dhanush a respectable market. The movie is currently prepared for OTT streaming. Vaathi/Sir will begin streaming on Netflix starting on March 17th, according to an official statement from the company.
At the time, very few people had any high expectations for this movie's box-office success. One of the factors was the movie's benign tone, which followed a teacher's battle against schemes that made education expensive and hence unaffordable for kids from underprivileged parts. Vaathi appeared to be an anomaly that the movie-going crowd wouldn't enjoy at a time when only big action set pieces and heavier firearms seemed to be the flavour of the season. On February 17, Vaathi was released in theatres, where it was warmly greeted by patrons and did very well financially. It wasn't shocking that a Dhanush movie was bringing people to Tamil Nadu theatres. The Telugu audience was responsible for the real surprise. At the box office, Sir was a great success. The film was Dhanush's first straight Telugu movie. It is also reasonable to suppose that the star will now be more amenable to pairings across industries.
Get ready to be schooled by the finest Vaathi there is! 🏫📚 #Vaathi is now streaming in Malayalam and Kannada on Netflix! 🤩#VaathiOnNetflix pic.twitter.com/znPxFZumb3

— Netflix India South (@Netflix_INSouth) March 29, 2023
When and Where to Watch Vathi
According to Netflix's official statement, the film is now available for the audience to stream on its platform from March 17, 2023. Subscribers of the digital giant can enjoy the film on their screens from the comfort of their homes from March 17. Apart from Telugu, and Tamil, the film is now available in Malayalam and Kannada too.
Cast
Dhanush
Samyuktha Menon
Sai Kumar
Tanikella Bharani
Rajendran
Shrutika
Crew
Writer and director- Venky Atluri
Soundtrack and background music – G.V. Prakash Kumar
Editor-Naveen Nooli
Cinematography- J. Yuvaraj
Under the banners of Fortune Four Cinemas and Sithara Entertainments, Naga Vamsi and Sai Soujanya produced this movie. The Tamil and Telugu versions of this movie were released by Red Giant Movies, Seven Screen Studios, and Pen Studios.
Plot
Bala Murugan, played by Dhanush, is an assistant teacher in a well-known school run by Thirupathi (Samuthirakani), who views education as a business. Thirupathi assigns three third-grade assistant teachers from his institute to teach in a government school in a far-off village after the state government adopts a new bill that requires private schools to take over government-funded schools. One of the teachers is Bala, and he views it as a challenge to use his teaching strategies to effect change and yield outcomes. But because most of them assist their parents in raising their families, he must deal with kids from the poorest socioeconomic backgrounds. When Bala eventually succeeds in persuading both the parents and the pupils to return to school after much effort, he is met with a new set of difficulties. Does Bala succeed in his goal of changing the pupils for the better and getting the required outcomes?
Reception
The amount of money collected at the box office for Vaathi was above all forecasts. Within two weeks of its debut, the movie was able to sell 100 crore rupees' worth of tickets worldwide. IMDb gave it a rating of 7.7.