Highlights
Checking your visa status online by passport number is a convenient and accessible way to stay updated on the status of your visa application from anywhere in the world.
The online visa status check system provides real-time updates on your visa application status. You can see if your visa application has been approved, denied, or is still under review.
Checking your visa status online by passport number is quick and easy. You simply need to visit the official website of the immigration department or embassy of the country where you applied for the visa and enter your passport number and other relevant details.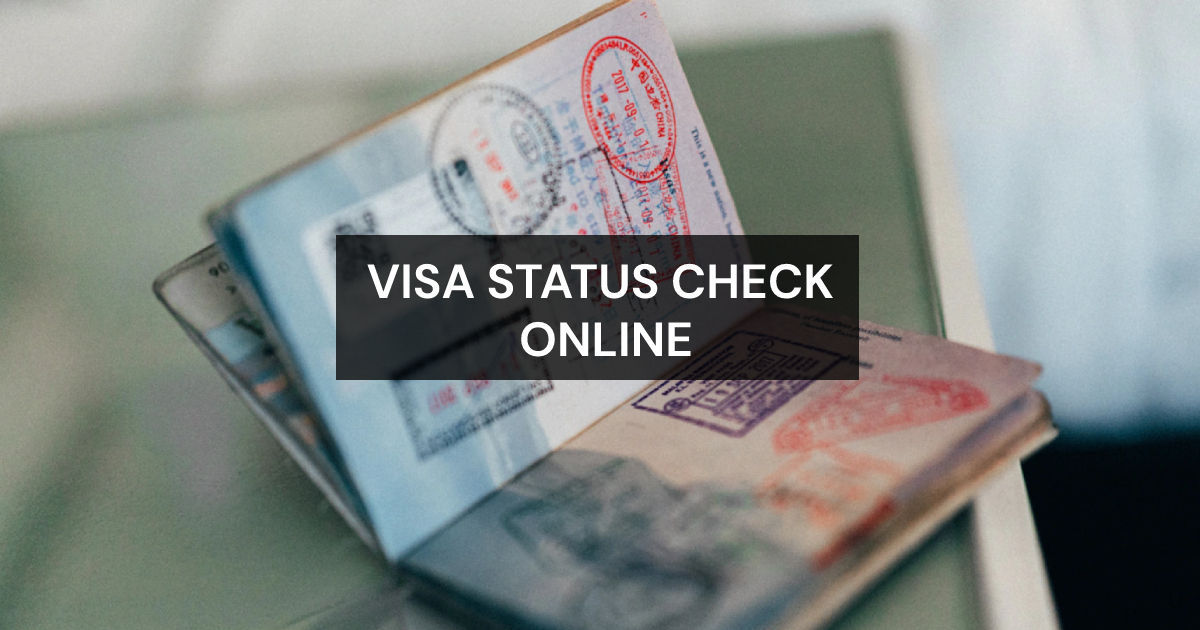 When planning to travel abroad, obtaining a visa is often necessary as many countries require it for foreign nationals. Knowing how to check your visa status online and other relevant information is essential.
To check your visa status online using your passport number, you can easily do so by visiting the official website of the immigration department or embassy of the country where you applied for the visa. This process enables you to check the current status of your visa application, including whether it has been approved, denied, or is still under review. In this article, we will provide a step-by-step guide on how to check your visa status online using your passport number. Read on!
Importance of Checking Visa Status
A visa is made mandatory by many countries for all people travelling abroad for vacations, short trips, study purposes, settling, and many more. A person must know the entire process of the overall Visa processing method. Checking your visa application's online status helps update you on how long the process will take. Since Visa is extremely important for all foreign travellers, it is equally important for them to know the status of their application. Filing a Visa is a nerve-wracking and tiring process.
A period is required between the filing date and the visa being approved. Therefore, it is considered extremely important that the applicants keep a keen watch on their application to avoid any unwanted complications and problems in their planned journey. It is also important that information should be treated with utmost care; the user should sometimes check the status of their Visa applications.
Also Read: PVR Passport: What is it, How to Buy and Use PVR Passport Online
How to Check Visa Status Online
The process of checking your Visa application status has been made quite simple. Nowadays, the best method is to check it online. The applicant can easily visit the official Visa website of the country he/she is planning to visit, but certain documents are required for this online process. The applicant should have their passport number and their application number as well. The elaborated Visa Application status has been mentioned below if you are visiting the country's official Visa website:
Check Visa Status by Passport Number
Visit the official Visa website of the country you plan to visit.

Look for an option reading "Tracking Visa Application," and press click.

Fill in the required details, such as the acknowledgement number, passport number, and date of birth.

After that, enter the captcha code and press enter.

The applicant can see the visa application status mentioned on their screens.
Apart from this, the applicant can also use third-party websites where authentic registration is required. You must fill in your personal details, including your birth date, passport number, and other related information. Certain countries also issue a tracking Id to visa applicants. With the help of this tracking Id, the applicants can easily keep a check on their visa application and receive all the related information.
Online platforms provided by different countries to check Visa Status
Some of the known online platforms provided by different countries for Visa status checking are:
Also Read: Passport Satus: How to Check and Track Passport Application Status Online and Offline
What to Do If the Visa Status is Incorrect or Expired
The holder needs to contact the immigration centre unit in case their Visa status is incorrect or expired.
Steps to take if the Visa Status is incorrect or expired
The required steps that are needed to be taken in case a holder's visa status is incorrect or expired:
The holder must contact the Immigration Centre unit of the respective country.

Next, the applicant must submit a new application and pay the respective immigrant visa application processing fee.

Followed by submitting important new documents such as medical and other required paperwork as demanded.

The applicant needs to reestablish their identity.
Options for renewing an expired visa
The applicants are required to fill out the online application form on the Indian Government Website (e-FRRO/FRO) if they are looking to renew an expired Visa. A certain amount of the application fee must be paid towards the end of the process.
Understanding the Different Types of Visas
Different countries have separate sets of visas for specific purposes. The five most basic varieties of Visa required for most foreign countries include:
Tourist Visa: A tourist visa is issued for leisure and tourism purposes. They are usually short-term.
Business Visa: It usually allows the holder to travel the foreign lands for business meetings, negotiations, conferences, fairs, and other business activities.
Work Visa: These visas allow the holder to travel to foreign countries for job opportunities; sometimes, the holder must commit to paid work overseas.
Transit Visa: A short-term visa allows the holder to stop over a country briefly while travelling to another country. It is usually required to leave the airport in between other scheduled flights.
Student Visa: It is issued to students studying abroad at a university or any educational institution for a specific period.
Different requirements for each type of Visa
Tourist Visa:
Tourist visa application form.

Passport with a six- or three-month validity period.

Passport pictures.

Valid travel insurance.

Evidence of financial means.

Proof of accommodation.

Proof of a booked return flight ticket.

Proof of paid visa fee.

Invitation letter.

Civil documents (marriage certificate, birth certificate, etc.)

Any other supporting documents?
Work Visa:
Work visa application form.

Your passport with a six-month validity period.

Identity pictures.

Proof of financial means.

Health insurance for foreign workers.

Work contract.

Resume and proof of work experience.

Letters of recommendation from previous employers.

Marriage certificate (if applying with a spouse).

Children's birth certificates (if applying with children).

Other supporting documents as required by the visa office.
Business Visa:
Original passport valid for a minimum of 6 months and have at least 3 blank visa pages.

A photocopy of the data page of the passport.

Two passport-size photographs

An Indian Government visa application form duly filled in online.
Transit Visa:
A valid passport

Nonimmigrant Visa Application (Form DS-160 confirmation page)

Application fee payment receipt

Photo
Student Visa:
A valid passport.

A copy of the photo you will use for your visa.

Printed copies of your DS-160 and I-901 SEVIS payment confirmations.

I-20 form.

School transcript and official test scores cited on your university application.

Diploma (if applicable)

Bank statements or other proof of finances.
Tips for Ensuring Smooth Visa Processing
Some tips that are given to ensure the smooth functioning of the entire visa process are given below:
The applicant must prepare them for delays.

Applicants should explore their visa options to the fullest.

The rules and regulations of the Visa program need to be followed thoroughly.

An agent or a high-quality firm can also be issued.

The applicants also need to apply for their visas quite early.

Punctuality is important; applicants must be on time for their appointments.

A keen track on the visa status application should be kept.
The overall process between filing the visa application and the immigration decision is nerve-wracking and keeps the applicant on their toes until the final visa approval is given. Some time is required from the date of filing of visa application to when the status changes because it is a tiring process, and even the country's immigration system needs some time to update the application.
So, the applicant needs to keep an eye on their application status while waiting for its approval since it is an incredibly important set of information that needs to be kept under watch. The overall process of keeping track of one's visa application is also called "Visa Tracking," The system varies in time depending upon the country you are opting to travel to.