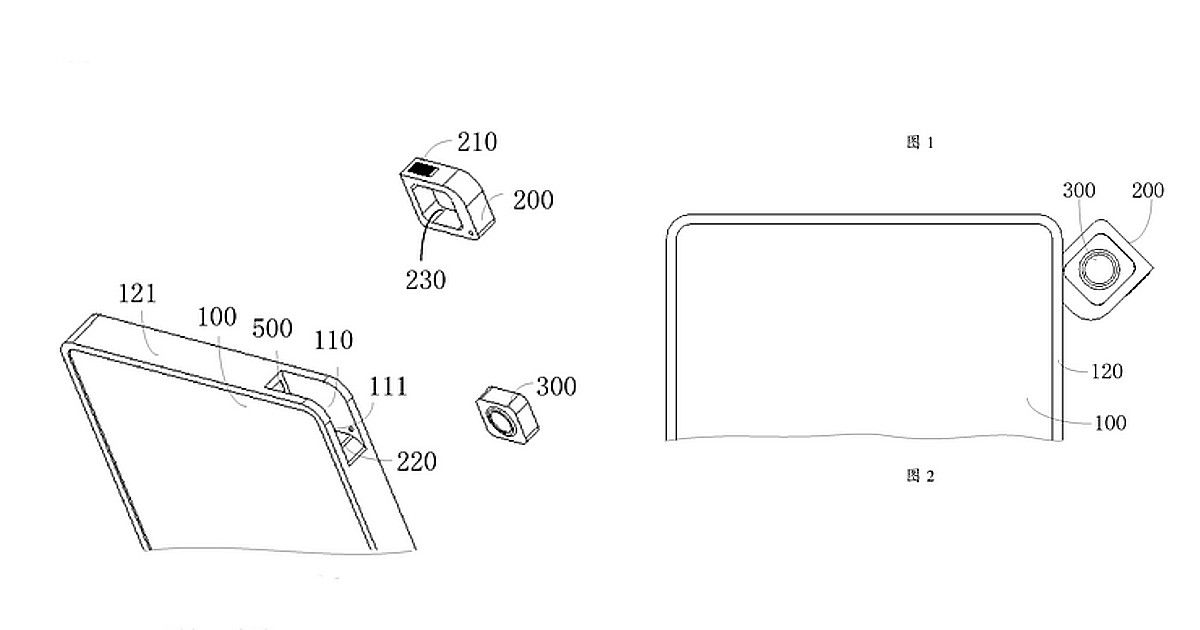 Vivo has received a patent with the World Intellectual Property Organisation (WIPO), for an innovative new design that details a detachable in display camera module. The patent details a design where the camera module itself is a detachable one, and resembles a tiny building block. The camera module can be attached to a slot at one of the top corners of a compatible smartphone, and once attached, remains entirely hidden from sight. This leaves the entire display area available for viewing content, which is the end result that smartphone manufacturers around the world are working towards at the moment.
The detachable in display camera module by Vivo has fairly detailed schematics, where a release mechanism can detach the camera unit from the main body of the smartphone. The patent details two moving procedures for the detachable in display camera module, where in the first one, the module rotates outward to serve as a typical front camera. The unit will be complete with its own lens element, and will therefore not be dependent on a tertiary lens attachment or the display itself to serve as the light receptor of the camera. This mechanism will presumably work similar to the pop-out camera mechanism that smartphone makers have already experimented with, and have also been proven to be a functional one.
What remains to be seen is exactly how detaching the entire camera unit adds to the shooting experience. The patent in question does not detail if the detachable in display camera module will feature some sort of buffer memory and signal receivers in it as well. Hypothetically, if the module itself features an image buffer memory and a signal receiver, it can be potentially used as a remote camera unit in itself. By detaching it, users can potentially place it in any position they please, away from the main smartphone body. The latter can serve as a remote control of sorts, and the final image may be processed only once the detachable in display camera unit is attached back to the phone's mainframe.
However, while such a design is indeed innovative, it isn't entirely clear if this layout would be functional and practical. Having moving elements on a phone presents its own risks of mechanical failure, and a detachable unit on top of that adds worries of users losing the unit altogether. Nevertheless, since this is only a patent, it may very well be a conceptual piece of technology that is still work in progress, and does not necessarily mean that Vivo would launch a smartphone with this tech at hand. If it does, then such a smartphone would be a very interesting one to try, to say the very least.