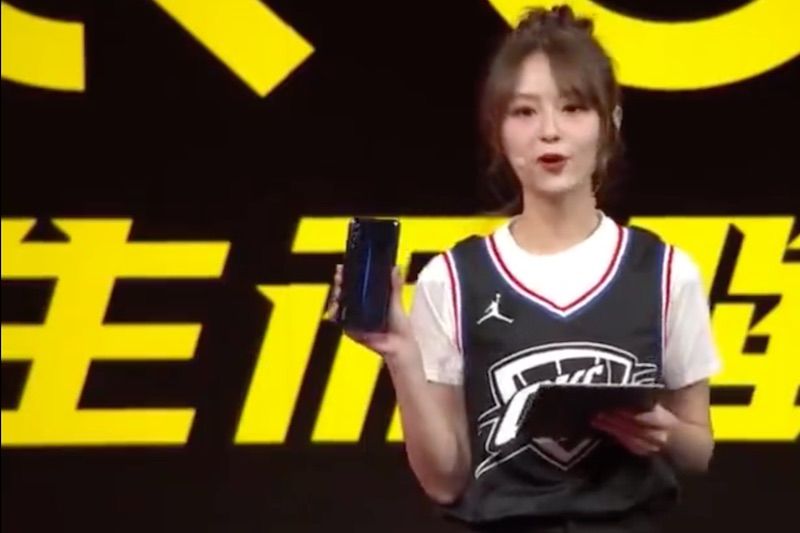 It's been just a week since Chinese smartphone maker Vivo introduced its new sub-brand iQOO in China. Back then, only the name of this brand was announced. We also reported about the possibility of the iQOO line up consisting of premium devices. In a subsequent article, we talked about the possibility of the first handset from iQOO to be a foldable smartphone that would be powered by the new Qualcomm Snapdragon 855 chipset. Turns out we were wrong about the foldable phone bit because earlier today, iQOO, for the first time showcased its first handset during a live television broadcast.
iQOO's first handset: What do we know so far?
Before we start talking about iQOO's new device, it is imperative to know that the handset made its first television appearance at an NBA All-Star broadcast in China. In the broadcast, a model is seen holding the yet to be named iQOO smartphone. While the video does not show a close-up view of the phone, it is clear enough for us to note that the handset boasts of a shiny, sleek design which strengthens the possibility of the handset being a premium device as prophesied by us earlier.
Take a look at the video below.
The only other thing we can decipher from the video is that it has a triple camera setup at the rear. Being a premium handset with three rear cameras, we can confirm that this iQOO device would almost certainly be a great camera phone. Since the front fascia of the handset was not shown during the broadcast, we are at this time, unable to comment on the display size and the front camera. We do not even know if the handset will feature a typical notched display or come with a pop-up camera setup seen on older Vivo devices.
As for the other hardware specs, we are almost certain that this iQOO handset will be powered by the powerful Qualcomm Snapdragon 855 SoC and could come in 8GB and 6GB RAM options. The phone will also most likely feature a large battery and come with plenty of connectivity options
iQOO smartphone: When can we expect an official launch?
Unfortunately, the answer to this question is currently only known to Vivo executives. However, considering the fact that Vivo has started promoting the brand and the new handset heavily, the launch should happen in the next few weeks. As for an India specific launch, it is very early to comment about the possibility of that happening. However, since Vivo is among the most popular smartphone brand in India, there is a good chance that we will see iQOO handsets in India soon.