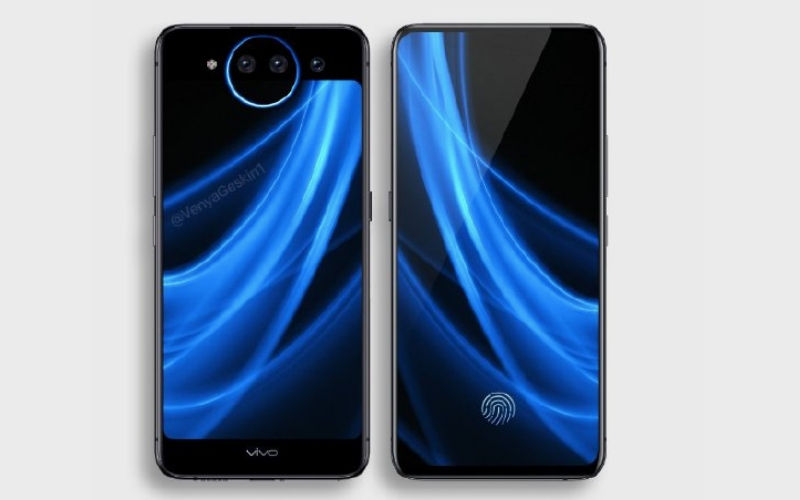 The Vivo NEX (Review) was one of the first smartphones to ingeniously solve the notch problem. The past few weeks have been filled with leaks that have hinted towards a successor to this phone, which incorporates yet another solution to avoid the notch. This phone is called the Vivo NEX Dual Screen Edition and as the name suggests, it will come with a second screen at the back of the phone.
With such a setup, everyone has been understandably curious as to how navigation would be handled. It so happens that Slashleaks has obtained a new video which showcases exactly how users will have to use this dual-screen smartphone. According to the leaked video, a three-finger side swipe will let you switch between the two screens. This gesture is quite straightforward with a triple swipe on the primary screen immediately turns it off and moves all on-screen content to the secondary screen and vice-versa.
While the prominent function of the secondary screen is evidently to aid taking selfies with the rear cameras, it is yet to be seen if it can offer any other benefits. Furthermore, the leaked video fails to reveal whether it will be possible to turn on both displays at the same time. While such a functionality would certainly take a hit on the battery, the rumored use of AMOLED screens could certainly enable interesting use cases.
Vivo NEX Dual Screen Edition: Attractive Design in a Slim Body
Live images and renders of the Vivo NEX Dual Screen Edition surfaced recently where further aspects of the smartphone were confirmed. When places alongside the older Vivo Nex, the new phone seems to both slimmer and shorter. This is achieved while retaining the 3.5mm headphone jack. There is also a USB Type-C charging port at the bottom. Furthermore, there will be two offerings where the frame and sides of the phone would feature either a gradient Blue or gradient Purple color.
Just like its predecessor, it is expected that at least the primary screen on the phone will use an AMOLED panel along with an embedded fingerprint sensor. Leaks in the past have also hinted towards this phone being equipped with 10GB of RAM with 128GB of storage. With the launch of this phone just around the corner (December 11), we don't have that long of a wait before all specifications of the handset are officially unveiled.