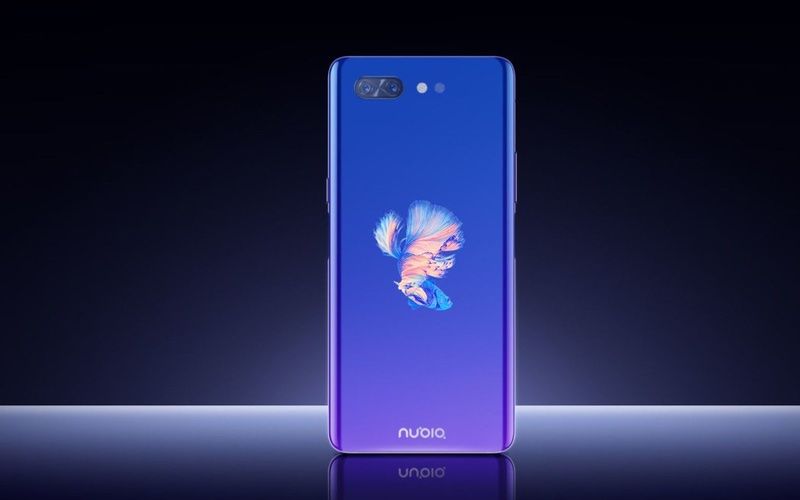 As part of a crusade against bezels, smartphone OEMs (mostly Chinese) this year have been trying unique ideas to achieve the holy grail of a true all-screen smartphone. Truth be told, brands like OPPO and Vivo came really close with their sensational products like the Find X and Vivo NEX series. Both these devices shun the notch design by employing an electronic pop-up camera hidden inside the chassis.
Meanwhile, another Chinese manufacturer Nubia stunned the market with yet another new concept– dual displays. Now rumors around Chinese tech circles is that Vivo might soon follow suit with a similar offering in an upcoming Nex series device.
A report from Digital Chat Station account on Weibo appeared today suggesting that Vivo is already working on the handset. The report suggests some specifications of the device as well. According to that, the unnamed Vivo dual-screen device will possess a 6.4-inch Full HD+ OLED panel and likely a fingerprint reader. Moreover, the rear will also have an OLED panel but the exact size is not known. Interestingly, the post on Weibo also suggests the Vivo handset will have a higher screen-to-body ratio. The handset will reportedly sport a Snapdragon 845 SoC and 22.5W fast charging technology.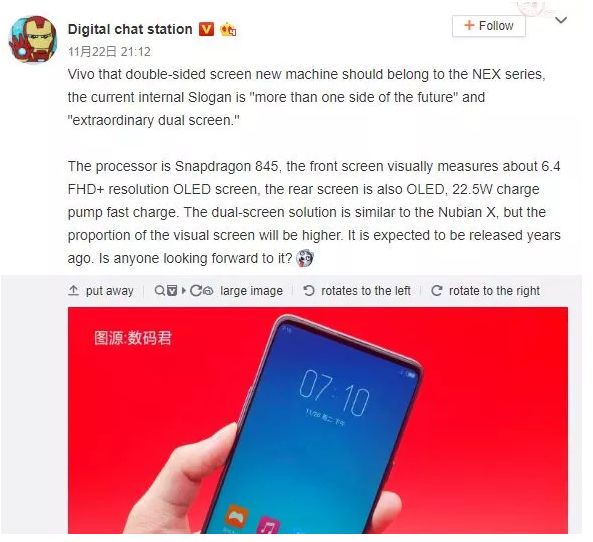 Vivo already has an internal marketing slogan for the concept "more than one side of the future" and "extraordinary dual-screen". It still remains to be seen when Vivo will announce the alleged unnamed handset. As for the legitimacy of this report, It needs to be kept in mind it is the first time we've heard of such a concept from Vivo. Moreover, there is no such information from the official channel, hence, it is best to digest this report with a pinch of salt.
If you're wondering what a dual display concept is, well it literally means using two displays— one on the front and one on the rear. This helps completely get rid of a front camera, and hence, the requirement of any kind of notch. The Nubia X is such a handset and we could say it is one of it's kind even though manufacturers like Meizu toyed with the idea of a secondary screen, but not with this intent or elegance.