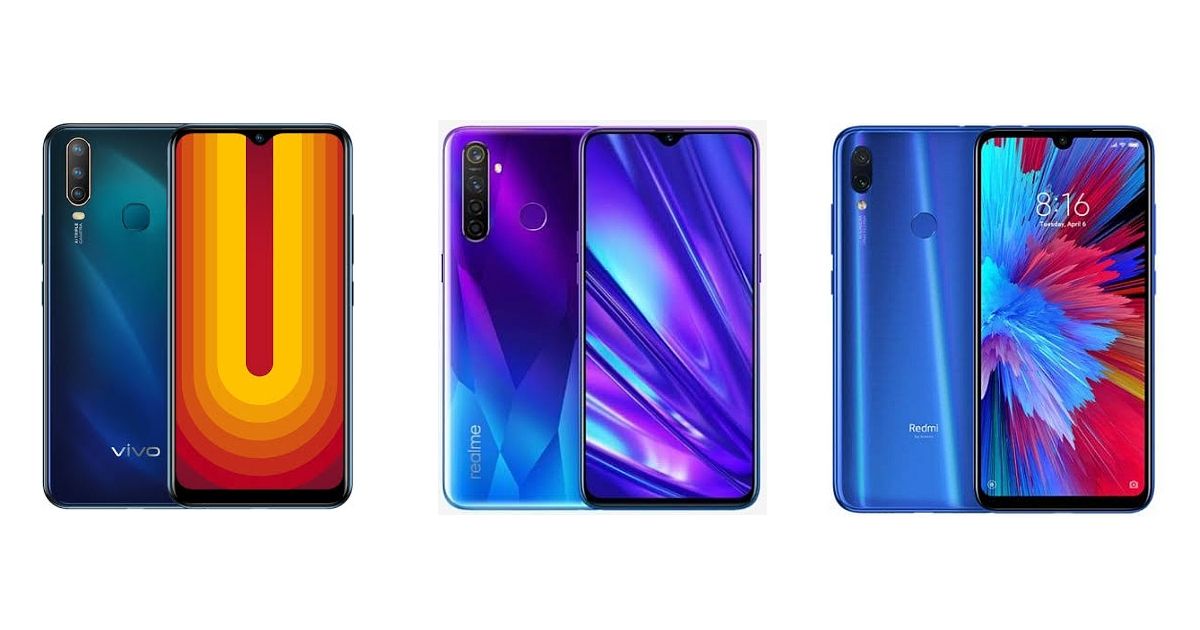 The affordable end of the smartphone market is quite a bit saturated these days, making it difficult to pick out which smartphone to get. Vivo is one such brand that has another smartphone release priced under the 10k mark, the Vivo U10. With its large battery, waterdrop notch display, and triple rear cameras, Vivo believes that its new offering is ideal for young millennials. Does the Vivo U10 truly have what it takes to entice a young audience, or are offerings such as the Realme 5 and Redmi Note 7 (review) still the more sensible options? Let's find out.
Vivo U10 vs Realme 5 vs Redmi Note 7: Price in India
The Vivo U10 has been priced at INR 8,990 for its base 3GB RAM + 32GB storage configuration. An upgrade to 64GB of storage will cost you INR 9,990. Then we have the top-end model with 4GB of RAM and 64GB of storage that is priced at INR 10,990.
The Realme 5 is offered in a 3GB RAM + 32GB storage configuration that costs INR 9,999. Meanwhile, the phone's 4GB RAM + 64GB storage model and 4GB RAM + 128GB storage can be bought for INR 10,999 and INR 11,999 respectively.
The Redmi Note 7 Pro retails for INR 9,999 if you go for its 3GB RAM + 32GB storage base model, while its 4GB RAM + 64GB storage variant costs INR 11,999.
Vivo U10 vs Realme 5 vs Redmi Note 7: Design, Display
The Redmi Note 7's 6.3-inch LCD is only screen here that offers a Full HD+ resolution. It is also the only handset to feature Gorilla Glass 5 protection on both the front and the back, while the other two merely offer glossy plastic rear panels. That said, the Vivo U1's 6.35-inch HD+ display does happen to make use of a Super AMOLED panel for a more vibrant and rich visual output. Meanwhile, one redeeming factor of the Realme 5's 6.5-inch HD+ LCD is that it features Gorilla Glass 3+ protection.
Vivo U10 vs Realme 5 vs Redmi Note 7: Performance, Software
Both the Vivo U10 and Realme 5 come powered by the Snapdragon 655 chipset while the Redmi Note 7 features the slightly older Snapdragon 660 chipset. On paper, the SDM 665 is marginally better than its older counterpart, but the real-world difference between their performances are likely to be so minute that you are not going to notice much of a difference. A more impactful difference between these phones is the presence of a dedicated microSD card slot on the Realme 5 as opposed to the hybrid slots found on the other two phones. Then again, if an IR blaster is something you'd like to have on your phone, then the Redmi Note 7 is the way to go.
When it comes to software, many are of the opinion that Vivo's Funtouch 9.1 is one of the heaviest skins that can contribute to a rather distracting experience. On the other hand, Realme's Color OS 6 and Xiaomi's MIUI 10 are relatively better designed.
Vivo U10 vs Realme 5 vs Redmi Note 7: Camera
The camera configurations of these three smartphones are not too different from each other. The Vivo U10 offers a 13MP primary rear camera, while both the other two phones offer 12MP resolution sensors. All three get 2MP depth sensors for hardware-based portrait shots. If taking ultrawide rear shots is something you require, then you can go with either the Vivo or Realme smartphone as both offer 8MP sensors for this purpose. If 4K 30fps video recording is something you absolutely need, then only the Realme 5 will offer you that feature. As for selfies, both the Realme and Redmi phones get 13MP front-facing shooters, while the Vivo U10 offers an 8MP front camera.
Vivo U10 vs Realme 5 vs Redmi Note 7: Battery Life
While both the Vivo U10 and Realme 5 offer 5000mAh batteries, the former's supports 18W fast charging while the latter is only capable of 10W charging. Then we have the 4000mAh battery of the Redmi Note 7 that also supports 18W charging and happens to be the only phone here to offer USB Type-C support.
Vivo U10 vs Realme 5 vs Redmi Note 7: Verdict
In our experience, having a Full HD+ resolution on a smartphone's display makes more of a difference than having an HD+ OLED panel. This alone makes the Redmi Note 7 a better smartphone if you can overlook its marginally smaller battery capacity, and don't mind spending an additional INR 1,000.
If you only had 9K to spend on a phone and can tolerate Vivo's software, then the Vivo U10 is not a bad overall choice considering you get admirable performance, a large battery with fast charging, and a versatile rear camera setup. And if you only had the Realme 5 to compare against, then an OLED screen would be better.
Unfortunately, there is no clear winner that can be picked between these three smartphones, and it would come down to which features you require the most.