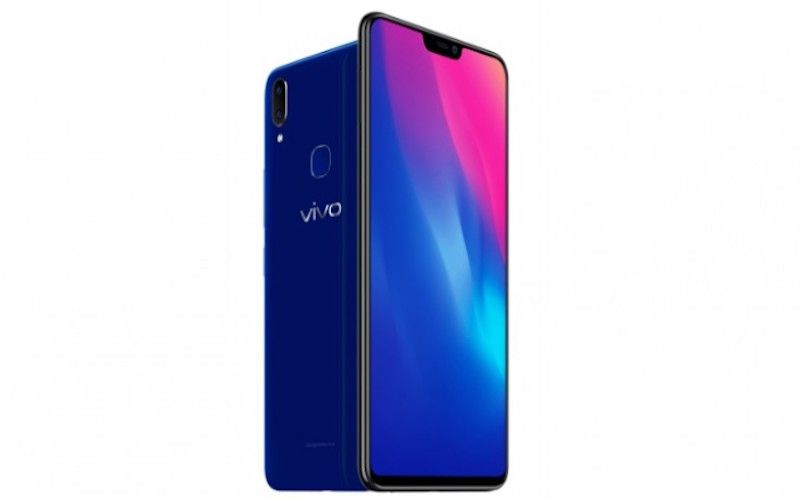 We recently reported four new Vivo models – Vivo V1816A, V1816T, V1818A, and V1818T passing 3C certification in China. Today, the former two have also appeared on TENAA and MIIT on their route to an eventual launch. The TENAA lisitng that we have found out is early and hasn't been populated with all the specs or even the images. However, that should soon change in the coming days.
What we could garner from the listing currently is that both the handsets – V1816A, V1816T have a similar screen and battery size which means they are probably different variants of the same series. Both have a 6.41-inch display and a 3400mAh battery. Both handsets have similar dimensions as well. They measure 157.6×75.4×7.1mm in physical dimensions. These handsets appear to be mostly upper mid-range smartphones from the Geekbench listing we reported previously. According to that, we should see a Snapdragon 660 SoC on board the handset along with 8GB of RAM on the V1816A variant. That could mean that the V1816T will have 6GB of RAM. Both devices should also come pre-loaded with Android Oreo, as far as benchmarks show. More specs related to camera and product images should arrive soon on TENAA so stay tuned.
Update: TENAA has now posted full specifications of the Vivo V1816A/T after revealing partial info this morning. The fresh information reveals the camera sensors on both devices which are identical. Both have a 13MP + 12MP dual camera setup on the rear and an 8MP front snapper. There's also an under-display fingerprint reader and fast charging on the two devices. Both handsets have 8GB of RAM and 128GB of internal storage and Full HD+ displays while they have a water-drop notch on the front, in terms of appearance.
Earlier:
October 24, 2018 – New Vivo Phone V1816A Spotted on Geekbench Reveals 8GB RAM and Snapdragon 660 SoC
In the beginning of October, we reported two new Vivo models with numbers V1816A, V1816T pass through 3C certification in China. Well, the former has just surfaced on Geekbench today. The benchmark listing suggests the handset to be an upper mid-range device that should soon be visiting TENAA any day now.
As for the Geekbench, the listing reveals that the Vivo V1816A rocks Qualcomm's octa-core Snapdragon 660 CPU clocked at 1.95GHz. Furthermore, the benchmark has revealed the handset has 8GB of RAM and runs Android 8.1 Oreo.
The Vivo 1816T could be very similarly specced and could possibly be a 6GB variant of the Vivo V1816A. However, the handset has not appeared on Geekbench, so exact specifications are not yet know. In related news, two other Vivo models, V1818A, V1818T also passed 3C certification in the beginning of October.
October 01, 2018 – New Vivo Phones V1816A, V1818A, V1816T, V1818T Receive 3C Certification; Could Launch Soon in China
Chinese smartphone maker Vivo could soon expand its smartphone portfolio with the launch of two new models. Four unannounced Vivo devices have been certified in China by the 3C certification agency – V1816A, V1818A, V1816T, and V1818T.
New Vivo Phones Certified by 3C in China
Going by the model numbers listed on the 3C website, we expect the V1816A and V1816T to be variants of the same smartphone. Similarly, the V1818A and V1818T are two variants of an upcoming Vivo smartphone. The 3C listings for these model numbers do not divulge any important information, except that they all will be bundled with a 5V 2A charger in the box. Since they are not going to be bundled with a fast charger in the box, it is likely that the V1816 and V1818 smartphones will be budget-friendly offerings. While the specifications of these smartphones remain a complete mystery at this point, the 3C listing does suggest that they will be made official in China very soon. We do hope to find out a lot more about these devices once they show up on the TENAA website. Unlike 3C, TENAA publishes images as well as key specifications of the devices that it certifies.
Vivo V9 Pro Launched as Amazon Exclusive in India at Rs.17,990: Top 5 Features You Need to Know
Vivo V1816, V1818: What to Expect
Since no details are available currently, we can only speculate on what the upcoming V1816 and V1818 smartphones from Vivo will offer. Vivo recently launched the V9 Pro in India with a surprisingly low price tag of Rs.17,999. It is possible that the V1816 and V1818 could join the company's V-series family and might be positioned below the V9 Pro in markets such as India. Alternatively, they could also be part of Vivo's entry-level Y-series line. While Vivo products weren't known to offer great value for money in the past, the company has managed to get the pricing somewhat right with some its most recent launches. The Vivo V9 Pro is one of only three Snapdragon 660-powered Android smartphones priced below Rs.20,000 in India currently. However, we may have to wait at least a few more weeks for the two smartphones to be made official.