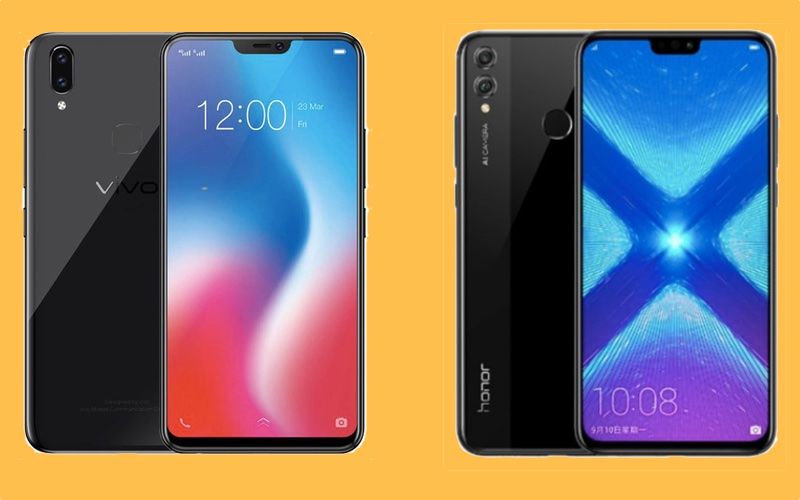 Honor has unveiled its new mid-range smartphone called the Honor 8X, and it will go on sale from October 16. Honor has not revealed the pricing yet but the device will be exclusively available on Amazon. It will give tough competition to the other mid-range handsets in the market. The device is powered by a Kirin octa-core chipset, so, we expect the price in India to be around the Rs. 20,000.
Among other mid-rangers that share specifications similar to the Honor 8X, this device seems to offer specifications quite close to the Vivo V9 Pro, which is also new (it was launched in September) and has been a popular mid-range smartphone choice since its launch.
Vivo V9 Pro vs Honor 8X: Display, Design
The new Honor 8X will appeal to fans who prefer large displays, as it sports a massive 6.5-inch display with FHD+ screen resolution (1080×2340 pixels). The display features a notch and has no bezels on the sides, with a really thin chin. However, the pixel density is about 397 ppi, which is not exactly impressive. In comparison, you get a proper 400 ppi with the 6.3-inch Full HD+ notched display of the Vivo V9 Pro, but the Honor 8X does offer more screen space with its 19.5:9 aspect ratio as compared to the 19:9 ratio of the Vivo V9 Pro. All said and done, these are both LCD displays measuring more than six inches diagonally, and sporting a notch of a similar size, so it really is a matter of preference.
Design-wise, we must admit that the Honor 8X is a looker, with its mirror-finish blending with a matte-finish band for the camera at the side of the back panel. The body is made of aluminium and so is the back panel, but it gets a glass coating on top, and the handset looks really premium and lovely. The Vivo V9 Pro also gets a mirror finish look and is a good looking handset, but the Honor 8X is just that much more attractive.
Vivo V9 Pro vs Honor 8X: Performance, Software
Performance-wise, we will have to again give up hopes of finding any clear winner, since both of these handsets come with brilliant mid-range chipsets. The Vivo V9 Pro is powered by a Qualcomm Snapdragon 660 AIE with a dedicated Neural Processing Unit, but the chipset on the Honor phone boasts of the same NPU and built-in AI abilities. Honor has given the Honor 8X a HiSilicon Kirin 710F octa-core chipset, which, according to Honor, is faster than the Snapdragon 660. RAM-wise, both phones offer 6GB, but the Honor 8X will come with a 4GB RAM option too.
Also, the Honor 8X will have three memory configurations on offer: 4GB+64GB, 6GB+64GB, and 6GB+128GB. The Vivo V9 Pro instead comes in with only one option: 6GB+64GB. Both handsets also get a software skin on top of Android 8.1 Oreo, with the Honor 8X booting EMUI 8.2 and the Vivo V9 Pro booting Funtouch OS 4.0.
Vivo V9 Pro vs Honor 8X: Camera
Camera wise, it is likely that the Honor 8X will take the lead, but we can be sure only after testing out the device. On paper, the Honor 8X does offer more bang for the buck, with its 20MP+2MP rear dual camera that is set up in a very attractive style as two separate cameras. The Vivo V9 Pro comes with a 13MP+2MP rear dual camera, something that was surprising for most, but that's that, what can you do about it? Both handsets offer a 16MP front shooter, and both handsets also offer a good set of AI features for the rear and front cameras.
Vivo V9 Pro vs Honor 8X: Battery, Connectivity
Both handsets disappoint thoroughly by skipping on fast charging technology and Type-C USB, giving us regular charging adapters and microUSB 2.0 instead. However, both phones keep the 3.5mm headphone jack intact, so there is a reason to smile. The battery on the Honor 8X is larger, at 3750mAh, but we would have liked something on the lines of QuickCharge 3.0, at least. The Vivo V9 Pro has a 3260mAh battery, and dual-band Wi-Fi is common for both handsets. Another common is an outdated Bluetooth 4.2, a rear-mounted fingerprint sensor, and a dedicated microSD card plus dual-SIM 4G (nano) support.
Vivo V9 Pro vs Honor 8X: Conclusion
So as you can see, neither of these smartphones are perfect, and nor are they entirely disappointing. The Honor 8X certainly deserves Kudos for its new design, a lovely rear panel, and the daring 20MP+2MP rear camera. However, it does not offer any good fast charging technology, and misses out on essentials such as Type-C USB that you will find on phones costing less than Rs 15,000 these days. The Vivo V9 Pro is no all-rounder either, with a measly 13MP+2MP rear camera that is not even as good as its older, non-Pro variant.
It boils down to what you're looking for, actually. If you want excellent looks and good camera gear, go for the Honor 8X, but if a dependable Qualcomm chipset is what you want, the Vivo V9 Pro is a safe bet. Plus, it weighs 25 grams less than the new entrant.