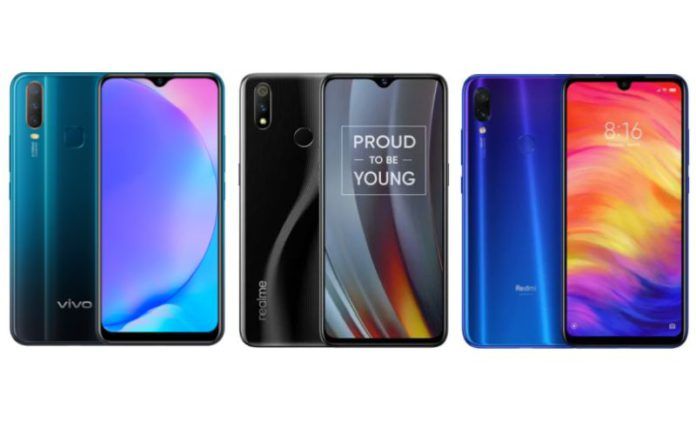 The recently launched Vivo Y17 seems to be targeted at those disconnected from the online space. While there are some promising features on this phone, some of its specifications certainly raise eyebrows especially considering its price tag. Presently, phones like the Redmi Note 7 Pro and Realme 3 Pro rule the under-20K smartphone market, raising the question of whether Vivo's new offering has what it takes to survive. Let's find out.
Vivo Y17 vs Realme 3 Pro vs Redmi Note 7 Pro: Price in India
Despite its 4GB RAM + 128GB storage configuration, Vivo has not done itself any favors by pricing the Vivo Y17 at INR 17,990. The 128GB storage models of both the Realme 3 Pro and Redmi Note 7 Pro (review) come with 6GB of RAM and cost INR 16,999. You even get 4GB RAM + 64GB storage models of these two phones for just INR 13,999.
Vivo Y17 vs Realme 3 Pro vs Redmi Note 7 Pro: Design, Build
All three phones in this comparison possess their own iterations of dual-colored rear panels and waterdrop notch displays. With that said, only the Redmi Note 7 Pro offers Gorilla Glass 5 protection on both the front and rear. The Realme 3 Pro at least offers Gorilla Glass 5 on its front. Meanwhile, the back of the Vivo Y17 is made of plastic, and the front seems to make use of standard glass.
Vivo Y17 vs Realme 3 Pro vs Redmi Note 7 Pro: Display
It is quite puzzling to see an HD+ resolution on the Vivo V17's 6.35-inch LCD screen. Meanwhile, both the Note7 Pro and Realme 3 Pro offer 6.3-inch FULL HD+ resolutions screens.
Vivo Y17 vs Realme 3 Pro vs Redmi Note 7 Pro: Camera
Imaging is one aspect where the Vivo Y17 attempts to stand out from the crowd by offering a triple rear camera setup. Here we see a 13MP primary sensor, an 8MP wide-angle sensor, and a 2MP depth sensor. For selfies, the phone offers a 20MP front-facing shooter.
The Realme 3 Pro is likely to grab better selfies thanks to its 25MP front shooter. The rear primary camera is also larger at 16MP which has been paired with a 5MP depth sensor.
But perhaps the best rear-facing shooter in this price segment is found on the Note 7 Pro. We have a 48MP+5MP setup where the primary camera uses pixel-binning for great low-light photographs. Despite its smaller 13MP front camera, selfies on this phone are also known to come out with great detail and dynamic range.
Vivo Y17 vs Realme 3 Pro vs Redmi Note 7 Pro: Performance, Software
Performance is another aspect that fails to justify the Vivo Y17's high price tag. The phone runs on a MediaTek Helio P35, a chipset that belongs on smartphones priced closer to INR 10,000. There is also Vivo's Funtouch 9 skin that – despite running over Android 9.0 Pie – has an outdated user interface that is in serious need of an overhaul.
The Realme 3 Pro's Snapdragon 710 and Redmi Note 7 Pro's Snapdragon 675, on the other hand, seriously overpower the Helio P35. It is hard to pick a clear winner between the two Snapdragon chipsets as the 710 performs better in GPU tests and the 675 is slightly better in CPU tests.  As for software, the Realme 3 Pro's ColorOS 6.0 offers some much-needed refinement and is relatively light on bloatware. Then we have the Redmi Note 7 Pro's MIUI 10 which does provide a great UI but is known to be filled with annoying advertisements and pesky app notifications.
Vivo Y17 vs Realme 3 Pro vs Redmi Note 7 Pro: Battery Life
The Vivo Y17 has one thing going for it, and that is its battery capacity. The phone gets a 5000mAh cell that supports 18W dual-engine fast charging. The Realme 3 Pro makes use of a 4045mAh battery that gets 20W VOOC 3.0 fast charging support. As for the Redmi Note 7 Pro, you have a 4000mAh battery that gets 18W Quick Charge 4.0+ support. With that said, the Note 7 Pro is the only phone here to offer USB Type-C charging while the other two phones rely on the dated microUSB standard.
Vivo Y17 vs Realme 3 Pro vs Redmi Note 7 Pro: Verdict
Despite its triple rear camera setup and large 5000mAh battery, the Vivo Y17 commits a cardinal sin by offering an HD+ resolution screen and a severely underpowered Helio P35 chipset. The phone's pricing is outrageous, and no one should even entertain the idea of purchasing this phone. As for the other two smartphones, both devices have set a new benchmark for phones priced under 15k. While you won't go wrong by buying either of these, the Note 7 Pro does take a slight edge over the Realme 3 Pro.