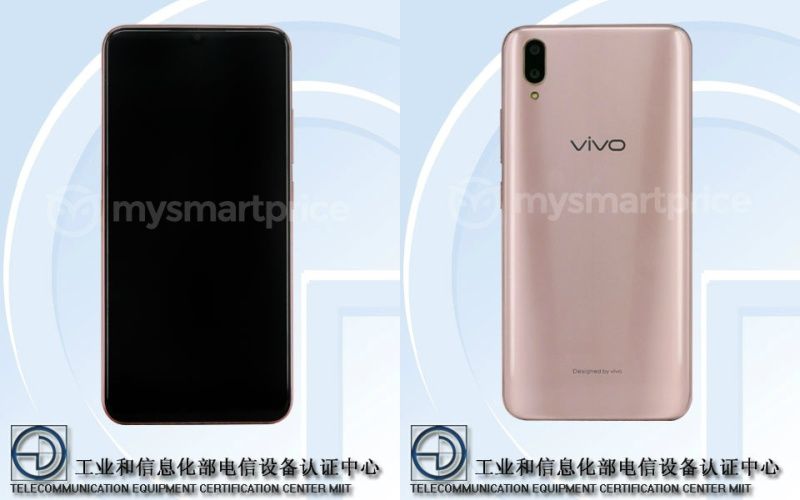 Two new Vivo devices with model numbers V1813BA and V1814A have received certification at the Ministry of Industry and Information Technology earlier last week. Amongst them, the Vivo V1814 model also popped up on EEC along with V1815 and V1816 at the EEC around the same time. The appearance of these models on both certification portals suggests that a launch is close at hand. However, much about the handsets capacities remain under the shadow due to the fact that the current listing does not reveal any significant info.
That said, we do know a great deal about the Vivo V1813BA owing to its appearance on TENAA in the recent past. This handset is rumoured to debut with the moniker Vivo Z3i. Drawing our info from TENAA's listing, we know that Vivo V1813A features a 6.3-inch screen that supports Full HD+ resolution and a notch. As it usually is, the processor identity isn't disclosed but we know that the octa-core chipset inside it is clocked at 2.0GHz. In terms of storage, there's 4GB of RAM and 64GB of storage onboard the device. There's also room for a microSD card slot.
In terms of optics, the Vivo V1813BA has a dual rear camera setup. There's a 16MP main camera aided by a 2MP depth sensor while the front notch houses a single 12MP shooter. TENAA's reliable listing states that it will be loaded with Android Oreo 8.1 drawing power from a 3,240mAh battery. The Vivo V1813BA seems to be a variant of the Vivo 1813A which is believed to be launching in two days time on October 17th. We could probably see both the handset's launch at the same time.
As for the Vivo 1814A, it has also appeared on TENAA at the weekend aside from an earlier spotting at EEC. However, specs have not yet been outed by the certification authority as of yet but images are out. The handset has a typical Vivo design as of late 2018 as it resembles the Vivo V11 remarkably. There's also an on-screen fingerprint reader as it can't be seen on the rear side. We need to wait a few days before specification details are published by TENAA as that will reveal the true calibre of the device for sure.