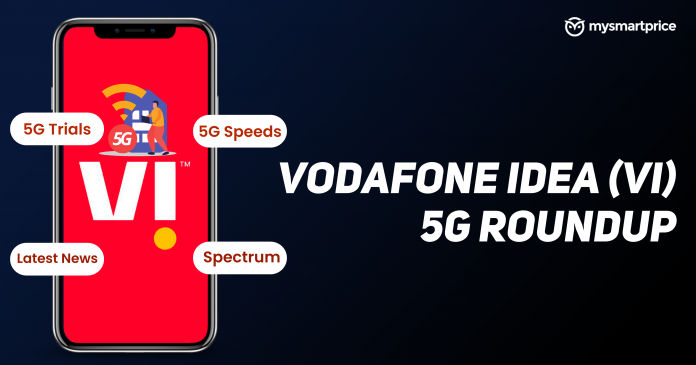 Vodafone Idea or Vi is one of India's largest telecom players and continues to grapple with different challenges to compete in the market against Airtel and Jio. But that doesn't mean Vi is going to shy away from competition, and it is equally going to be involved in India's progress towards the 5G network in the coming months. Vi has partnered with the likes of Nokia and Ericsson to trial its 5G network, using the allocated trial spectrum in India. Vi is one of the telcos looking to bid for the 5G spectrum. Here are all the details regarding Vi 5G expected to launch, the 5G speed test and more that we know about. 
Vi 5G Expected Launch In India 

As the 5G spectrum auctions are going on right now, the Telecom Ministry has confirmed that the spectrum allocation is likely to be completed by mid-August, and within a month from that, telcos can offer their 5G services in India. Vi is likely to follow the same schedule for the 5G launch in India. The telco is bidding for a 5G spectrum in different circles, and we will have more clarity on its focus once the auctions come to an end. Having said that, the Department of Telecommunications (DoT) has confirmed that in 2022, 5G services are going to be available in 13 cities, including Delhi, Bengaluru, Gurugram, Chandigarh, Kolkata, Pune, Ahmedabad and a few more. 
Vi 5G Internet Speed
Vi has been keeping itself busy with 5G network trials since last year, and in most cases, the telco has seen encouraging results. In September last year, Vi claimed it got a peak 5G speed of 3.7Gbps in Pune, and then in November, the telco managed to get a 100Mbps average speed in a rural area in Gandhinagar. More recently, Vi tested its 5G network on a mobile handset and got a download speed of 1.2Gbps on the 5G network in Bengaluru. These speeds are significantly faster than what Vi 4G network can deliver using a 4G smartphone. 
Vi 5G Trials 

Vi 5G trials have been going for over a year, and the telco has witnessed a progressive growth in the network performance using the allotted trail 5G spectrum. Most recently, Vi conducted its 5G network trial on street furniture like electric poles, bus stands, traffic lights, etc. Vi has undertaken 5G network trials in major cities over the past few years. It is also going to conduct 5G network tests on street furniture in major cities, including the Delhi International Airport, Kandula Port in Gujarat and Bhopal. 5G trials were also done at the MG Road Metro Station in Bengaluru, Karnataka. These tests were done using 5G small cells and Nokia's E-band MW (microwave) network. 
Vi 5G Spectrum 
With the recent auction by the Indian government, Vodafone Idea has managed to acquire spectrum in 3300MHz and 26GHz 5G bands to deliver 5G internet speed to its customers. Vodafone Idea acquired a 3300MHz spectrum in 17 circles and 26 GHz spectrum in 16 circles. Moreover, it has also acquired a 4G spectrum in three circles. The operator has bought the spectrum for Rs 18,799 crore.
Vi 5G Latest News
Indian Government Might Acquire Some Stakes in Vodafone Idea Ahead of 5G Roll out in India (September 15, 2022)
The Indian government might acquire some stakes in Vodafone Idea ahead of the operator's plan to roll out 5G services in India. Vodafone Idea is currently under a massive debt of Rs 1.94 trillion. The company is planning to convert Rs 160 billion of interest liability, which is payable to the government, as equity. This will make the Indian government acquire a 33 per cent stake in the company, as per a new report.
Vodafone Idea (Vi) 5G Roll Out Might Get Delayed (September 01, 2022)
Vodafone Idea (Vi) 5G service might get delayed in India as the operator is currently struggling with financial funds. As per a report by ET Telecom, Vi might take a little longer to launch its 5G services in India. The company is in talks with external investors to arrange the funds for its 5G rollout. Once the funds are arranged, the company might roll out its 5G service in the country.
Vodafone Idea Conducts 5G Trials in Bhopal, Achieves 1 Gbps of Internet Speed (August 01, 2022)
Vodafone Idea has achieved 100 Gbps of internet speed in recent 5G trials in Bhopal. The company has recently conducted a 5G small cell test in Bhopal. Telecom Regulatory Authority of India (TRAI) has chosen 5G small cell tests for the function of street furniture in Bhopal. This will help the operator to help roll out next-generation 5G technology.
Thanks for reading till the end of this article. For more such informative and exclusive tech content, like our Facebook page