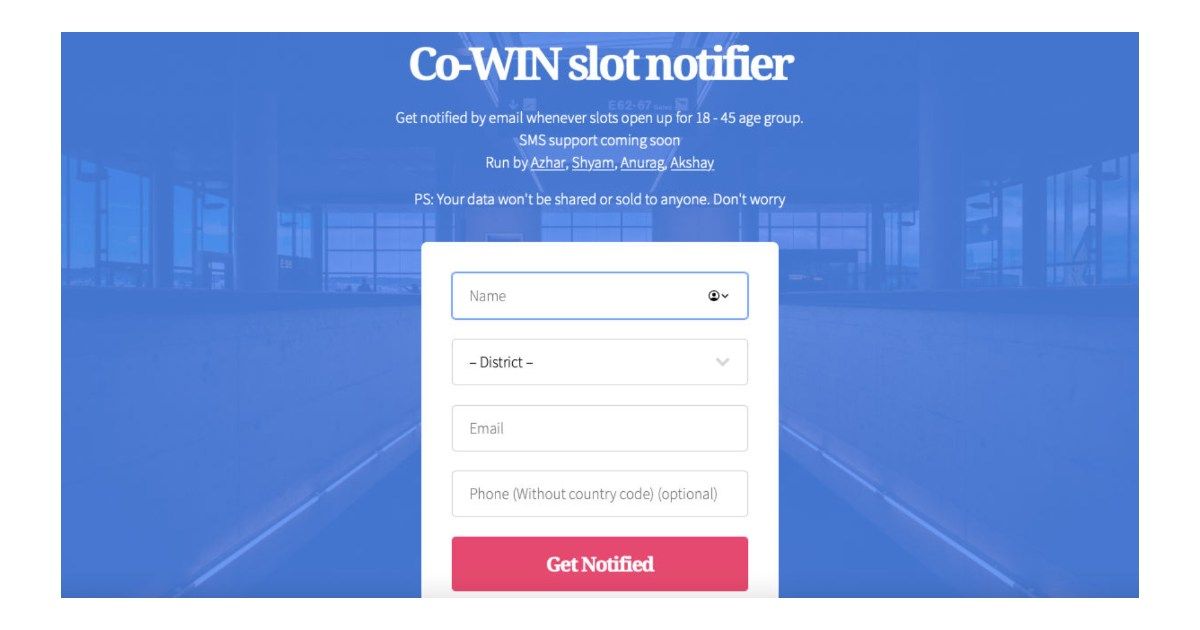 Covid vaccination registration started in India for the age group 18-45 from April 28th. As expected, the Cowin portal and Aarogya Setu crashed on April 28th, considering a massive surge in traffic, as many people in the age group 18-45 started registering. From May 1st, the vaccination drive has started officially in the country. Finding a slot on these portals seems to be challenging for many people. The time slot on the Cowin website and Aarogya Setu app are getting occupied every second. However, few websites will send you an email alert when the Covid Vaccine time slot becomes available nearby vaccination centres in your city or zip code.
Also Read: Vaccine Certificate: How to Download COVID Vaccination Certificate Online from CoWIN, UMANG, Aarogya Setu, Digi-locker Apps – MySmartPrice
CoWIN Slot Notifier on Paytm App
Paytm has announced that it is rolling out a new feature on its application. Vijay Shekhar Sharma has tweeted that people can look for the real-time availability of slots on Paytm.
We are launching a new tool for users to find COVID Vaccine slots and set for alerts when new slots open up for their locality. @Paytm checks for availability real-time and alerts users via Paytm Chat when a new slot opens up.https://t.co/WvJa7CRxxO

Pls spread awareness.

— Vijay Shekhar Sharma (@vijayshekhar) May 6, 2021
The company has added a new tool for users to find COVID vaccine slots near their locality. In order to search for it, one can follow these steps:
Click on this link from your mobile browser: https://m.paytm.me/vaccineslotfinder. The website will take you to the Paytm application.
 Now, you can search for COVID vaccine slots using your PIN Code or using the District.
Enter the PIN Code number and click on 'Check Availability' option.
The page will show you the list of all centres with the availability of the slot.
Click on the desired centre and it will then open the CoWin application on the same.
Follow the on-screen instructions and register yourself with the available slot for getting the COVID vaccine.
Also Read: COVID Vaccination Centre Near Me: How to Find Nearest Covishield and Covaxin Vaccine Centres Online – MySmartPrice
How to Check Vaccine Slot Availability on CoWIN Portal Using Telegram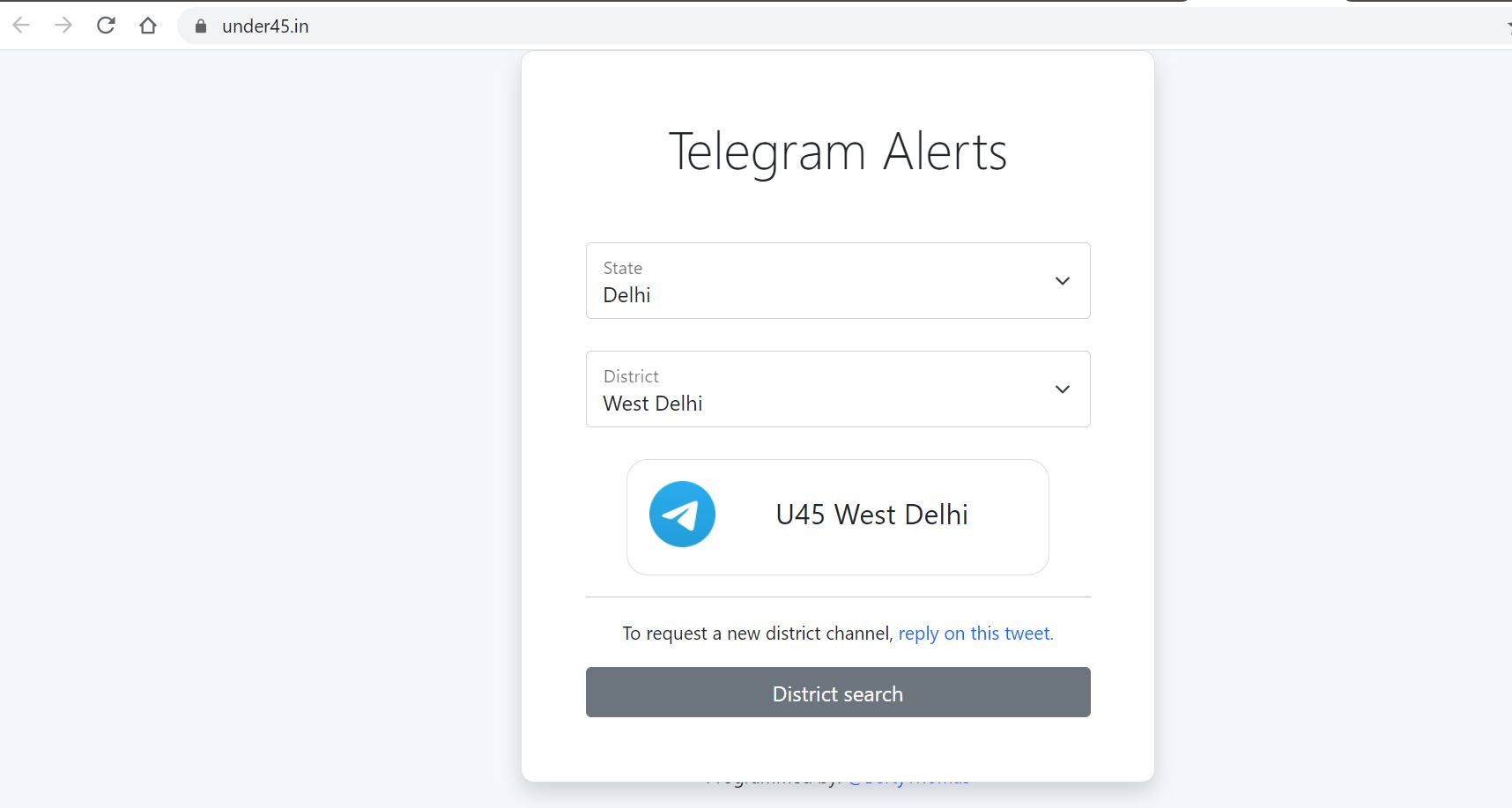 You can also get real-time information about the availability of vaccine slots. Although there are various tools available online tools that give you information, there are some really helpful ones on Telegram. One such Telegram channel that gives you real-time information when vaccine stocks and when the vaccination slots are available in their area. One can go to Under45.in. The website is developed to give information about the vaccination slot for people in the 18-44 age bracket. Here's what you need to do:
Go to under45.in website and select the state and district.
The website will show you the dedicated channel for that particular area.
One can open the Telegram application and join the channel.
Once done, the channel will provide a detailed view of availability data like centres, number of slots available and availability date.
MyJio App Will Now Allow You To Search and Book Vaccination Slots
We are here to connect and support India in the fight against COVID-19. Now you can easily search Vaccination Slots in your area using MyJio App and book via Co-WIN.

Find slots: https://t.co/laQLGJqBnU #JioTogether #CoronaHaaregaIndiaJeetega #MyJio #COVID19 #VaccinationSlots pic.twitter.com/xw5TOEinAT

— Reliance Jio (@reliancejio) June 16, 2021
Reliance Jio has announced that its MyJio application will now allow users to search for the vaccination slots near their area. Jio users can download the application on their smartphones and simply search for vaccination slots near their area right from the app. Furthermore, the app also allows users to book an appointment as it has an integrated CoWIN platform as well. This simply means that one can search and book vaccination slots right from one place.
Getjab.in Will Notify You When a Covid Vaccine Slot Becomes Available in Your City.
Freshworks product manager Shyam Sunder has created a website called Getjab.in, which will notify you via email when a vaccine slot becomes available in your city. For getting email alerts, one will have to visit the website Getjab.in. You will have to enter your name, district, email address, and phone number. When the vaccine slot becomes available in your city, Getjab.in will notify you via email. As of now, the website is only sending an email alert, and no SMS support is available at the moment. However, according to details displayed on Getjab.in, the team is currently working on SMS support, which might arrive in the upcoming few days.
Tired of refreshing Co-WIN for slots?

Friends and I have built this: https://t.co/6AanPj9bjG. Key in your details and let us worry about when slots open up and notify you instantly 🙂

— Shyam Sunder (@shyampsunder) May 2, 2021
The Getjab.in website is handy for many people, who can't find the proper time slot and are seeing the booked slot whenever they visit the Cowin portal. At the moment, the email alerts are paused by Getjab.in, due to some technical issues. As per Freswork's product manager Shyam Sunder, Getjab has paused the email alerts for some time to investigate a bug.
Pausing emails on https://t.co/6AanPiRzV6 for some time to investigate a bug

— Shyam Sunder (@shyampsunder) May 3, 2021
Get Vaccine Alert With The Help Of Google Sheet
Another way to get vaccine alerts is with the help of Google Sheet. Labnol.org founder Amit Agrawal has created an open-source vaccine tracker with the help of the public Cowin API. This vaccine tracker automatically monitors the vaccine availability near you and sends you an email when the vaccine slot becomes available in your city or pin code. The process to get started with this is pretty simple, as you just have to create a copy of the Vaccine Tracker Google Sheet in your Google Drive. Below are the steps you can follow to receive the vaccine availability email alerts:
Step 1: To get started, you will have to click here and make a copy of the Vaccine Tracker in the Google Sheet.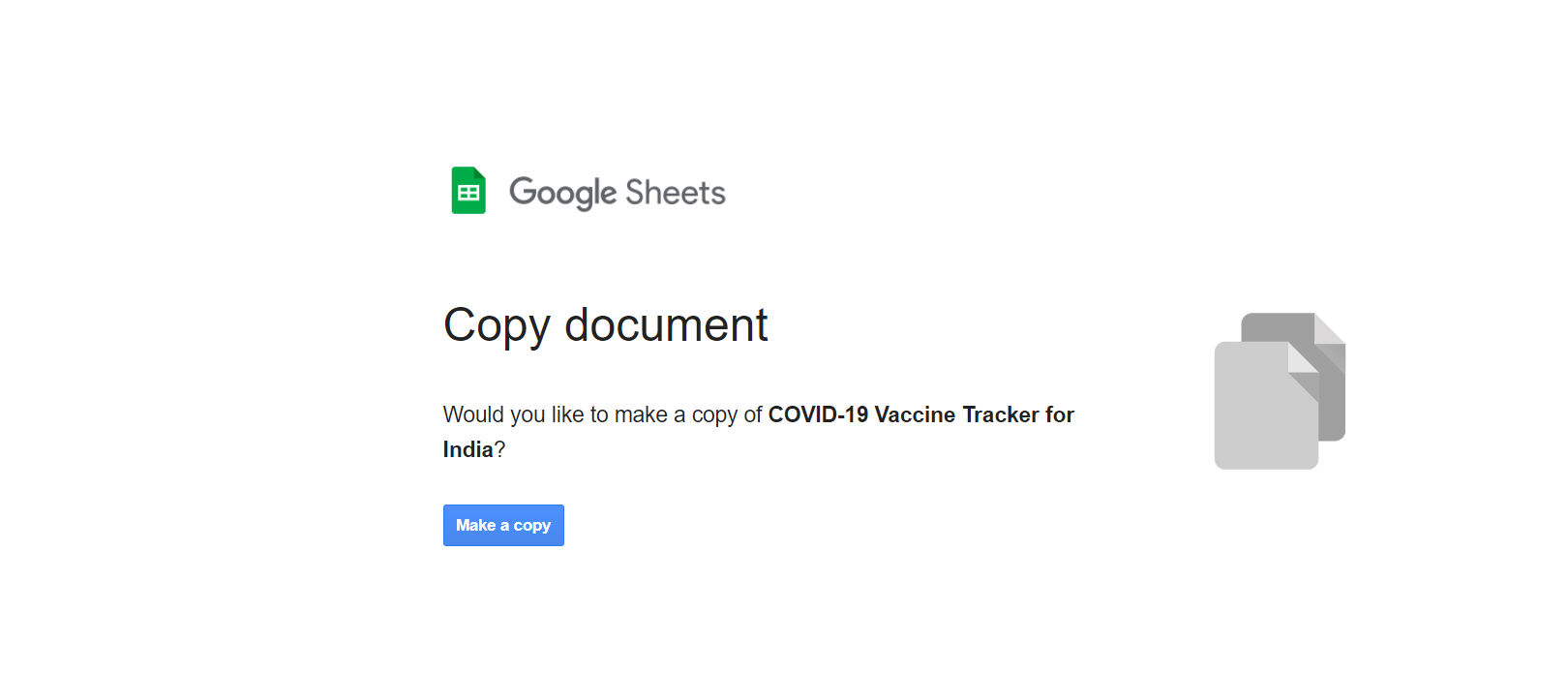 Step 2: You will have to click on the vaccine tracker menu and choose Enable as shown in the below image.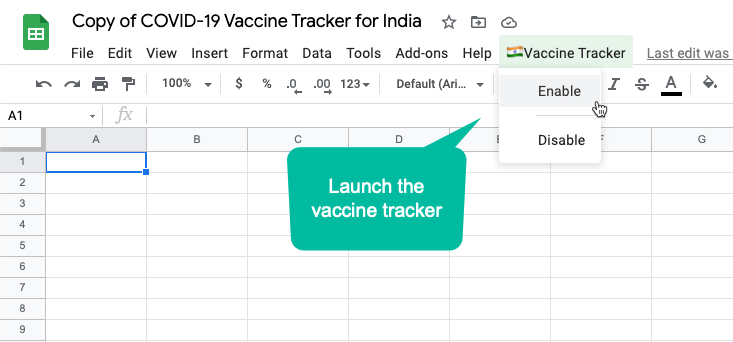 Step 3: You will see an authorization window, where the prompt will be displayed with the message as: "Google hasn't verified this app". You will have to click the Advanced link and choose "Go to Vaccine Alerts".
Step 4: Thereafter, you will have to go to Step 2 now, choose the Enable menu again to launch the vaccine tracker. You will have to enter pin codes (comma separated), and email address where you wish to receive the alerts. This vaccine tracker even has the option to select the age group option from the 18+ and 45+. Here's a screenshot below of the email sent by the vaccine tracker.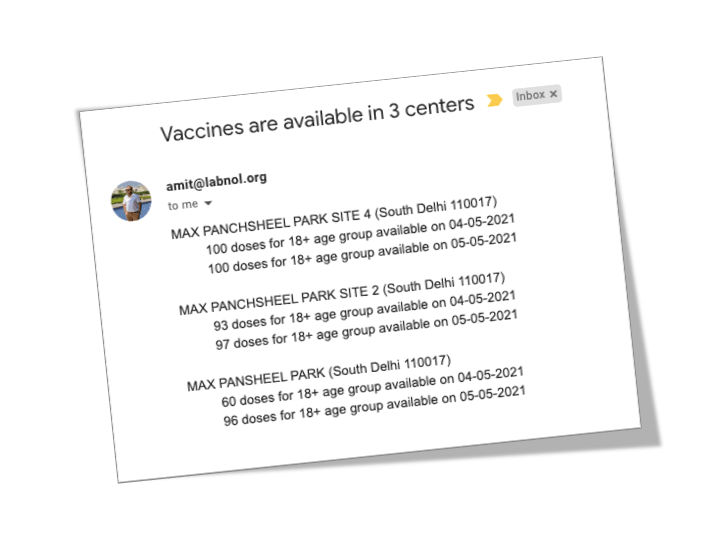 Google Sheet will monitor the vaccine availability and send you an email alert at 8 AM. The vaccine availability is checked with this tracker every day but you can change the frequency to every 4 hours or every hour. If you wish to stop the email alerts anytime, you will have to head over to Google Sheet copy, click on vaccine tracker, and choose the disable option.
Thanks for reading till the end of this article. For more such informative and exclusive tech content, like our Facebook page