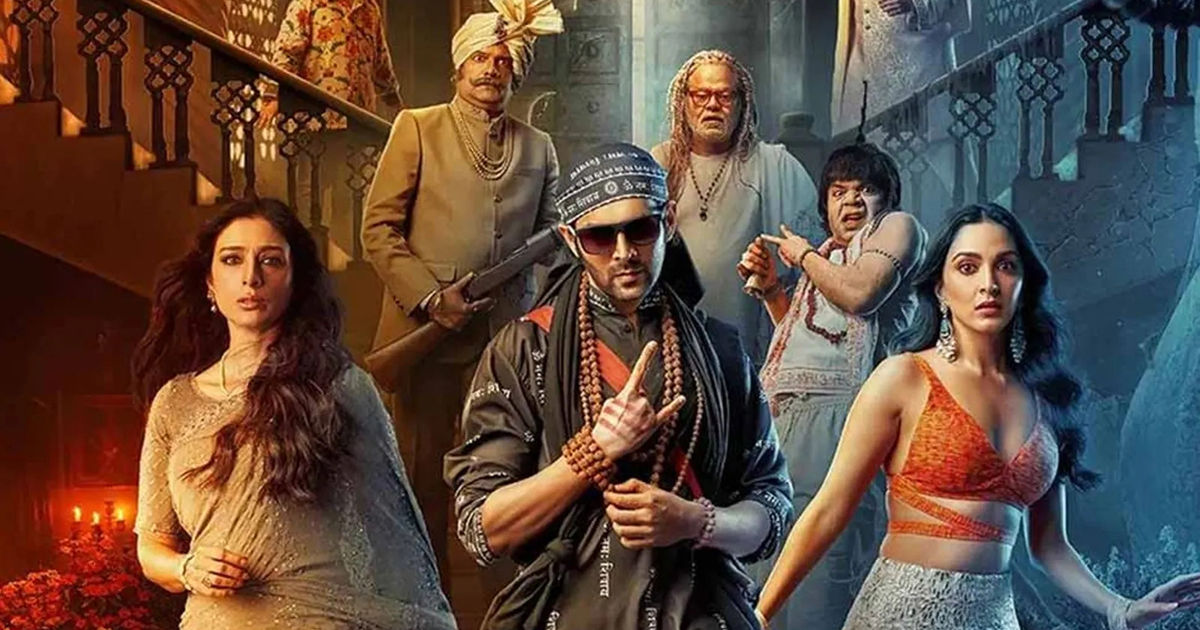 With the plenty of shows and films releasing on OTT platforms in India and it could become overwhelming at times to choose which to watch. There are multiple genres each with new content every week.
And while we ensure to list all the important OTT releases each week, this new piece will provide a composite list of films and shows from each genre that people can refer to. These would include content from all the different OTT platforms Netflix, Amazon Prime, Voot, Disney+ Hotstar, Sony Liv. And here's a list of all the different content from the different genres.
Comedy
Bhool Bhulaiyaa 2
This sequel to the extremely popular 2007 film Bhool Bhulaiyaa from Priyadarshan. This standalone sequel has been directed by Anees Bazmee and stars Tabu, Kartik Aaryan, and Kiara Advani in the leading roles. The plot is similar to the previous film, and while it was an absolute box office success, critics felt it did not live up to the standards of the previous film.
IMDb Rating: 5.7/10
Gullak
Gullak is a web series that has been created by Shreyansh Pandey and features Jameel Khan, Geetanjali Kulkarni, Vaibhav Raj Gupta and Harsh Mayar. The show has three seasons and revolves around the Mishra family.
IMDb Rating: 9.1/10
Drama
Gangubai Kathiawadi
Alia Bhatt as Gangubai the titular role in Sanjay Leela Bhansali's Gangubai Kathiawadi headlines as a sex worker who rises up to be a a political representative of the Kamathipura red light district. The film traces the historic incidents around Gangubai's life and the hardships she faced.
The film was extremely successful despite hitting the theaters right after they opened up after the pandemic. This film showcases the sheer star power and acting prowess that Alia Bhatt has garnered in the present Bollywood industry.
IMDb Rating: 7.0/10
The Boys
The Boys which is based on the graphic novel of the same name has been an super-hit show from Amazon Prime Video. This superhero show does not go the black and white way about good and evil and deals with the grey areas in life and is probably one of the most realistic portrayals of superheroes. It recently got the third season which saw record number of views. It features Karl Urban, Jack Quaid, Antony Starr, Erin Moriarty, Dominique McElligott, Jessie T. Usher, Chace Crawford, Laz Alonso, Tomer Capone, Karen Fukuhara, and Nathan Mitchell.
IMDb Rating: 8.7/10
Family
Dasvi
This Tushar Jalota film stars Abhishek Bachchan, Yami Gautam and Nimrat Kaur. The story revolves around Ganga Ram Chaudhary, who is a a corrupt and uneducated politician. He is jailed and it is there that he discovers the value of education and decides to earn his 10th-grade diploma.
IMDb Rating: 7.3/10
Panchayat
The first season on the show Panchayat from its makers at TVF was critically acclaimed and it received the second season this year which also received overwhelmingly positive rating. It has an experienced cast including the likes of Raghubir Yadav, Neena Gupta and Jitendra Kumar, this new season will take viewers back to the village of Phulera in Uttar Pradesh for more antics of the new Panchayat Secretary Abhishek Tripathi (Jitendra Kumar), and the village head and the other villagers.
IMDb Rating: 8.9/10
Action
Vikram
Kamal Hassan's latest outing in Vikram hit OTT after a successful run in the theaters. Vikram released in the theaters back on June 3 and managed to gross Rs 442.45 crore at the box office. Apart from Kamal Hassan, it features Vijay Sethupathi and Fahadh Faasil in the important roles.
IMDb Rating: 8.4/10
Ms. Marvel
Ms. Marvel is the first South Asian superhero in Marvel's roster and it stars Iman Vellani as Kamala Khan, with Matt Lintz, Yasmeen Fletcher, Zenobia Shroff, Mohan Kapur and Fawad Khan. The show is about a young Pakistani immigrant girl Kamala, starting out her journey as a young superhero. She is a big time fan of Captain Marvel and idolises her enough to model her suit and persona after her.
IMDb Rating: 6.2/10
Sci-Fi
Don't Look Up
Don't Look Up has a stellar cast that includes the likes of Leonardo DiCaprio, Jennifer Lawrence, Rob Morgan, Jonah Hill, Mark Rylance, Tyler Perry, Timothée Chalamet, Ron Perlman, Ariana Grande, Scott Mescudi (Kid Cudi), Cate Blanchett, and Meryl Streep. It's about a two non-important astronomers finding out about a planet killing meteorite heading for Earth and must go on a giant media tour to warn mankind of it when the governments fail to act.
IMDb Rating: 7.2/10
Westworld
Westworld which originated from the minds of Jonathan Nolan and Lisa Joy is one of the most critically acclaimed Sci-Fi shows to date. It is set in a futuristic amusement park where robotic hosts serve the elite in all ways possible. It stars Evan Rachel Wood, Jeffrey Wright, Tessa Thompson and Ed Harris and recently got the season 4.
IMDb Rating: 8.6/10
Thriller
The Gray Man
The Gray Man is the newest film from Russo brothers – Joe Russo, and Anthony Russo and stars Ryan Gosling, Dhanush, Chris Evans and Ana de Armas. This new spy thriller involves a CIA agent, a former colleague who is a sociopath and how a global manhunt ensues.
IMDb Rating: 6.5/10
Escaype Live
This new thriller show revolves around social media and its impacts and stars Javed Jaffrey, Siddharth, Shweta Tripathi and Ritvik Sahore. This show is about an app which is strangely similar to TikTok and its top 6 influencers who try to outdo each other to win a prize of Rs 3 crore announced by the app. All the while a righteous employee tries to battle corruption inside the company.
IMDb Rating: 7.6/10
Fantasy
Eternals
Eternals is what Marvel Cinematic Universe wants to replace the Avengers with and released the first film as part of the phase 4. It features Gemma Chan, Richard Madden, Kumail Nanjiani, Lia McHugh, Brian Tyree Henry, Lauren Ridloff, Barry Keoghan, Don Lee, Harish Patel, Kit Harington, Salma Hayek, and Angelina Jolie. The story shows how the groups of superpowered individuals known as Eternals arrive on Earth millennia ago and have affected history and they battles with Deviants.
IMDb Rating: 6.3/10
House of Dragon
Taking up the mantle from extremely popular show Game of Thrones from HBO as part of the universe. This is a prequel to the events that happened during Game of Thrones and features Paddy Considine, Emma D'Arcy, Matt Smith, Milly Alcock, Olivia Cooke, Steve Toussaint, Eve Best and Rhys Ifans. It is based on George R.R. Martin's "Fire & Blood" and takes place 200 years before the events of Game of Thrones when the Targaryens took the throne.
IMDb Rating: ???
Watch on Disney+ Hotstar