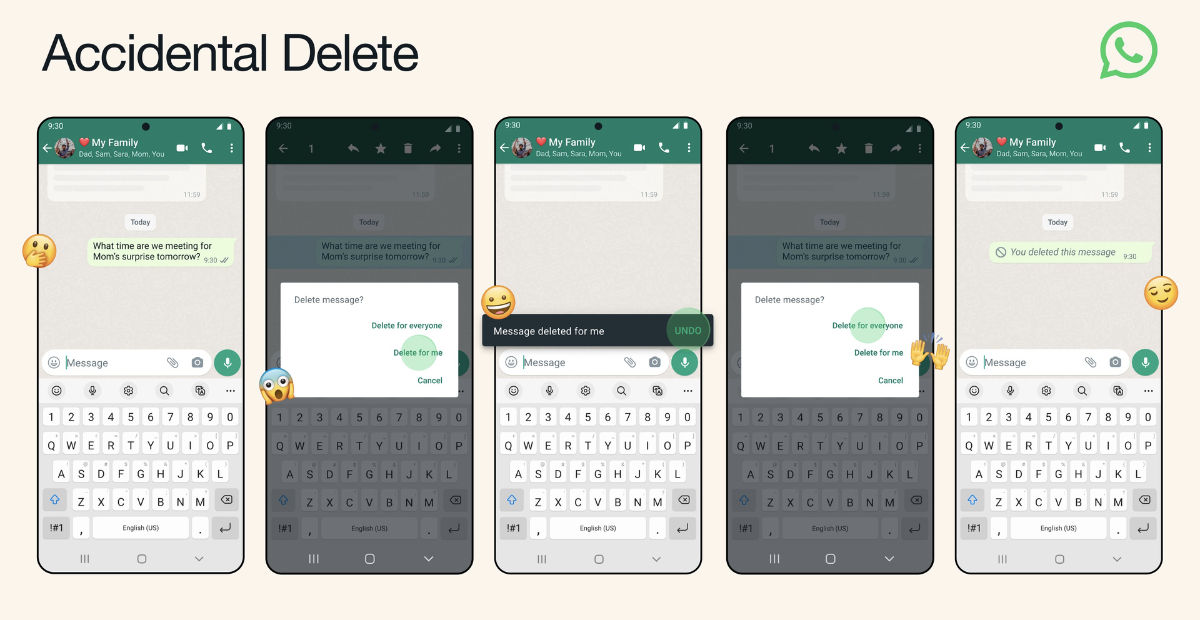 WhatsApp, in 2018, introduced a feature named Delete for Everyone which will delete a message from a group or conversation. However, there's another option Delete for Me below it which only deletes the message for the sender. Now, there are several times when a user taps on the Delete for Me option instead of Delete for Everyone after which you cannot remove the message. We have also faced this issue. This becomes a problem especially when you don't want other members of the group to read that message. Thankfully, the Meta-owned social messaging app has come up with a solution of the same. Here's everything you need to know about it.
You can Now Undo Delete For Me Option
WhatsApp head Will Cathcart announced that the app is getting a new feature today. Will took to his Twitter account to share the announcement and more details about the feature.
"Delete for Me" 🤦🤦🤦

We've all been there, but now you can UNDO when you accidentally delete a message for you that you meant to delete for everyone! pic.twitter.com/wWgJ3JRc2r

— WhatsApp (@WhatsApp) December 19, 2022
WhatsApp's new feature allows a user to reverse the Delete for Me option. The company has added an Undo button that you can tap on if you accidentally pressed the Delete for Me option instead of Delete for Everyone. The app will give you a few seconds to think and will show you Undo button just above the message bar. If you tap on Undo, the Delete for Me option will be reversed and the message will be shown to you as it was before. Now, if you want, you can again hold it and select Delete for Everyone.
WhatsApp Gives Another Reason to Love it
WhatsApp has given us one more reason to love its app. The company has been taking feedback from its users via social media platforms and in-built reports. We too have been facing the above-mentioned issue for so long and wanted Meta to introduce a feature to undo the Delete for Me option so that any accidental action can be reversed. Thankfully, WhatsApp listened to its users.
In the past, the company has added several features to its app for its users. For example, the company recently added Communities which are basically a grouping of particular existing groups.
Moreover, it solved one of the biggest issues of the user whenever they had to switch to another phone. The company has added Linked Devices feature on its login page so that a user can just scan the QR code and login directly on a second phone whenever he or she wants.
Similarly, the company has added a bunch of features this year such as increasing the group limit from 256 to 1024, adding support for 32 members on a video call, large file sharing, removing unwanted or problematic messages from everyone's chat by group admin, and more.
The introduction of these features concludes only one thing WhatsApp has been taking feedback regularly and working on to fix the problems that a user faces on its app.