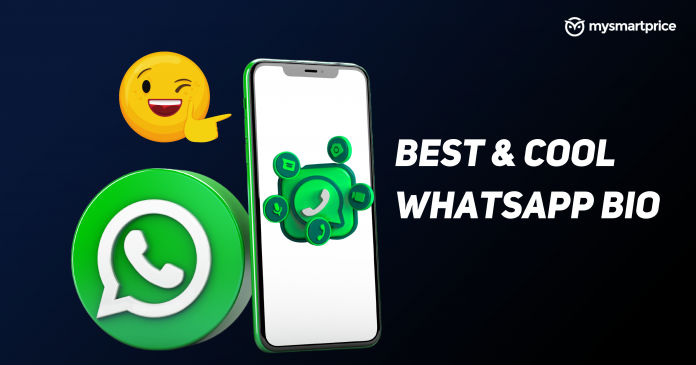 WhatsApp is the most popular personal messaging platform with over two billion users globally and it is certainly popular in India as well. WhatsApp Bio appears right below your WhatsApp username both on your phone as well as anyone else viewing your contact on their phone. 
There was a time when people used to update their WhatsApp bio regularly, but now with WhatsApp story integration, many won't use it regularly like in the old days. However, there are people who do update their bio on Whatsapp regularly.  
WhatsApp Bio is also known as "About" and some users still refer to it as "status". But, in this guide, I will be sticking to "Bio". In case you are looking for a new bio on Whatsapp, we have listed a few good ones to consider. We have included a list of over 200 best WhatsApp Bio. We will start off with some funny ones, and then we have some specific ones for boys and girls. We have some cool, creative, and stylish bio as well. We will finish off the list of short, meaningful, and emoji bio. 
WhatsApp Funny Bio Quotes
Dear problems… Please give me some discount… I am your regular customer

I'm not avoiding work. I'm just on battery saver mode

I would lose weight, but I hate losing

I was going to take over the world this morning, but I overslept

I follow the quote, "Always Be True To Yourself" because I only lie to others!

My humour is beyond your understanding. Isn't that funny

If you can't convince them, confuse them

I'm naturally funny because my whole life is a joke

Too lazy to stop being lazy

The older I get, the earlier it gets late

My "last seen at" was just to check your "last seen at"

I wanna live in your socks so I can be with you every step of the way.

Did you hear that joke that doesn't offend anyone? Neither did I

Hey, I'll be back in five minutes. If I'm not, just read this message again

Stop checking my last seen, text me when you miss me.
Yes, of course, I am athletic… I surf the Internet every day.

Take my advice, I don't use it anyway

I wish I could mute people in real life

Of course, I talk to myself! Sometimes I need expert advice as well

I never argue, I just explain why I'm right

I won't be impressed with technology until I can download food from the internet

My opinions may have changed, but not the fact that I am right

Hey you, yeah I'm talking to you, why the hell are you reading my "Whatsapp Bio"?

My favourite time of the day is Break time
Whatsapp Bio Quotes for Girls
I am a private person, so if I open up with you, damn, I trust you

Laugh like a baby. Live like a queen

Always look up UNLESS taking help from someone

Don't judge me by my past; I don't live there anymore

Thankful for who's always been there for me

I'm not silent; I just hate drama

It will take you two lifetimes to impress me, and half a second for me to reject you.
I am a queen because I know how to be in control.

Understanding is an art, and not everyone is an artist

A Queen doesn't bow to rules or for anyone.

The only good girls are the ones who never get caught

In life, what you really want will never come easy

I'm a bad girl; you aren't used to that

Never Give up

No matter Always end the day with a positive thought

Stress is the result of working hard for something we don't care about. Working hard for something we care about is referred to as passion

Please don't compare me to other women. There isn't any rivalry. I'm a one-of-a-kind individual

His story is about history, while mine is about the mystery

You can find a girl who is prettier, smarter, and funnier than me, but you will never find a girl who is exactly like me
Whatsapp Bio Captions & Quotes for Boys

King is king with or without a queen; remember that

Life is a form of drawing without the need for an eraser

Our world is shaped by our companions

Time doesn't always heal. You heal yourself.

Of course, you miss me. I'm amazing

Being happy is your responsibility – no one's gonna do it for you.

My music collection tells the tale of my life

Life is gonna end soon. Enjoy it while you can.
Attempting the impossible? Bring on the challenge.

I respect people who tell me the truth, no matter how bad it is

A circle is round; it has no ends; that's how long I want to be your best friend

How to impress me? Be loyal behind my back

My haters make me famous, so I love them

DND…dozing off

It's Not An Attitude; It's My Personality

Never underestimate me because I am more than you think

Why do I want you so badly if you aren't good for me?

They say we learn from our mistakes. So I'm making as many as possible! Soon I will be a genius

Expect the unexpected
Also Read: WhatsApp Group Names: 120+ Best WhatsApp Group Names for Friends, Family, and More
Motivational Captions & Quotes for WhatsApp Bio
Live More, Fear Less

Life always finds a way

Work hard until you don't have to introduce yourself

You only live once, but if you do it right, one is enough

Tough times always teach you valuable lessons

In life, we never, lose friends, we only, learn who the true, ones are.

Life doesn't give you a second chance often, so use it wisely when the second chance is given

Time is precious, waste it wisely.

Don't be afraid to take the harder way no matter what

Real ones stays in bad times

It's hard to beat a person who never gives up

The only people who never fail are those who never try

Work hard until your bank balance looks like your mobile number 

Nobody cares about your story until you win, so win

Never ever beg anyone for a friendship or a relationship

Yesterday is history, tomorrow is a mystery, and today is a gift

Only the weak give up; no one said it was easy

If you don't fight for what you want, don't cry for what you lost

Do it with passion or not at all

It makes a big difference in your life when you stay positive

The fewer people think, the louder they are

You pray for rain; you have to deal with the mud too. That's a part of it

Learn to sit back and observe. You'll begin to notice how fake some people are

Protect your peace
Cool WhatsApp Bio Captions & Quotes
Peace must be a priority

A fake smile can hide a million tears

Battery about to die

If you can't do great things, then do small and simple things in a great way

The world is not what it seems

Let me fly

Use pain as a stepping stone, not a campground

I am not failed….My success is just POSTPONED

The only difference between a good day and a bad day is your attitude

I will be rising from the Ground Like a Skyscraper

Treat me the way you expect to be treated

I'm a bad girl – get used to it.

SUCCESS is the by-product of your attitude

Be someone whom you'd want to meet

Don't alter yourself to suit fashion. Let fashion change to suit you

The road to success is always under construction

Do not expect anything from anyone.

If I say, "I will call you back", Just enjoy the rest of the day
Creative WhatsApp Bio Captions & Quotes
Ideas are useless unless used

Don't stop when you are tired. Stop when you are done

Make life fun today, because tomorrow isn't guaranteed

Dream without fear, and love without limits

Live More, Fear Less

Think and live positive

Be Your Own Brand

Self-confidence is the best outfit

Classy, sassy and never trashy

Struggling means you're progressing

There are no shortcuts to any place worth going

I just levelled up

Hakuna Matata

For a minute there, I lost myself

If you don't have a smile, I'll give you one of mine

I'm walking in the sunshine

I leave a trail that sparkles wherever I go

Note to self: Please relax

When life gets blurry, adjust your focus

Escape the ordinary

I'm so cool, even ice cubes are jealous!

Wherever I go, I leave sparkles

With this smile, I can get away with anything
Also Read: WhatsApp Private Reply: How to Reply to Private Message on Phone and WhatsApp Web
WhatsApp Bio for Life
I plan to make the rest of my life, the best of my life

Forget your age and live your life

Life is only as good as your mindset

Life is Just For chill

You Live Only Once (YOLO)

Depth over distance

There are no mistakes in life, only lessons

Nothing is perfect, don't go behind making everything perfect 

Never stop learning, because life never stops teaching

Silence is a source of great strength

Different life experiences, build different perspectives

The secrete of success is hiding your source

Life is a flower of which love is the honey

Life without mistakes is like, education without books

Life is too short to waste on hating other people

Life goes on… With or without you

Life is full of surprises

Make life fun today, because tomorrow isn't guaranteed

Life won't get easier, you just have to get stronger

I am the writer of my own life story

A good life is a collection of happy moments

Life is too short for bad vibes

Live the life you've always imagined

When life gets blurry, adjust your focus
Stylish WhatsApp Bios
Without a goal, you can't score

I love my job only when I am on vacation

Work hard and be nice to people

Never let go for your dreams

Haters are the best motivators

My silence my attitude

I don't need to explain myself because I know I'm right

Don't see my bio, an appointment is needed
WhatsApp Top Bios
Ice cream is cheaper than therapy

You have to be odd to be number one

When you look at me, what do you see?

Life is full of surprises

Let life surprise you

I am what I am

Just Do It

I don't need your approval to be me

There's no place like home

I don't wait for miracles to happen. I create them

Beautiful things don't ask for attention

Ever since I was a kid, I was always the winner

Never announce your moves before you make them.

Who am I? I have not found the answer yet

What feels like the end, is often just the beginning
Also Read: Whatsapp Transfer from Android to iPhone: How to Migrate WhatsApp Data From Android to iPhone on WhatsApp
Short WhatsApp Bio Captions & Quotes
Follow your dreams

Keep smiling

Smile, you made it

Under construction

I'm a unicorn

Seize the day

Never Give up

It's a lovely life

Imperfectly perfect

Dreams are forever
Meaningful WhatsApp Bio
Start each day with a grateful heart

Forget the person, But not the lesson

Notice everything but be quiet

Never make a permanent decision on temporary feelings

Silence is the most powerful scream

Always hope but never expect

Challenges are what make life interesting

Everybody can see a laughing face, but nobody can see a broken heart

There's bravery in being soft

Hate is a strong word, think before you use it
Whatsapp Bio With Emoji
Everything is fine If you're mine.❣️

🅱️low 🅰️way the haters.😎

Don't Copy, Pick Your Own Style 😊

😎My Ættitude is based øn the way ¥ou treat me😏

Happiness Is The Key To Everything🥰

The Best Mirror Is An Old Friend 💕

Life Is One Time Offer, Use It Well 🥰

Bio unavailable! Check later 🧐

Scratch Here ▒▒▒▒▒▒▒▒▒▒▒▒▒▒🔥

I'm the iPhone, you the Nokia 😜

Error 404! Bio Unavailable😰
Also Read: Instagram Captions: 100+ Best, Cool & Unique Captions For Your Instagram Post
Thanks for reading till the end of this article. For more such informative and exclusive tech content, like our Facebook page