Highlights
WhatsApp has launched its much-anticipated feature called Channels in India.
The Meta-owned chat platform announced the feature a few months ago.
WhatsApp has already signed up Indian Cricket Team, Netflix, Katrina Kaif, Diljit Dosanjh, and other celebrities for Channels.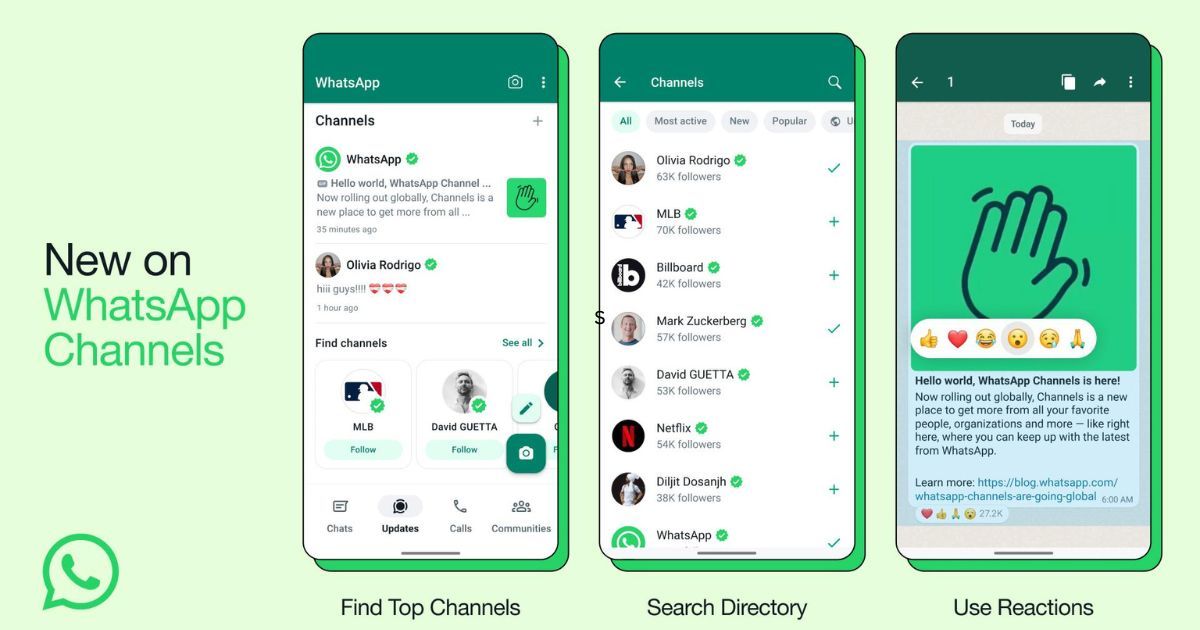 WhatsApp Channels has officially arrived in India. The Meta-owned instant messaging platform took to its official blog to announce that the feature is now available in India and 150 other countries worldwide. For the uninitiated, WhatsApp Channels are similar to their Telegram counterpart and allow people, teams, and organisations to share information with their followers.
WhatsApp users can search and follow the channels they are most interested in to keep up with the recent developments. Celebrities like Vijay Deverakonda, Akshay Kumar, Katrina Kaif, and Diljit Dosanjh have joined WhatsApp Channels. Ahead of the International ODI World Cup 2023, the Indian National Cricket team has also joined Channels to keep fans updated. Here's all you need to know about the newly launched WhatsApp Channels.
WhatsApp Channels Launched in India With Celebrities Like Katrina Kaif, Akshay Kumar, and More
new channel alert 🚨 start channeling katrina kaif https://t.co/hyW6Urth1f pic.twitter.com/iT25kjunHC

— WhatsApp (@WhatsApp) September 14, 2023
WhatsApp is rolling out Channels in India in a phased manner. At the time of writing this news, some of our team members did not have access to the feature. When you click on the link provided in the post shared by the platform on X, you will either be redirected to the channel if the feature is already available, or you will be informed that it's not available yet and to turn on notifications for when it arrives.
We already know that WhatsApp Channels will get a separate new 'Updates' tab, where users can see Channel updates from people or organisations they follow. WhatsApp already has channels for the Indian Cricket Team, Netflix, Katrina Kaif, Diljit Dosanjh, Vijay Devarakonda, Akshay Kumar, and more.
The Meta-owned chat platform has announced three new features for WhatsApp Channels to get users started. The app will have an enhanced directory of channels for users to look up for their favourites. The platform will automatically filter the channels based on the users' country, new channels, most active, and popular in terms of number of followers.
WhatsApp Channels will also allow users to react to shared updates, just like in personal chats, and check reaction counts. However, their reactions will not be shown to other followers. The app will also add a link back to the channel whenever users forward an update from a WhatsApp channel.
The instant messaging platform aims to build the most private and secure private broadcast feature. To this extent, the app will keep the personal information of admins and followers private by not revealing the phone number when users follow a channel. Moreover, other users won't be able to see which channels other users follow to protect privacy. Additionally, the app will store channel history for only 30 days on its servers.
WhatsApp has announced Channel control features for admins as well. Admins can select who can follow their channel, whether they want their channels to appear on Discovery, etc. Additionally, they can block message forwarding and screenshot functionality in their channels. However, there is no end-to-end encryption in WhatsApp channels, and the company has stated that it's considering it as a potential option.