Meta owned messaging platform, WhatsApp is gaining a bunch of new features. The popular messaging media app is getting a new way to chat and collaborate with communities. The company has shared its vision of this upcoming feature. The new feature called, Communities is intended for organizations like schools, local clubs, non-profit organizations, and more, which rely on WhatsApp to communicate and get things done.
Apart from this feature, WhatsApp also confirmed a bunch of other features that the app is set to gain over the next few days. These include message reactions, admin delete option, larger file sharing support, and more members to voice call. Let's take a look at all the features in detail.
WhatsApp Communities
WhatsApp Community is basically built to make it easier for people to manage busy conversations among organizations. In other words, this is Meta's product to take on Telegram's channel and large group audience. Communities on WhatsApp will enable people to bring together separate groups under one umbrella with a structure that works for them. This makes it easy to organize all kinds of discussions. In simple terms, the WhatsApp community will be a one-stop general message and discussion centre and inside the community, these can be specific groups.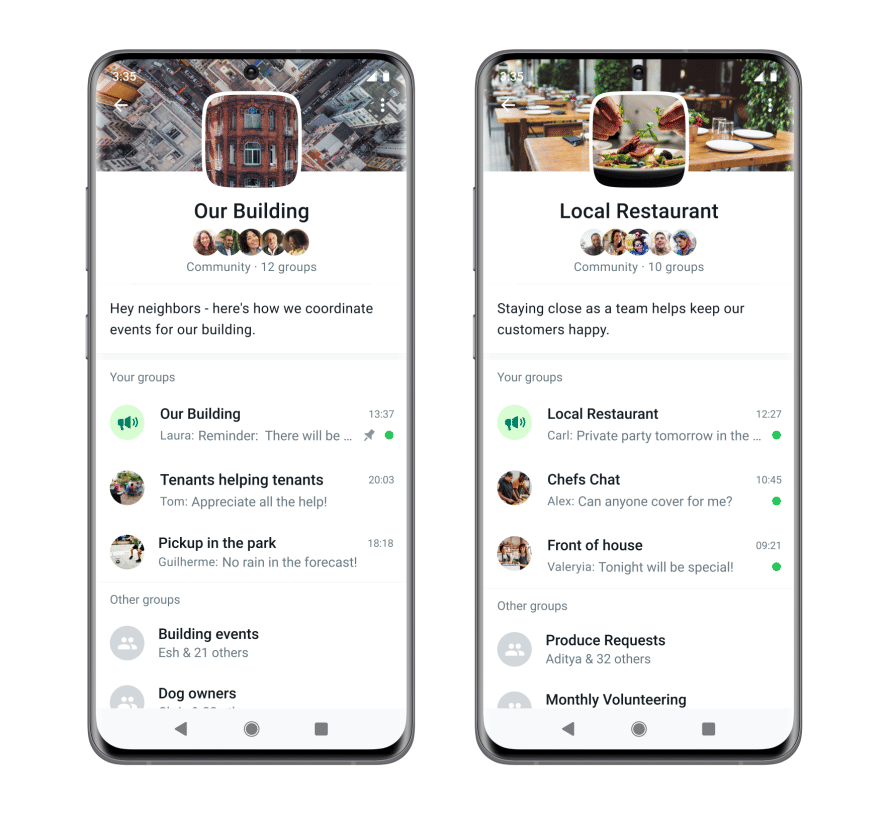 For instance, a Community in school makes it easier for a school principal to bring all the parents together to share must-read updates and set up groups about specific classes, extracurricular activities, or volunteer needs.
Since this is built for organizations and communities, WhatsApp is also adding some powerful control tools for Communities. For starters, Admins can control announcement messages that are sent to everyone and control which groups can be included. Messages in Communities will be private and secure, thanks to end-to-end encryption.
Also Read: [Explained] WhatsApp Multi-Device Support: What is it, How to Use, and More
Reactions, File Sharing, Larger Voice Calls, and Admin Delete
Apart from that WhatsApp is gaining a bunch of other features as well, these features will be rolled out even before Communities and these will be enabled whether or not users are part of a Community.
Firstly, WhatsApp reactions allow users to respond to a message using Emoji (like Messenger, Slack). This makes the chat clutter-free. In the coming days, Group admins will be able to remove unwanted or problematic messages from everyone's chat, regardless of who sent them. Further, WhatsApp is increasing the file sharing limit to 2GB (100MB currently) and lastly, the app will also allow up to 32 people to collaborate on a voice call, which is currently set to 8.
WhatsApp Communities will be rolled out later this year and the rest of the features will be rolled out in the coming weeks.
Note: The images of Communities on WhatsApp in this article is not a final product and might change when it rolls out.