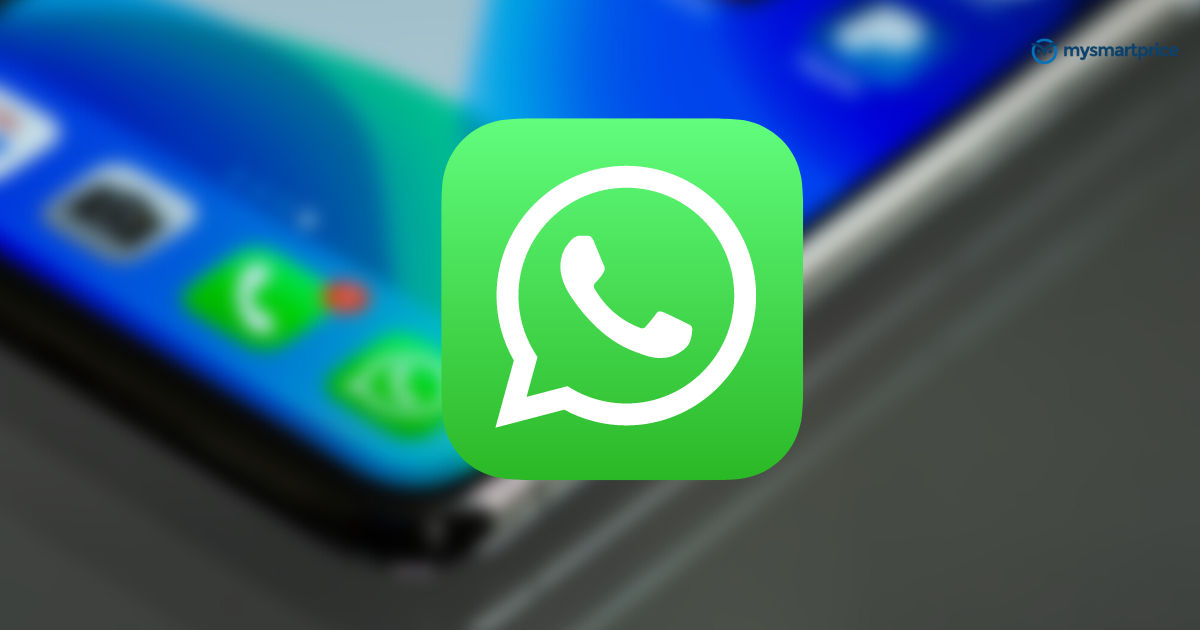 Update (2:30PM October 25): WhatsApp is now up and running for more and more users with people reporting that they can now send and receive messages. We can see that the graph of people reporting outages on Downdetector is going down steadily. This is an indication that people are being able to reconnect to the WhatsApp servers again. Although most people still claim that WhatsApp Web is still having issues connecting to the servers.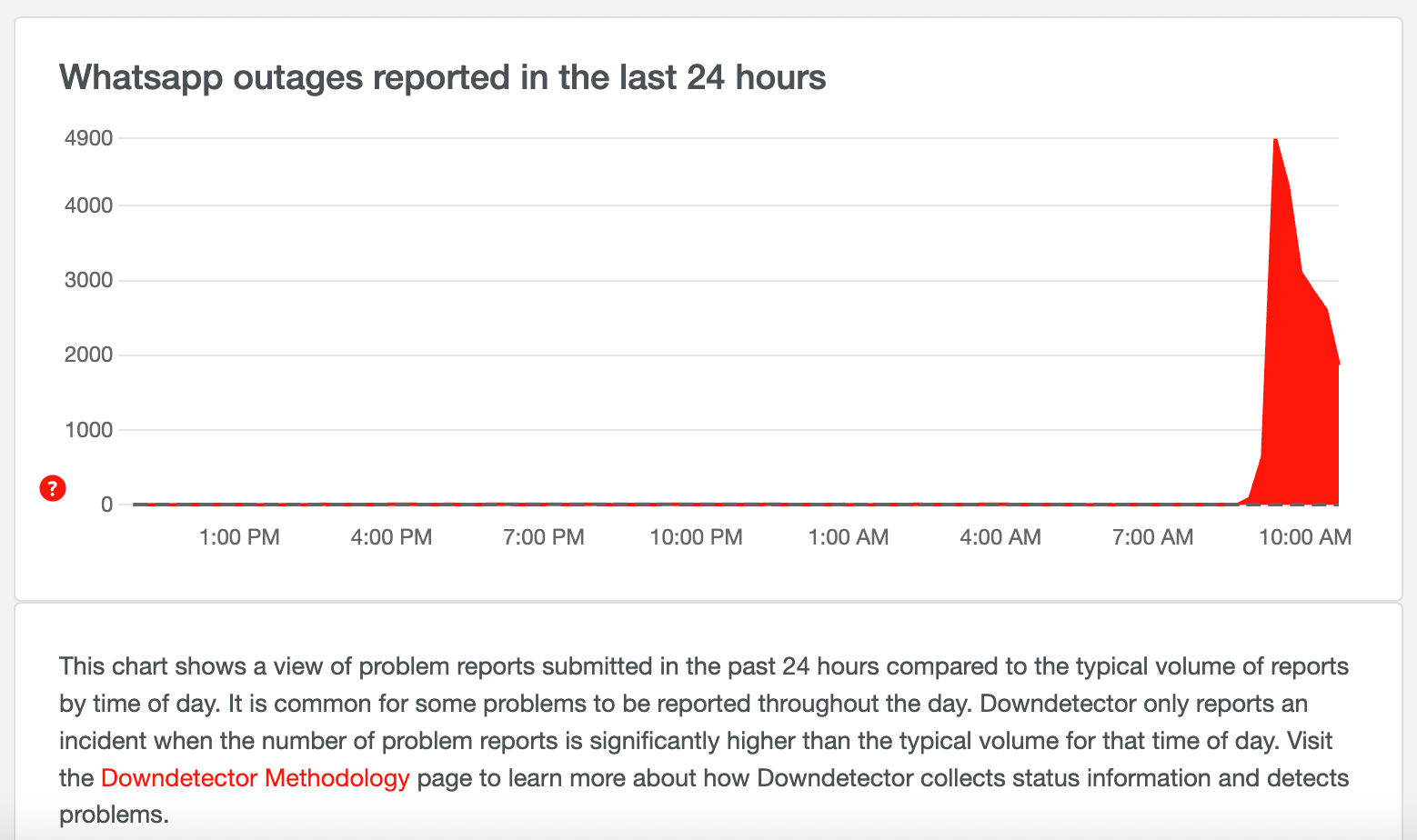 WhatsApp down for several users globally as the service faces issues when connecting to the server. The Downdetector service confirms an outage, however, the reports are less as of now. WABetainfo, the website that covers unreleased features and beta updates of WhatsApp, claims that users are experiencing issues when connecting to the server.
Why is WhatsApp not working?
WhatsApp seems to be facing a major outage that is about to cross an hour mark, with the first outage reported around 12:40 PM IST. Initial reports hint that WhatsApp is down because of server-related issues. However, Meta has confirmed that it is working on the issue.
WhatsApp parent company Meta has acknowledged the outage, and the following is the statement from a company spokesperson, "We're aware that some people are currently having trouble sending messages, and we're working to restore WhatsApp for everyone as quickly as possible.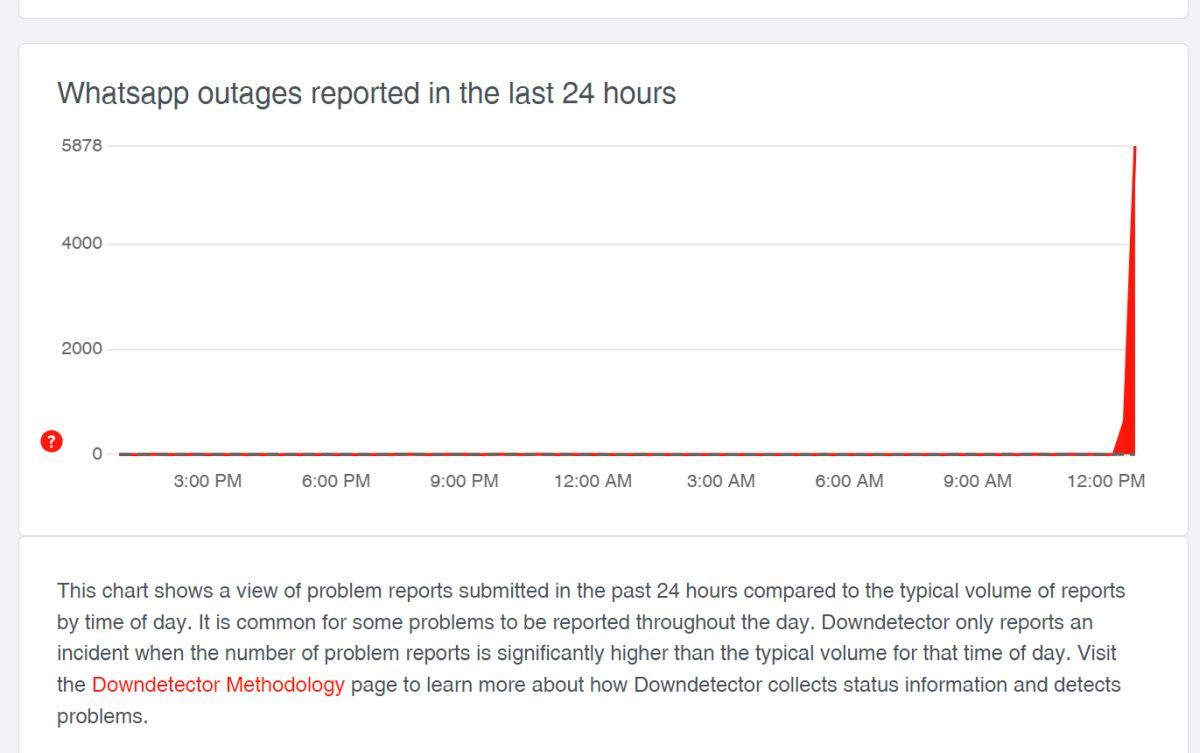 Currently, around 27,000 WhatsApp users have reported issues on the Downdetector platform. Downdetector claims that WhatsApp users have been reporting issues since 12:40 PM IST.
Notably, WhatsApp is down on phone as well as on Web. Several users are reporting issues while connecting to WhatsApp Web service.
WhatsApp Down Brings Twitter Meme Fest
Twitter is a platform that brings out some of the best creativity from its users when there is a panic situation, irony but valid. On Tuesday, several WhatsApp users reported issues, and Twitter users turned this moment into a meme fest and here are some that might crack you up.
WhatsApp Engineer right now #WhatsAppDown pic.twitter.com/vRg0RZXYTd

— MB (@bowx_) October 25, 2022
When your WhatsApp is playing up but you come to Twitter and see that everyone else is having the same problem #WhatsAppDown pic.twitter.com/pMcJm0Zn56

— Jamie (@GingerPower_) October 25, 2022
People Coming to Twitter to see if WhatsApp is down#WhatsappDown pic.twitter.com/eGi25KiQhU

— Bella Ciao (Chai) (@punjabiii_munda) October 25, 2022
Me after restarting my phone, putting it on airplane mode and uninstalling whatsapp and then coming to Twitter 😭#whatsappdown pic.twitter.com/AlvH3aI5yZ

— Anjali (@Anjali_14_) October 25, 2022
Developing story…