Highlights
WhatsApp launches new AI features
App redesign spotted in the beta version
New icons, and chat sorting features for Android and iOS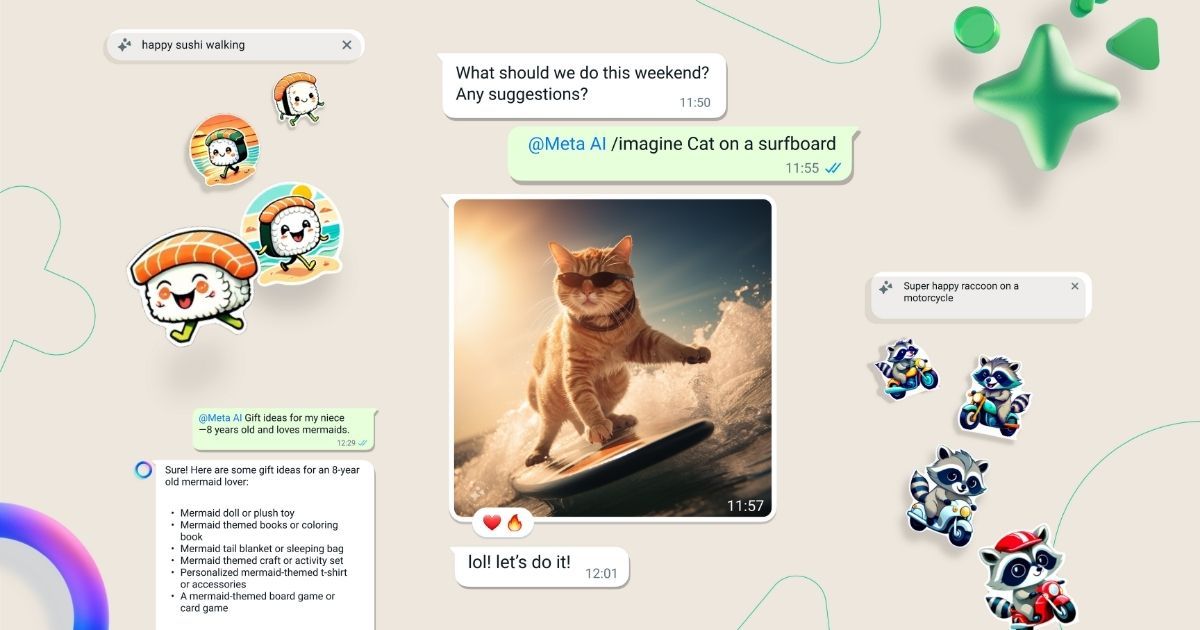 Meta has announced the launch of three new AI features for WhatsApp. The company says the Generative AI-inspired features are aimed at making messaging more creative and productive. These include AI Stickers, AI chats, and Photorealistic Image Generation, which are available to test for some users.
On privacy concerns related to AI, WhatsApp wrote in a blog post that personal messages of users with their friends and family are off-limits. "AIs can read what is sent to them, but your personal messages remain end-to-end encrypted, so no one else, including Meta, can see them," the blog post read.
New AI Features For WhatsApp
WhatsApp users can create custom stickers using the AI Stickers feature. With AI Chats, users can ask questions to Meta's AI to find out more about a topic. To make the feature more interesting, users can get perspective on a topic from Meta characters of their choice. The Photorealistic Image Generation features let users create images that represent their ideas, place, or person; with the help of AI.
In addition, WhatsApp is also working on new design changes for its WhatsApp app, though only available to its beta users as of now. According to a report by WABetaInfo, WhatsApp for Android version 2.23.20.10 is rolling out through the Google Play Beta Program and it brings out a slew of design changes such as new icons and colours as well as an improved interface for the app. Let us take a look at what's new.
WhatsApp Android App Gets A Redesign
As per the screenshots posted by the website, the navigation bar on the top, which was previously green, is white in colour. In addition, the Status bar on the top as well is also white in colour. The changes to the top bar can be seen in the personal chat window and also on the start screen. In addition, a new font and green colour for "WhatsApp", which can be seen written on the top navigation bar, has been introduced.
The screenshots in Dark mode have been posted as well, which reveal that the top navigation bar here is greyish-black, which means it has been automatically adjusted as per the mode. Chat bubbles for the dark theme have also been revamped. For iOS users, changes will be available in WhatsApp for beta for iOS version 23.19.1.74 update.
New Chat Features for WhatsApp
The new features, spotted by WABetaInfo in WhatsApp beta for Android 2.23.14.17 allow users to filter their conversations. For instance, users will be able to get a list of their unread messages, personal conversations, or business chats, letting them sort their chats in a better way. The changes are available for iOS beta users as well via the TestFlight app for iOS beta version 23.17.1.77.
Do note that the changes are available for the beta versions of the WhatsApp Android and iOS apps. This means, that the features can only be accessed by beta testers as of now. It is likely that WhatsApp will roll out the changes for everyone soon.