Highlights
WhatsApp Status receives five new features.
WhatsApp Status disappears after 24 hours.
Users can now record and share their audio on status.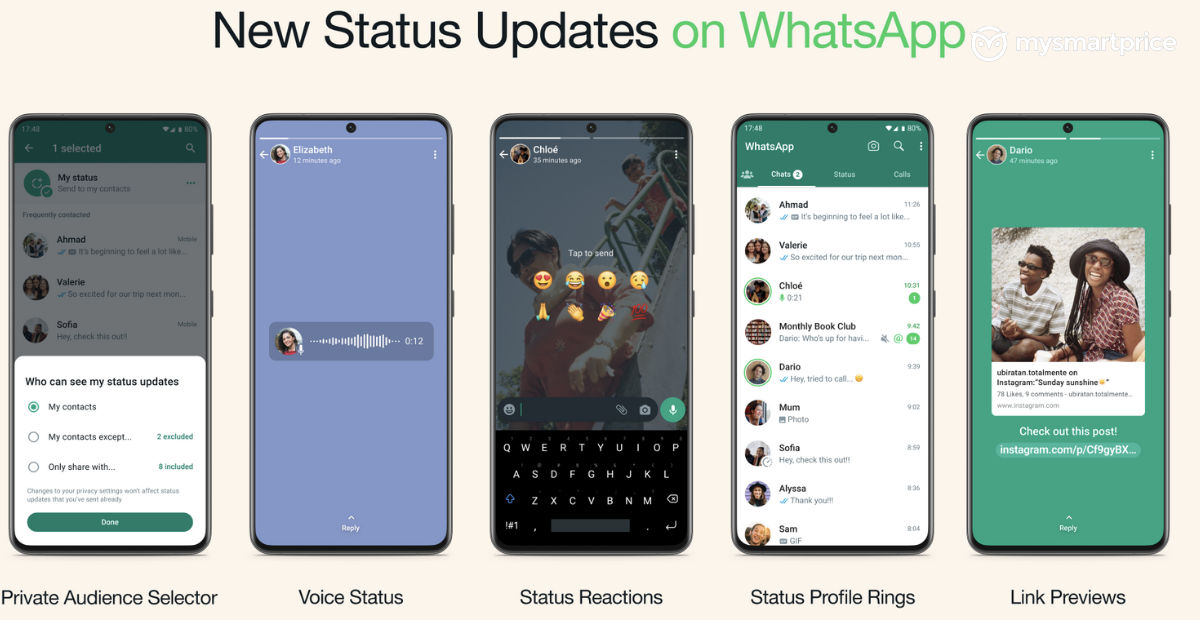 WhatsApp has announced a slew of features coming to its Status menu. Status is a dedicated feature on WhatsApp which remains on the app for 24 hours just like Instagram or Facebook stories. It consists of photos, videos, GIFs, text, and more. Will Cathcart, Head of WhatsApp, took it to Twitter to announce the new features that will be rolling out to WhatsApp users globally. Some of these features are already available for users in selected regions. The new features for WhatsApp status include sharing voice messages, using the audience selector for added privacy, and quickly responding to updates from others with reactions, profile rings, and improved link previews. Let's check out each feature that WhatsApp will offer to its users in status.
New WhatsApp Status Features
New features for Status!

You can now share voice messages on status, use the audience selector for added privacy, and quickly respond to updates from others with reactions. We've also added profile rings so it's easier to spot new updates, and improved link previews. pic.twitter.com/sULyInH2XB

— Will Cathcart (@wcathcart) February 7, 2023
WhatsApp has announced a total of five new features coming to Status, here're details about them.
Private Audience Selector
WhatsApp will now allow you to choose a specific set of audiences that will be allowed to see your status. The name of contacts who are allowed will be selected by you only. It will have three options – My Contact, My Contacts Except, and Only Share With. Once selected, you need to tap on Done button and the changes will become active.
Voice Status
This is the newest feature that Meta is adding to WhatsApp. Users will be now allowed to record their audio of up to 30 seconds and to share it via status. This could be a helpful feature for those who hate typing long messages and like conveying them easily.
Status Reactions
WhatsApp launched Reactions feature last year for text messages however due to demand it is now enabling users to react to status updates via an emoji. It will be the quickest and easiest way to respond to status if it is meant for you. All you have to do is just swipe up on any WhatsApp status and you will get eight emoji to choose from.
Status Profile Rings
You might have noticed a blue circle around your contact's profile picture on WhatsApp in recent days. When you tap it, you are able to see your status directly. This is called Status Profile Rings. WhatsApp is now rolling it for all users globally to check anyone's status at a glance. This feature will be shown in the chat lists, group participant lists, and contact info.
Link Previews
WhatsApp status is getting a new and improved link preview option. Whenever posting a link on status, you will see the preview first so that you get to see what others will see. The Meta-owned company claims that this will make the link status look better and give an idea to your contacts on what they are clicking.
Also Read: WhatsApp Upcoming Features Like Calling Shortcut, Pinned Message Spotted
Which new WhatsApp Status feature excites you more? Let us know in the comment section.