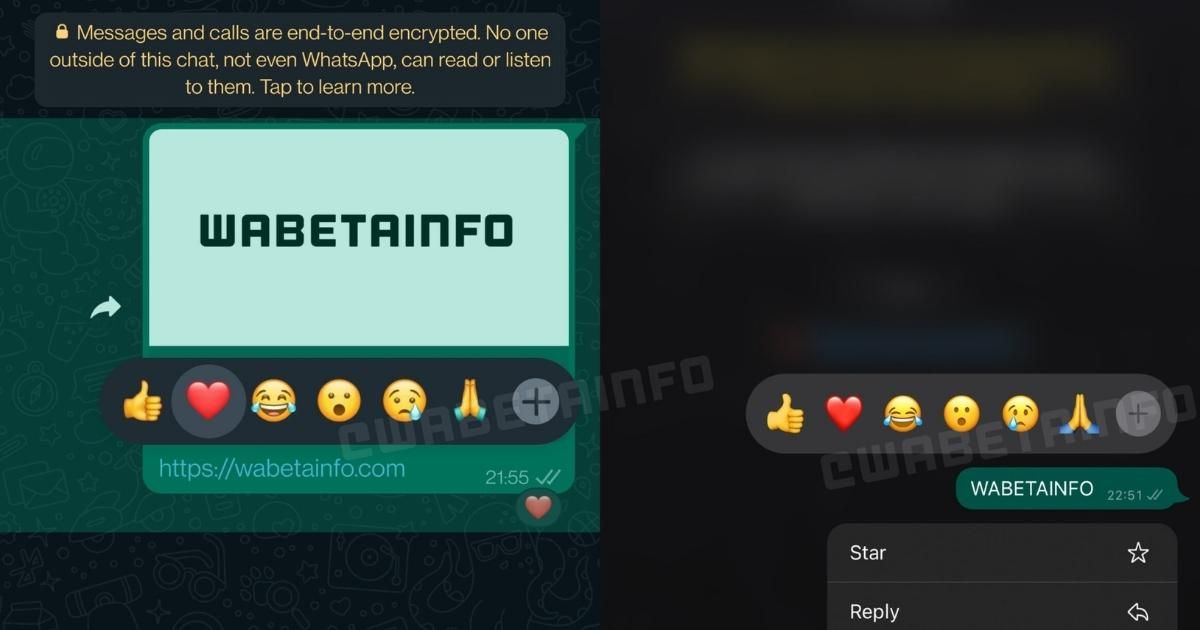 WhatsApp has been bringing a number of new features to the instant messaging platform over the last few weeks, including the ability to react to messages. The Meta-owned messaging platform is now upgrading the ability, by now allowing users to react to messages with any emoji of their choice. We previously reported that WhatsApp for iPhone may soon get support for more message reactions, and it's finally happening. Let's take a look at the new version of Whatsapp's message reactions, and everything we know so far.
Message Reactions Are Now Even Better on Whatsapp Beta for Android and iOS
There are now just six emojis available for WhatsApp users to choose from when responding to messages: Like, Love, Laugh, Surprised, Sad, and thanks. Users of WhatsApp may now respond to messages using any emoji on the keyboard thanks to this new update. The company is expanding the reactions and giving the ability for users to react with any emoji.
As per WABetaInfo, WhatsApp beta for Android 2.22.15.6, 2.22.15.7, and WhatsApp beta for iOS 22.14.0.71 now have the ability to react to messages with any emoji. You can check whether the feature is available on your phone right now by trying to react to a message. Long-press on a message to pull up the reactions view and if you notice a '+' icon at the right, then you may react to the particular message using any emoji of your choice. On WhatsApp beta for Android, the keyboard is activated when you hit the plus icon and on iOS, there is a draggable area in which you can quickly choose and search for any emoji.
The feature is currently in the testing phase, and beta users will be among the first to get hands-on with this new functionality. In related news, Whatsapp recently rolled out the ability to mute or message certain persons during a group call and support for data migration from Android to iOS.