Highlights
WhatsApp on multiple phones is available now.
You can now use the same WhatsApp account on different phones.
Here's how to do it.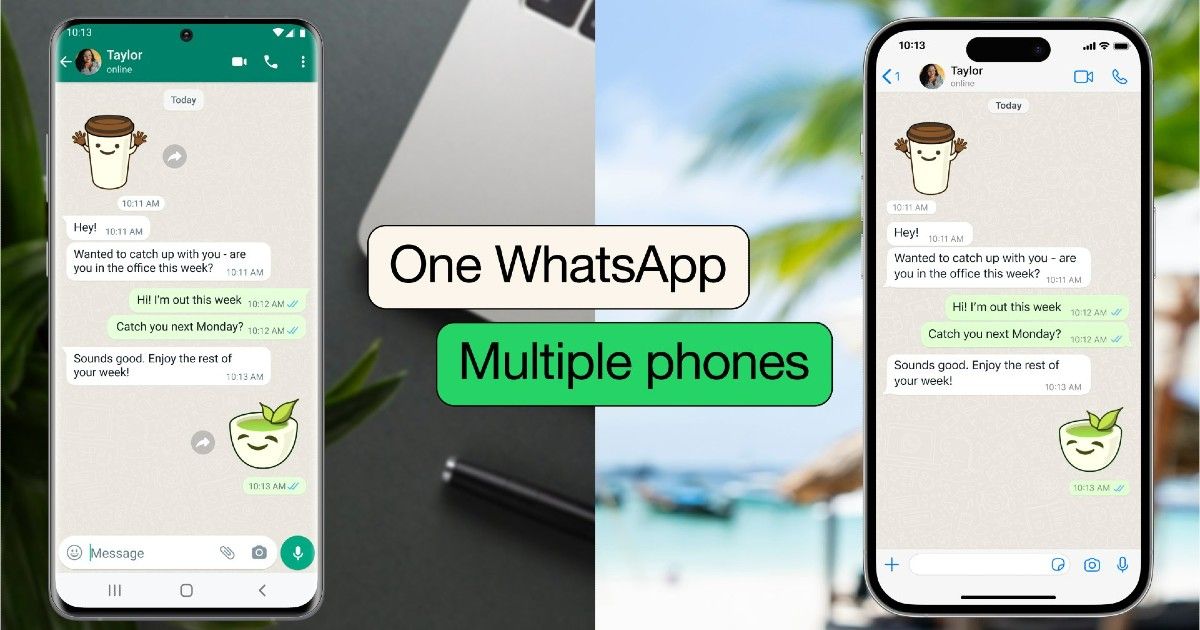 WhatsApp is finally rolling out the multi-device support globally in WhatsApp stable. It has been available on WhatsApp beta for some months and is finally here.
Before this, we could only use WhatsApp on a single device. That has been a problem for users with two phones or a phone and a tablet. I use multiple phones, and I usually miss many WhatsApp notifications and chats because I use two different phones, and I'm mostly on my secondary phone, as it's my work device. This feature will let me simultaneously use WhatsApp on two different phones, much like how I have been using Telegram. I'm sure this new feature will be useful for many users like me.
WhatsApp announced this feature in a blog post, and the Head of WhatsApp at Meta had this to say about the launch of the feature:
NEW: Use @WhatsApp on more than one phone!

Thanks to some improvements in our multi-device technology, we are rolling out the ability to link a second phone (or third, or fourth) to your WA account. And, of course, it's all still protected by end-to-end encryption. pic.twitter.com/gu5E2ExQ8S

— Will Cathcart (@wcathcart) April 25, 2023
WhatsApp had this to say about the feature's launch, "Today, we're improving our multi-device offering further by introducing the ability to use the same WhatsApp account on multiple phones."
WhatsApp multi-device linking is an extension to WhatsApp Web and works more or less like the older WhatsApp Web feature. In this article, let us check how WhatsApp on multiple devices work and how to link your other phone.
WhatsApp on Multiple Devices: What Does This Mean?
WhatsApp on Multiple Devices will allow you to use the same WhatsApp account on different devices finally. It is a much-awaited feature by WhatsApp users as it finally brings the convenience of using WhatsApp like Telegram.
It is an extension of the multi-device feature WhatsApp already have, as it extends the same functionality of using WhatsApp on different devices to Android and iOS devices. Last year, WhatsApp extended the WhatsApp Web feature to make it a Multi-device feature, which made it possible for WhatsApp on secondary devices to be used without a data connection on the primary device.
How To Use WhatsApp on Four Different Devices
Follow these steps to use WhatsApp on multiple devices:
Install WhatsApp on your secondary phone.

Select the language and click on the tick button.

Click on the "Agree and continue" button.
Click the "Allow" button on the pop-up asking to allow notifications.
On the next page, click on the 3-dot menu and click on the "Link a device" option.

Here it will show the Link with your phone option, showing the QR code.

Now, on your primary device, open the WhatsApp app.

Click on the 3-dot menu and select the "Linked devices" option.
Tap on the "Link a device" button.

This will open the QR code scanner.

Scan the QR code using the primary device, and it will log in to WhatsApp on your new device.
That's it; you can now enjoy WhatsApp on two different devices. You can do the same on up to 2 more devices, as you can use WhatsApp on up to 4 different devices, including WhatsApp Web.
Frequently Asked Questions
1) Can I use WhatsApp on 2 devices?
Yes, you can use WhatsApp on 2 devices using the multi-device option.
2) Do I need a data connection on the primary phone to use WhatsApp on secondary devices?
3) No. Once you activate WhatsApp on a secondary phone, you can use your WhatsApp account without a data connection.
4) Can I have WhatsApp on my phone and my tablet?
Yes, you can WhatsApp on your phone and tablet using the multi-device option in WhatsApp.
5) Where are linked devices in WhatsApp?
Linked devices option in WhatsApp lets you use multiple devices on the same WhatsApp number.
6) Can I have 2 WhatsApp with the same number?
Yes, you can use the same WhatsApp with different phones.
7) How to login WhatsApp on another device without losing data?
You can use the new WhatsApp linked devices option to activate the same number on a secondary phone.
8) Will I lose my WhatsApp conversations if I activate the phone in the second phone?
No, you will not lose your WhatsApp conversations if you activate WhatsApp on a second phone.
9) Can you see if someone logs into your WhatsApp?
Yes, if you go to the Linked Devices option, you can see the different devices logged in to your WhatsApp account.
10) How do I know who scanned my QR code?
You can check the Linked Devices option to see if someone scanned your QR.