Highlights
WhatsApp Account Protect is an extra security layer while transferring WhatsApp to a new device.
WhatsApp Device Verification address account takeover (ATO) attacks by malware.
The Automatic Security Codes feature makes it easier for users to check it their chat is encrypted.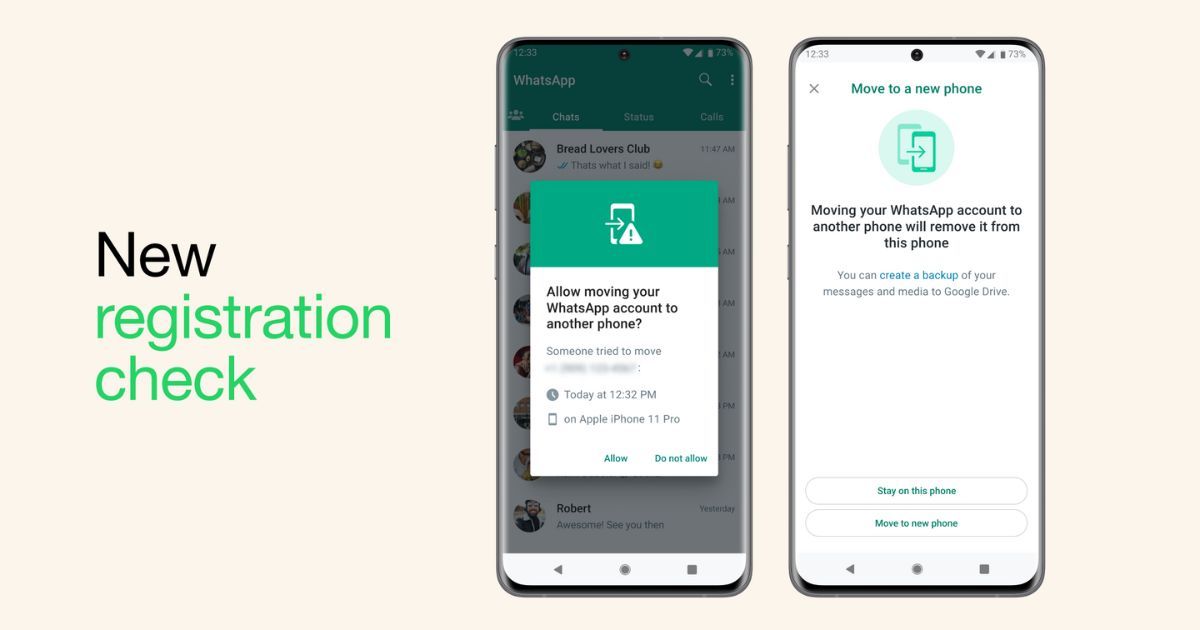 WhatsApp, one of the most popular instant messaging apps, is rolling out new security-focused features to make the experience more secure for its users. These new features are Account Protect, Device Verification, and Automatic Security codes. WhatsApp says that it is increasing security mechanisms to keep user accounts safe as it has increasingly seen that attackers are targeting mobile devices.
Let us take a closer look at the details.
WhatsApp Account Protect
WhatsApp is introducing an all-new Account Protect feature which is basically a double check while switching a WhatsApp account to a new smartphone. After entering OTP (one-time password) on their new smartphone, users will now also get a prompt on their old device asking if they want to move their WhatsApp to a new device or want to keep it on the old device only.
WhatsApp says that it is introducing an extra security check to minimize unauthorized access to accounts. With this new feature, users will be alerted as soon as an unauthorized attempt to transfer/log in WhatsApp to a new device is made.
To those unaware, after the introduction of WhatsApp Payments (UPI based) in India, several such cases have been reported where users lost their hard-earned money after their account was logged into mobile devices by scammers. This new feature will certainly help minimize such cases.
Also read: WhatsApp For iPhone Will Soon Let Users Edit Sent Messages: Here Are All Details
WhatsApp Device Verification
Apart from Account Protect, WhatsApp is also introducing a Device Verification feature to protect users in case their device is compromised. WhatsApp says that malware is one of the biggest threats in mobile devices as malware can be used to advance account takeover (ATO) attacks. With such advantages, using malware, WhatsApp messages can also be sent.
WhatsApp says that it is primarily concerned about unofficial WhatsApp clients that contain malware designed for this purpose. In order to prevent this, the company has added new checks to help authenticate user's accounts and in this regard, there is no action that's needed from users.
Also read: WhatsApp to Let You Mute Unknown Callers With Upcoming Feature Update in Its App
WhatsApp Automatic Security Codes
WhatsApp chats are end-to-end encrypted and as per the company no one except the people in that chat can access it. Users can manually head over to the Encryption tab under a contact's info to see if the chat is end-to-end encrypted. The company is now making the process easier as well as more accessible with the Automatic Security Codes feature.
WhatsApp's Automatic Security Codes feature allows users to automatically verify that they have a secure end-to-end encrypted connection.
What do you think of these new WhatsApp features? Do let us know in the comments section below.